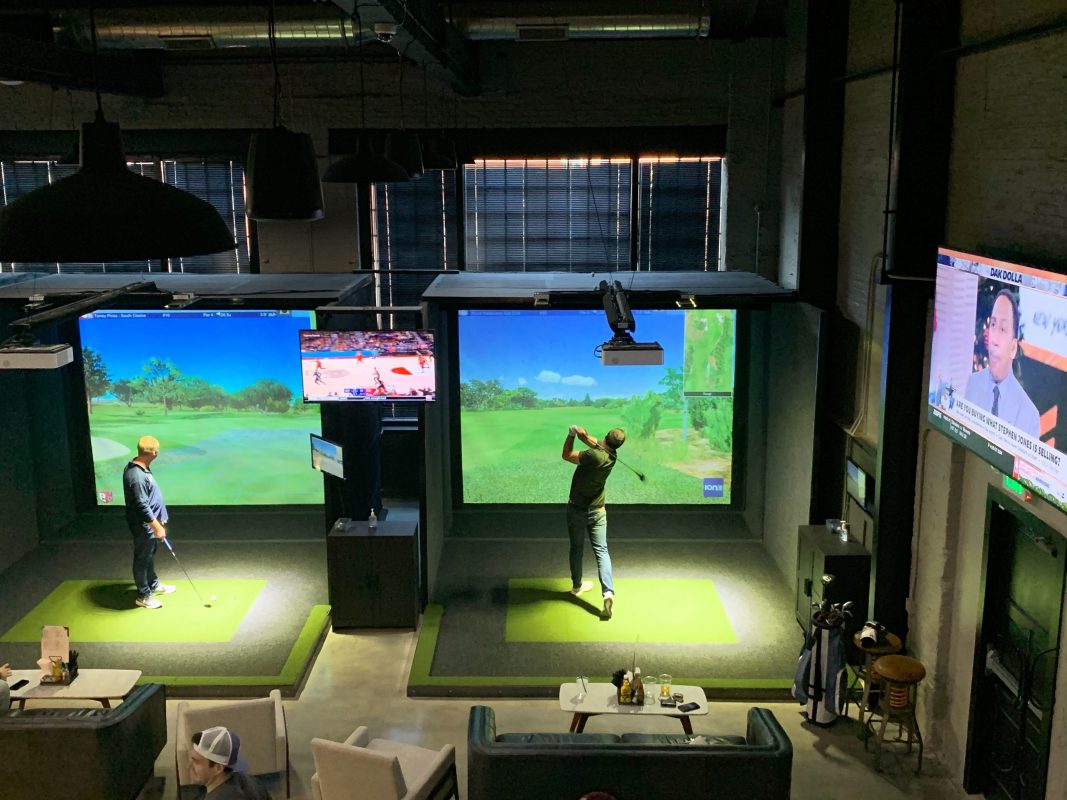 Courtesy of Evan Greenberg
Step into Five Iron Golf—located in the Fallsway Spring Co. building on Central Avenue—and it immediately becomes clear that it has something for everyone.
Sure, golf simulators are the overarching focus here, with a golf pro on hand to coach newcomers and seasoned players, along with $175 membership plans to entice customers. In addition, ball tracking, free club use, and full virtual courses on simulators throughout the space are some of the space's hallmarks. But with a full food and bar program—yes, there are crab cakes—non-golf minigames, and other recreational activities within, Five Iron Golf believes it can be much more than just a golf haven.
"We're more of an activity space," says general manager Josh Campbell. "I think Baltimore needed it."
Founded in 2017 in New York City, Five Iron Golf was borne out of its co-founders' desire to open the game up to as many people as possible. When co-founder Mike Doyle had success teaching simulator lessons in the back of a New York clothing store, he partnered with one of his students, Jared Solomon, to create an indoor facility that would build upon this no-frills approach. Forming a team of four that includes Solomon's wife, Katherine, and Chief Operating Officer Nora Dunnan—the longtime summer camp friends began building Five Iron into the East Coast chain that it is today.
"Baltimore had been a target of ours for quite some time," Dunnan says. "We were looking for cities on the east coast who had a good sports and golf culture. We do want to attract serious golfers. It's also important to us to offer things to non-golfers."
Five Iron's Baltimore location is one of two outside of its two New York sites. (There's another in Chicago and a soon-to-be-open space in Philadelphia.) Thankfully, the space that houses Five Iron, which has been open since late November, didn't require a lot of renovation. The team only needed to build out the bar and kitchen and install the simulators.
The food and drink menu, which includes sliders, flatbreads, and local beers on tap, has been popular, too. The kitchen is led by chef Rob Wandeler, previously of Nacho Mama's. Ian Snyder, Five Iron's expansion lead, says that some customers have even been ordering takeout, an example of the well-rounded destination Five Iron wants to be.
"It's a testament to what we have here," Snyder says. "We weren't sure what the clientele was going to be like—the response has been overwhelming."
In addition to golf, the simulators also have different minigames preloaded. Some of the more popular games include football target practice and what's known as "Zombie Dodgeball," in which balls thrown at a projector screen translate into virtual projectiles. Prices for golfing and other activities vary based on time of day and time elapsed.
Five Iron also has table tennis and a pool table that feed into its desire to be all-encompassing. It's this something-for-everyone approach that the company hopes will separate it from its competitors, especially with the long-awaited Topgolf location set to arrive near Horseshoe Casino in 2021. Topgolf's setup is a bit different, however, it's more of a driving range and a large part of activity takes place outdoors. "People ask us about Topgolf," Campbell says. "There's plenty of room—we can coexist."
And as patrons continue to look for more of an experience when going out, in lieu of just sitting at a bar, Five Iron is hoping to find its footing as an entertainment destination in the city.
"Baltimore has been so archaic in what it's done for so long," Campbell says. "I think activity-based spaces are going to take off astronomically."