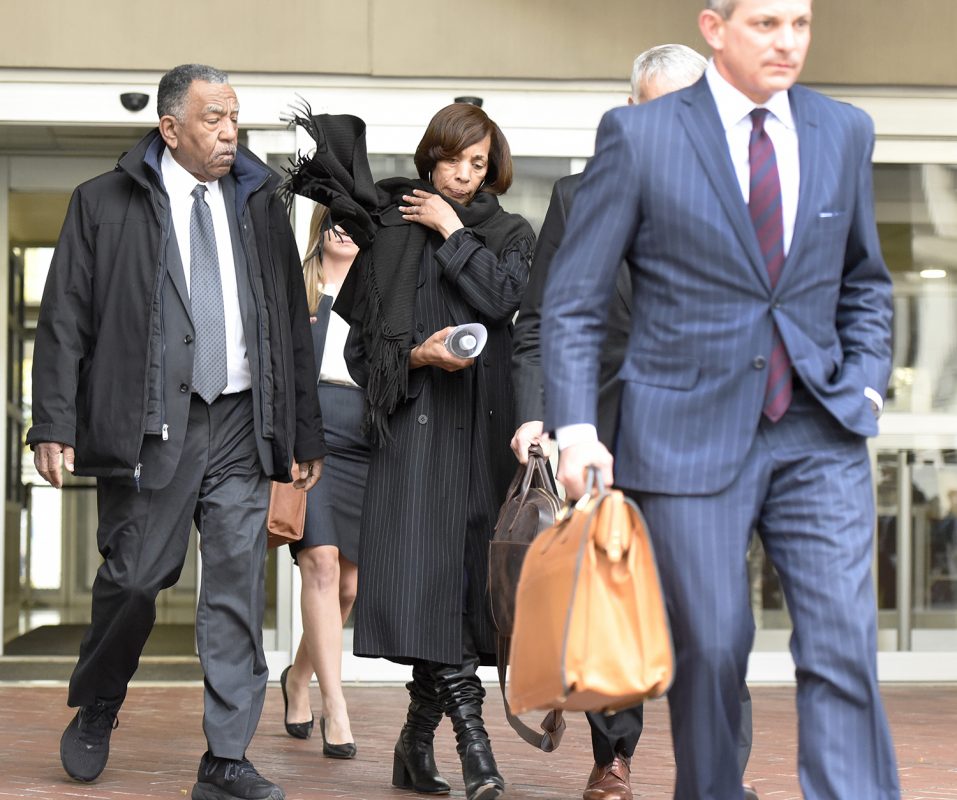 AP Photo/Steve Ruark
Former Baltimore City mayor Catherine Pugh was sentenced to three years in prison and three years probation Thursday as a result of conspiracy and tax evasion charges resulting from the sale of her Healthy Holly children's books. Prosecutors were seeking a five-year sentence, and Pugh faced a maximum of 30 years in prison. Pugh will also be forced to pay restitution to the University of Maryland Medical Center and Maryland Auto Insurance, two of the organizations she sold books to. All copies of Healthy Holly in government custody will be destroyed.
Much has been speculated upon regarding how much time—if any—Pugh would serve in prison, and if the sentence delivered by U.S. District Judge Deborah Chasnow would send a message intended to prevent further political corruption in Baltimore.
"If you hold yourself up to a higher office, you've got to hold yourself up to a higher standard," says Michael B. Runnels, associate professor of law and social responsibility at Loyola University Maryland. "Mayor Pugh is just the latest in a series of mayors who have run afoul in these types of getting a hand caught in the cookie jar dynamic."
Pugh's dealings are the latest in a series of corruption scandals involving local officials. In 2017, Gary Brown, a Pugh aide who has also been implicated in the Healthy Holly scandal, was charged with making illegal campaign contributions. In 2018, former Maryland senator Nathaniel Oaks was sentenced to three and half years in prison on corruption charges. Earlier this year, Tawanna Gaines, a former Maryland state lawmaker, was sentenced to six months in prison for wire fraud. Also earlier this year, Cheryl Glenn, a former Balitmore state delegate, pled guilty to taking bribes for political favors.
"It gets exhausting to see this unrelenting negative press in Baltimore," Runnels says. "It's almost like we take one step forward and two steps back."
When asked his thoughts on Pugh's sentencing earlier this week, Baltimore mayor Bernard C. "Jack" Young offered no comment. In a statement, City Council President Brandon Scott did not specifically share his thoughts on Pugh's sentencing, but offered that the occasion marked "an opportunity to move forward" for her and the city.
But in the past several weeks, local politicians including Kweisi Mfume, who recently won the Democratic nomination to succeed Congressman Elijah Cummings, and friends of the mayor, like former Baltimore mayor Kurt Schmoke, have requested leniency for Pugh. On the eve of the sentencing, Pugh's lawyers released a 13-minute video in which she asks for forgiveness. At the sentencing hearing, they referenced Pugh's public service to Baltimore and dedication to the city as reasons why she should not receive heavy prison time.
This is a portion of the almost 13 minute video Pugh's attorneys released last night ahead of her sentencing.

Prosecutors criticized it saying it is...

"HIGHLY POLISHED WELL EDITED VIDEO WITH BACKGROUND MUSIC TO MANIPULATE THE MESSAGE."@wjz pic.twitter.com/QUpHQgE7UQ

— Avajoye Burnett (@AvajoyeWJZ) February 27, 2020
"This lady has done more in one lifetime than other people could accomplish in 100 lifetimes. I don't know how that is not taken into consideration today," Silverman says.

— Kevin Rector ☀️ (@RectorSun) February 27, 2020
But in issuing her verdict, Chasanow sent a clear message that the extent and depth of Pugh's crimes warranted multiple years of prison time.
Chasanow says it is "ironic" that people are lauding Pugh's past good works, as "it was precisely that reputation for good work that allowed her to commit these offenses and continue the fraud for as long as she did."

— Kevin Rector ☀️ (@RectorSun) February 27, 2020
"It is astounding and I have yet frankly to hear any explanation that makes sense. This was not a tiny mistake, lapse of judgment. This became a very large fraud. The nature and circumstances of this offense clearly I think are extremely, extremely serious," Judge Chasanow says.

— Kevin Rector ☀️ (@RectorSun) February 27, 2020
"Public corruption should be treated with great scrutiny and seriousness," says Roger Hartley, the dean of College of Public Affairs at the University of Baltimore. "Especially in a situation like this where there was some real forethought behind selling books to large donors who might then be in a position for currying favor for contracts later with the city."
Pugh's sentencing wraps up an almost year-long saga, as The Sun first reported on the scandal in March of 2019. For Hartley, the conclusion of the former mayor's trial marks the closing of a chapter, as the city looks forward toward a mayoral election.
"After this decision, so many people in the city want to move forward with a strong new mayor and a strong government that is transparent, legitimate, and trustworthy," he says. "I think that's what the voters, businesses, and citizens of this city are looking for right now."