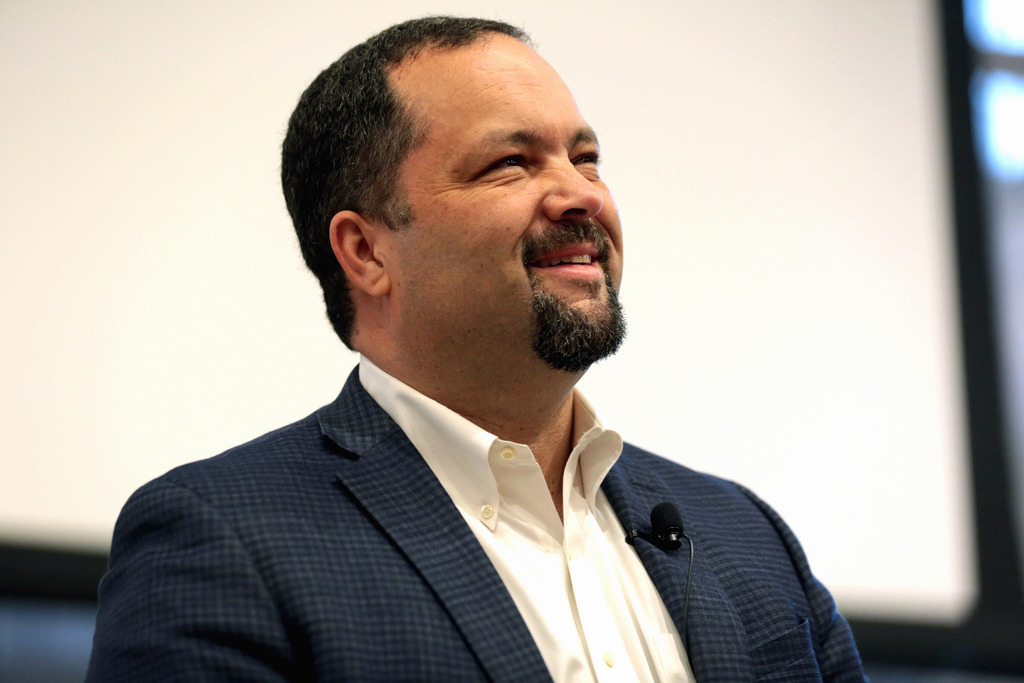 Flickr / Creative Commons
Once the youngest president and CEO of the NAACP, Ben Jealous announced his candidacy for Maryland governor outside his cousin's Northwest Baltimore flower shop on Wednesday, May 31.
Jealous, 44, who has no previous political experience, is seeking the Democratic nomination for the June 2018 primary. He is now the second Democratic candidate to formally announce candidacy joining tech expert Alec Ross, who announced his bid last month. Other possible Democratic incumbents include: Baltimore County Executive Kevin Kamenetz, former Attorney General Doug Gansler, State Sen. Richard S. Madaleno Jr., Rep. John Delaney, Prince George's County Executive Rushern L. Baker, and Baltimore lawyer James L. Shea.
After resigning from the NAACP, Jealous continued to be an advocate for social injustice by leading movements to abolish the death penalty in Maryland, defend voter rights, secure marriage equality, and combat racial profiling. More recently, he endorsed and became a proxy for Bernie Sanders during his 2016 presidential campaign, citing that his experiences with Sanders, among other qualifications, make up for his lack of political experience.
"I'm a community organizer—I've spent my life doing that," he said. "I'm a civil rights leader. Pulling together, solving problems, and serving people are what I do."
Dr. Mileah Kromer, assistant professor of political science at Goucher College, says that Jealous brings something different to the table than the other potential candidates. She labeled Jealous as a "true resistance" democrat that many within the party are looking for in the mold of Bernie Sanders. Similar to Sanders, he has a persona that appeals to a younger, more progressive demographic, especially African American voters.
"He has an ability to talk with a lot of credibility on important social justice issues," Kromer said. "There's no better messenger on racial and social justice issues than a former head of the NAACP."
Although Jealous has the national recognition and civil rights experience, Kromer says that it may not be enough to compete with seasoned elected officials. Not all Democrats fall under the progressive umbrella, so he faces the challenge of appealing to those individuals less interested in social issues, and more concerned with economic development.
"Democrats want to know, who's electable? Who can beat Larry Hogan?" Kromer said.  "Right now, all polls show that Hogan is one of the most popular elected officials in the country."
In a poll of 85,000 registered voters released in April by Morning Consult, 73 percent of Marylanders approve of Hogan. A Goucher College poll from February shows Hogan with a 63 percent approval rating, and 57 percent of poll responders leaning towards a 2018 Hogan vote.
Without providing detailed proposals, Jealous said that, if elected, he will raise minimum wage to $15, enhance transportation by extending state highways and bridges, grow local businesses, and improve public safety.
"We will close corporate tax loopholes. We will end mass incarceration. We will cut the murder rate, and we will lock up the shooters," he said. "We will restore trust by better training officers, and also holding officers who kill unarmed civilians fully accountable."
But some advocates of the opposition are skeptical that Jealous' lack of political experience make him unprepared to keep those promises.
"The voters of our state rejected this kind of rhetoric and the failed job-killing policies the Maryland Democratic Party represents when they elected Governor Larry Hogan in 2014," said Brian Griffiths, editor-in-chief of conservative news outlet RedMaryland.com. "We are confident the voters will make the right choice again in 2018."
However, support for Jealous came from all over the state to attend the rally, including Robert Julian Ivey, a council member of Cheverly, Maryland.
"It's just so important that we put someone against Hogan that can stand up to for the ideals that the people of Maryland believe in," Ivey said. "He's someone that can stand up and keep organizing, and keep being an activist."
Similarly, Karen Warwick of Anne Arundel County is hoping that Jealous will be "Maryland's Bernie."
"For the progressives nationwide, we were all in for Bernie," she said. "But here in Maryland, we have a chance to elect this person that holds the same values as Bernie to be the governor of the state."
Jealous may have the nationwide recognition, experience with social justice, entrepreneurial savvy, but the list of potential candidates that he is up against all have extensive resumés, with experience running and winning elections.
"It's a long road to Hogan," Kromer said. "There's a lot before he gets to go head-to-head, and there's a long journey to get to there."