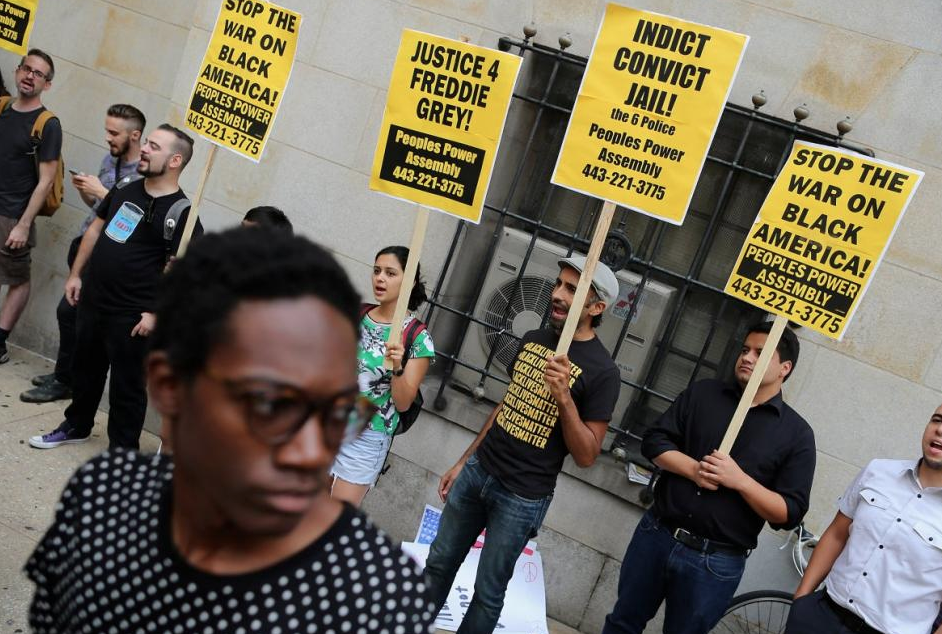 Photography Chip Somodevilla
A Baltimore City Circuit Court judge Wednesday morning rejected two key motions by defense teams representing the six police officers charged in the Freddie Gray case.
Judge Barry G. Williams denied a defense motion to dismiss charges against the six police officers allegedly involved in 25-year-old Gray's arrest and subsequent death after sustaining injuries while in custody.
Williams also rejected a motion to recuse Baltimore City state's attorney Marilyn Mosby and her office from prosecuting the case.
Later, however, Williams ruled against the state's motion to try three of the police officers together—Caesar Goodson Jr., who has been charged with second-degree depraved heart murder—and Sgt. Alicia D. White and Edward M. Nero, both of whom have been charged with reckless endangerment. As of now, all six police officers will be tried separately. Deputy state's attorney Janice Bledsoe noted to Williams that the state may ask at a future date that one or more of the other cases be joined.
Decisions to reject state motions for joint trials are considered beneficial to defense teams. "It doesn't allow the case against the defendant charged with the more serious crime to taint the cases against the defendants charged with the lesser crimes," said University of Maryland law professor Douglas Colbert, who observed the motion hearings today. "It also allows the defense more time to prepare and more time to cross-examine witnesses. Now, we have to see who goes first [to trial]."
Defense attorney Andrew Graham, representing Goodson Jr., alleged Mosby's behavior at a press conference announcing the charges—which he called "a pep rally"—as prosecutorial misconduct. Graham alleged Mosby had incited a desire for "vengeance" against the police officers and created an "impossible" environment for a fair trial in Baltimore.
Chief deputy state's attorney Michael Schatzow responded that Mosby, seated in the second row at Wednesday's hearing, had only read a probable cause statement against the six officers, and had not commented on the evidence in the case, or demanded convictions.
Williams, who at times appeared exasperated by each side, said he had read the entirety of Mosby's May 1 press conference remarks announcing the charges against the officers. He said that he did not find reason to recuse the city state's attorney or her office from the case, which he called a "rare" step and a decision "not to be taken lightly."
He added that whether or not the potential jury pool in Baltimore City had been "contaminated" and other issues regarding jury selection would be addressed during the next pre-trial motion case.
During the hearing, dozens of protestors—in large part representing the Peoples Power Assembly—chanted and picketed outside the courthouse. In addition, community activist Kwame Rose, who we wrote about in July and whose debate with Geraldo Rivera went viral in April, was reportedly arrested for blocking a roadway. But there are conflicting reports about the incident.
At a press conference late Wednesday afternoon outside police headquarters, interim police commissioner Kevin Davis said Rose, "has been criminally charged with assaulting a police officer, he's been charged with a couple counts of disorderly conduct, and he's being charged with making a false statement. But, I'd really like to concentrate on the many, many other protestors who exercised their first amendment privilege. I don't want the actions of one single person to serve as a distraction to an otherwise very productive day in Baltimore."
Chant at courthouse: "Books not bombs, schools not jails" #FreddieGray
— Alison Knezevich (@aliknez) September 2, 2015
UPDATE: @KwameRose has received medical attention and is being charged with a misdemeanor w/ disobeying traffic laws #FreddieGray #Baltimore
— Rahiel Tesfamariam (@RahielT) September 2, 2015
#Baltimore cops arrest activist @KwameRose despite plea for help: "I got hit by a car; I need a medic." #FreddieGray pic.twitter.com/2ryr3oPEcx
— Urban Cusp Magazine (@UrbanCusp) September 2, 2015
Dave Devillasee says man w/protesters, stopped car in street, fell to ground but not hit. Police arrested him. pic.twitter.com/1KfdB6yidI
— Jessica Anderson (@janders5) September 2, 2015
@kwamerose being arrested as police push back the crowd #Baltimore #FreddieGray pic.twitter.com/HcqunF89hh
— robbrulinski (@robbrulinski) September 2, 2015
Things now seem quiet around the courthouse, but we will continue to update the story as necessary.