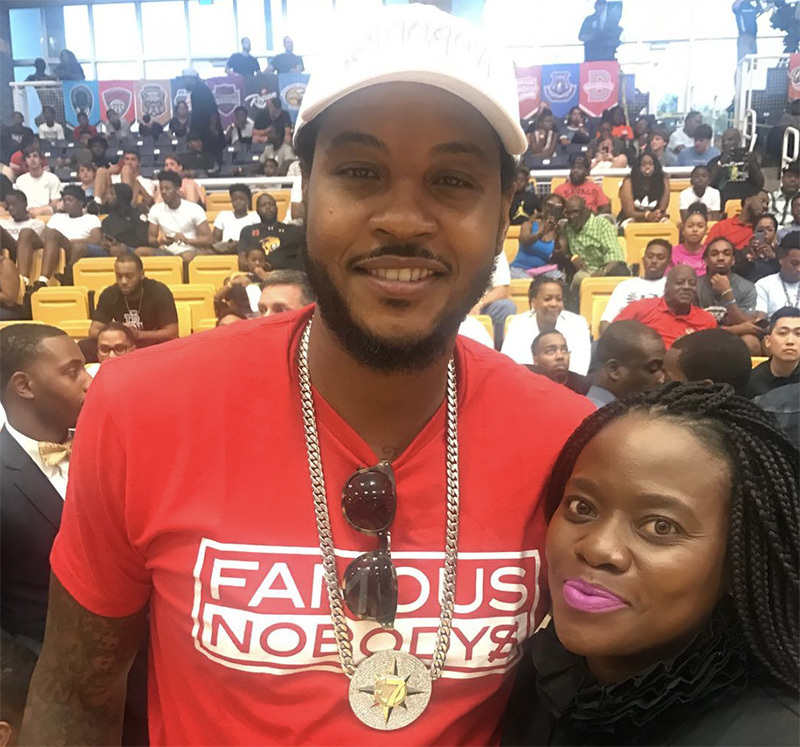 Instagram
Carmelo Anthony's heart is still in Baltimore. 
Though he was born, and lives, in New York, Carmelo Anthony still refers to Baltimore as home. It's the place the 10-time NBA all-star moved to when he was 8 years old and where he spent a good chunk of his formative years on local fields and gyms, eventually growing into one of the most famous athletes to come from the city.
This week, Anthony, 33, returned as honorary chair and host of The Basketball Tournament, a three-day $2 million winner-take-all semipro championship held at Coppin State University. The current New York Knicks forward, who played at Towson Catholic (old photo alert!), sat courtside at the tournament's ESPN-televised title game on Thursday night, and spoke about Baltimore as if he never left. "It's a way I can bring something positive to the city," he said of the event, which included cleanup efforts at 12 sites in the city, free health screenings at Mondawmin Mall, and a job fair at Coppin State. "Sports is a connector in life." 
The thoughts echoed an emotional speech he gave a day earlier at Marshall Park in West Baltimore, where mayor Catharine Pugh awarded Anthony a medal of honor for service to the community. In April 2015, after Freddie Gray's death, Anthony joined protestors and urged calm amid the outrage. "What we're trying to create is so much bigger than the negativity that you guys hear, or see, or read about our city," he said.
Brandon Williams keeps on dancing.
This time it was against a little girl during the Ravens' open practice on Sunday at M&T Bank Stadium
"What did you think of the dance contest? Kid or Brandon, who won?" Ravens coach John Harbaugh asked reporters afterward.
You might remember Williams' moves (nimble for a 340-pound defensive lineman, isn't he?) from a locker room video that impressed the Rockettes two years ago, or him doing the "Carlton"  while on promotional tour in London.
This was a nice distraction from Joe Flacco being hurt (along with seemingly a dozen other injured Ravens) before the season's even started. And, if nothing else, the impromptu dance-off made for a great first use of the stadium's new and massive 4K scoreboards.
O's don't give up the fight.
The Orioles front office apparently had higher expectations for the rest of this season than we imagined. Instead of trading closer Zach Britton or relief pitcher Brad Brach and for pieces that could help in future years—as were widely rumored as possibilities—the O's turned into buyers at the Major League Baseball trade deadline—and aren't giving up on the playoffs.
They got a starting pitcher, Jeremy Hellickson, from the Phillies and a former No. 1 overall draft pick, 27-year-old shortstop Tim Beckham, from the Tampa Bay Rays. Beckham's started his O's career with a pair of multi-hit games, and on Wednesday night Hellickson delivered what the team desperately needed, a quality start, as he led the Birds to a fifth straight win and to within 2.5 games of a playoff spot. After a loss Thursday night to Detroit, the O's are now 3.5 games out. "I'd like this season to go to the end of the year," GM Dan Duquette said. Thankfully, maybe October baseball isn't as far off as we thought.
Under Armour lays off close to 300 employees.
About half the layoffs, announced Tuesday by Under Armour CEO Kevin Plank, were effective immediately to employees at the company's Locust Point headquarters, a distribution center in Curtis Bay, an outlet store near that warehouse, and Under Armour's store in Harbor East. It's part of what the company described as a restructuring in the wake of a second straight quarterly loss ($12 million). The footwear and apparel giant is cutting 2 percent of its worldwide workforce, or roughly 280 people. "After six and a half years of more than 20 percent growth, we are clearly operating in a different environment, especially in North America," Plank said on an earnings' conference call. Various financial media delved deep into the details of why things aren't going so well but, in short, this hits home.