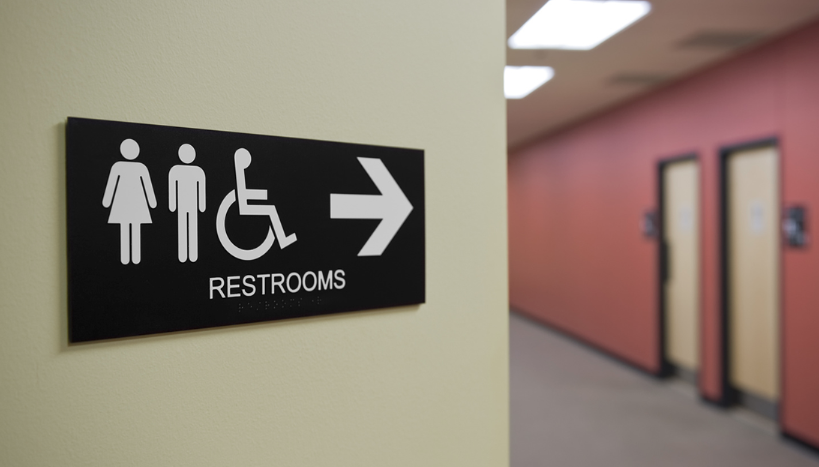 GLSEN.org
A bill requiring that all single-use bathrooms be made gender-neutral unanimously passed a City Council hearing Friday, putting the legislation on a path to be signed next month during Baltimore's Pride Weekend.
Supported by transgender activists and the mayor's LGBTQ Commission, the bill—if approved by the full council and signed into law by Mayor Bernard C. "Jack" Young as expected—would place Baltimore alongside cities such as New York, Philadelphia, and Washington, D.C., which have passed similar laws in recent years.
Earlier this year, the City Council passed a resolution calling on the Baltimore City Public Schools board to create a policy allowing transgender students to access bathrooms that align with their gender, use preferred pronouns, and update school records to reflect their gender. The school board passed those polices in April.
First District City Councilman Zeke Cohen, who is co-sponsoring the new legislation, said the gender-neutral, single-stall bathroom bill is an effort to extend the same bathroom accessibility now a part of the school system to all of Baltimore. "This is about creating a more welcoming, inclusive city in our public accommodations, particularly for our transgender community and our gender non-binary community," Cohen said.
All five of the City Council's Youth and Education Committee—John Bullock, Kristefer Burnett, Mary Pat Clarke, Ryan Dorsey, and Cohen—where the legislation is being brought forth, voted to pass the measure out of committee. New City Council President Brandon Scott was also on hand and voiced support for the measure.
The Fairness for All Marylanders Act, a state law that went into effect in 2014, prohibits gender-based discrimination in public accommodations, as well as employment, housing, and credit.
This new City Council proposal goes a step further and would mandate clear, gender-inclusive signage for all publicly accessible, single-occupancy restrooms in Baltimore. Several local business leaders in attendance announced support for the legislation. A representative from a local retailer's association asked for an amendment that would allow businesses more time to put signs in place before facing any fines.
Ava Pipitone, with the Baltimore Transgender Alliance, testified in favor of the legislation, comparing the effort to make bathrooms and public spaces more welcoming and inclusive to historical civil rights efforts. "We've been here before with racially segregated bathrooms," Pipitone told the Council's Youth and Education Committee, where the legislation is being brought forth.
Jamie Grace Alexander, also with the Baltimore Transgender Alliance, noted the legislation would help not just transgender and non-binary individuals, but nursing mothers and wheelchair users as well.
Sharon Brackett, an entrepreneur and activist who became the first trans woman elected to public office in Maryland when she was voted to the Baltimore City Democratic State Central Committee in 2018, noted in testimony that the black transgender community today, in particular, faces unwanted scrutiny in accessing public restrooms.
"Public spaces, including bathrooms, have always been battlegrounds for civil rights," Jabari Lyles, the Mayor's Office LGBTQ liaison, told Baltimore magazine. "I'm hesitant to draw direct parallels to the segregated bathrooms of the past. But there are similarities in that bathrooms, water fountains, schools, restaurants, and hotels have been battlegrounds in the past."