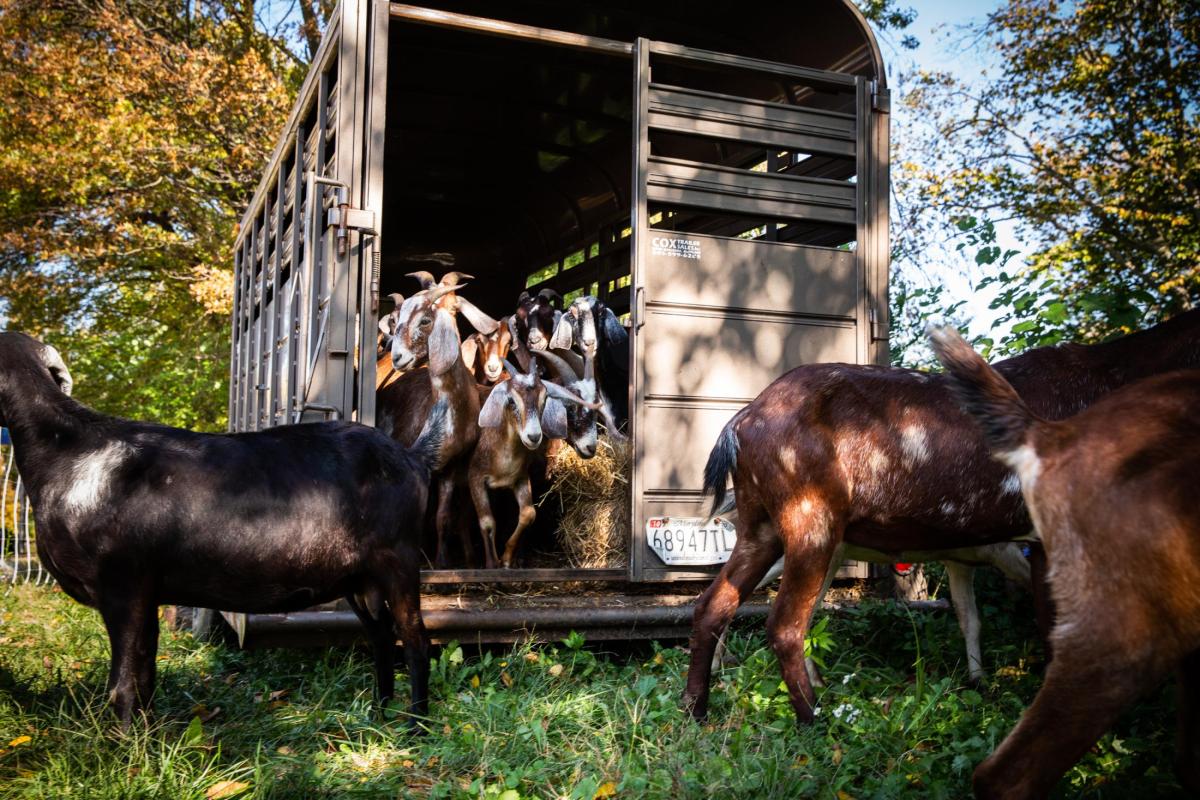 —Photos courtesy of Side A Photography
About two years ago, Friends of Wyman Park Dell—a volunteer-run organization that works to help preserve the 16-acre public park south of the Baltimore Museum of Art—was forced to get creative in its landscaping efforts. 
Members noticed that the lower dell, which opens to reveal the treasured art museum, was crowded with invasive vegetation that had been mowed down in years past. But, as the nonprofit's board president Martha Waldron explains, city officials felt the green stretch—most commonly referred to as the "BMA Slope"—would be too steep to access using humans and machinery. 
"We were looking for a sustainable and environmentally friendly solution to clear some of the invasive species [on the slope,] and to make sure that the BMA sightline remained in place," Waldron says, referring to the master plan developed for the park.
After exploring several options, the group stumbled on perhaps the most sustainable of any: relying on goats to get the job done.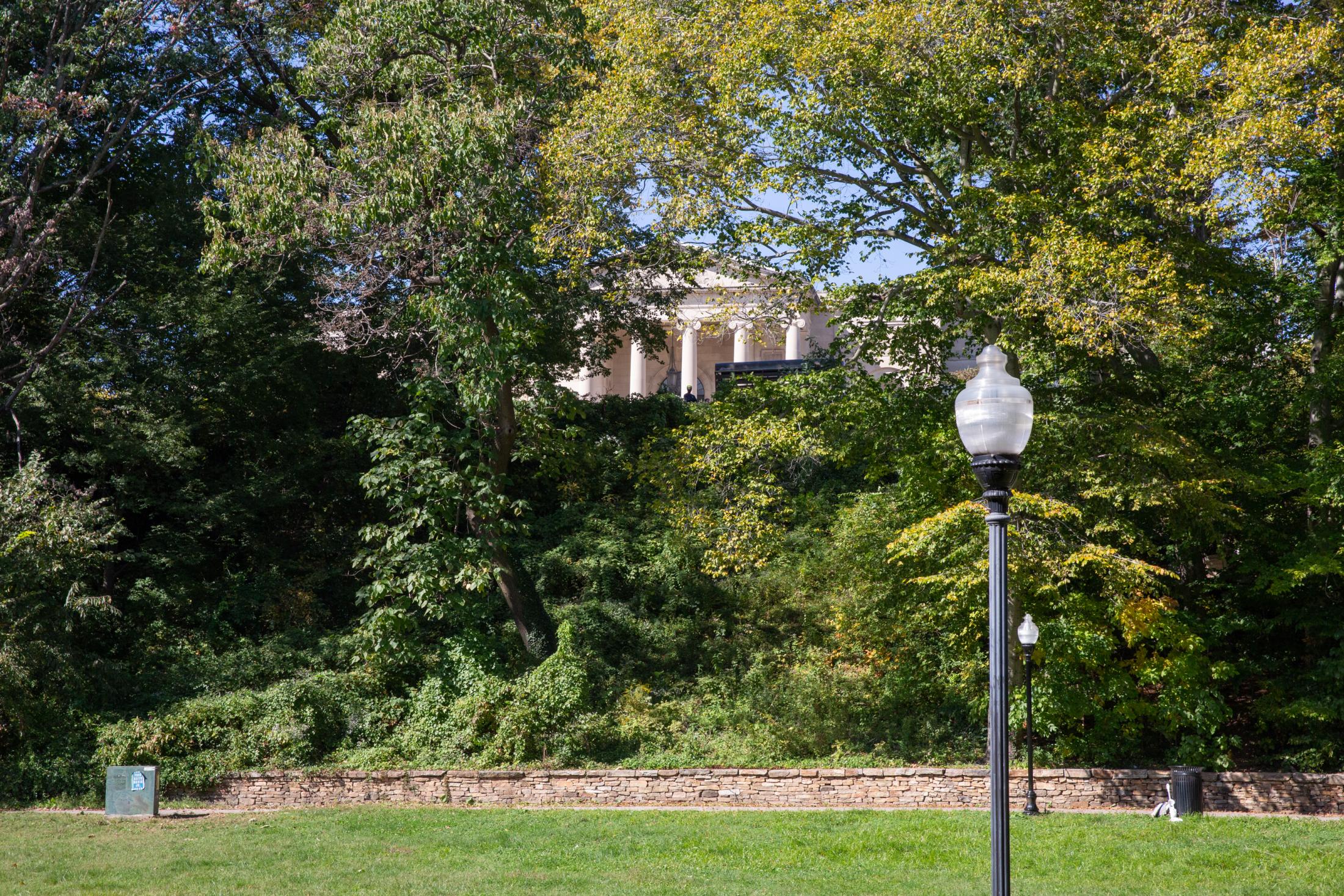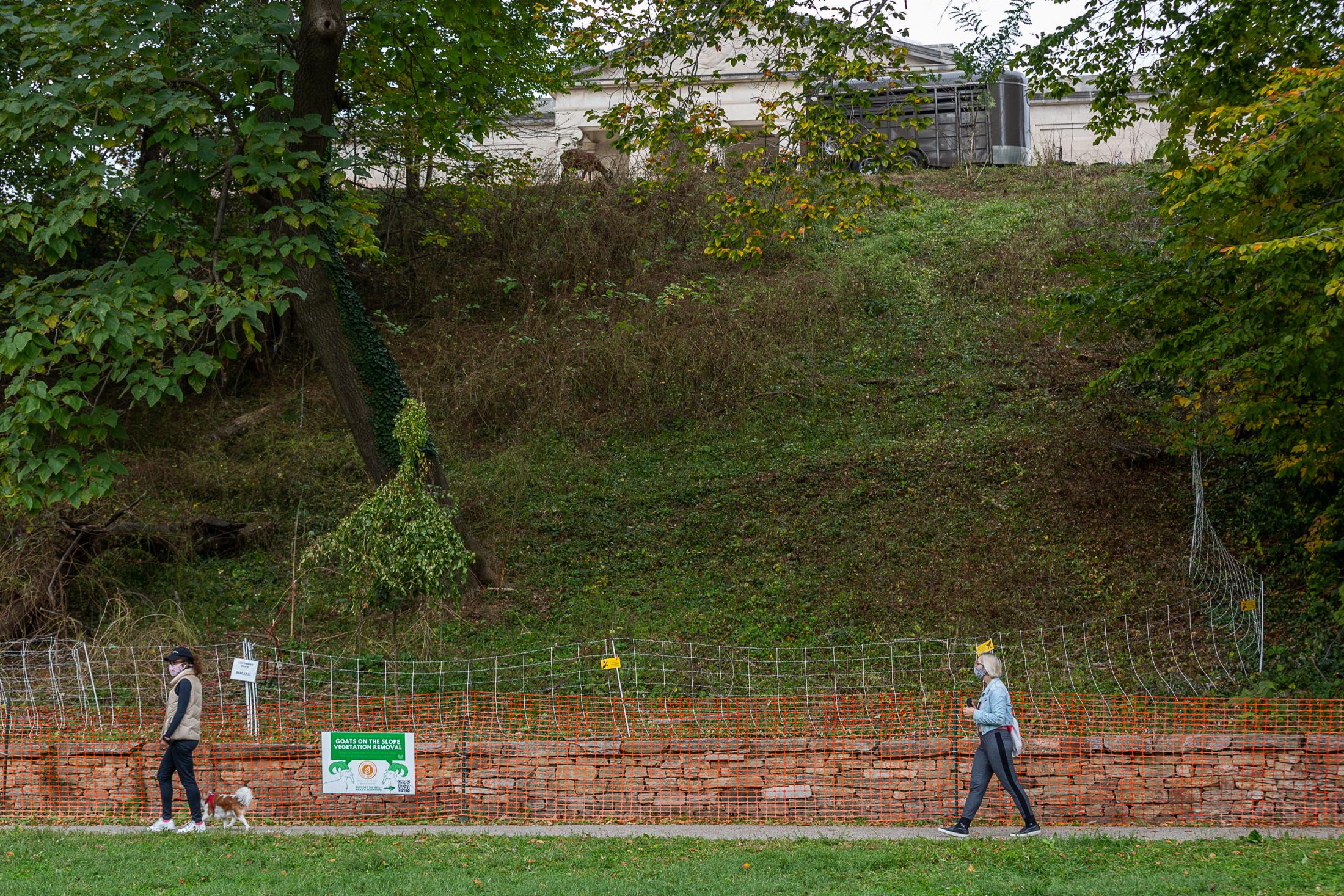 "We had about 20 goats come out, and we were surprised by how eager and hungry they were," Waldron says.
The slope was clear in four days, and masked city residents were happy to be outdoors among the furry critters.
"Because we were all still in lockdown, it was a great opportunity for people to bring their mail-in ballots to the drop-off box located by the BMA," Waldron says. "A lot of folks would take a walk to drop their ballots off and stand around to get a chuckle at the goats."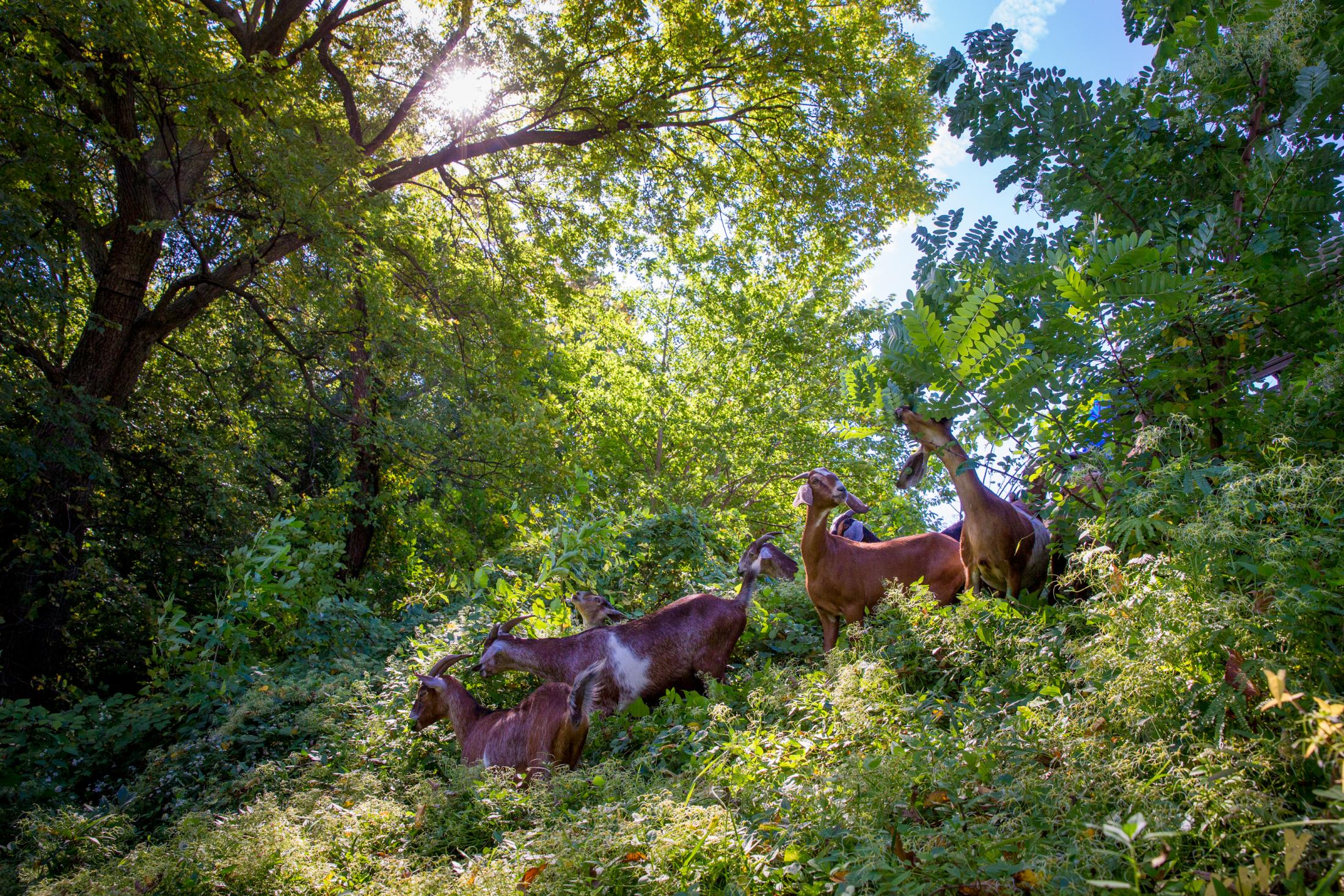 Starting tomorrow, 10 new goats—provided by Prosperity Acres and Browsing Green Goats, a company that uses goats to raze unwanted foliage along the region's waterways—will once again turn the lower dell into their chomping grounds, eliminating pesky plants and possibly some small trees that have sprouted since the last goat visit.
So, what's on the menu? 
"They won't eat the [larger] trees," says Mary Bowen, the owner of Prosperity Acres who began renting her goats to graze on green stuff some 12 years ago. "They're just woody and there isn't much nutritional value." However, "They'll decimate tree saplings," she says, listing poison ivy as a craving at the top of every goat's list, followed by invasive plants including knotweed, briar bush, and kudzu. 
"Anything that's growing up the trees that causes bramble-looking stuff is what the goats are really good for," Bowen adds, referencing invasive growths on trees that, when left untreated, can "choke [the trees] out and kill them."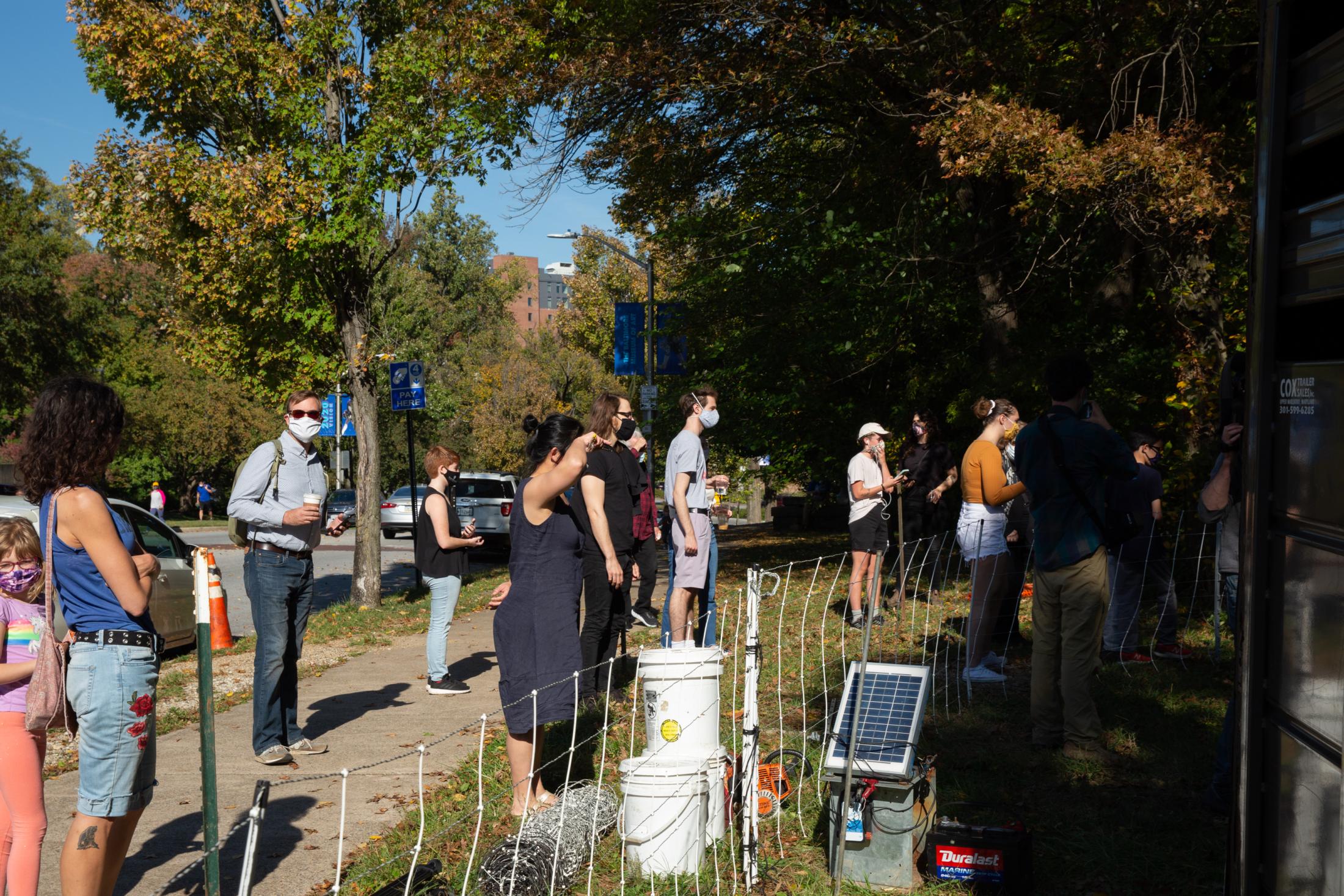 Luckily for these goats, who will occupy the slope into next week—or until all its vegetation has been eaten through—the dell is home to lots of poison ivy and tree saplings for their liking. While the goats—accompanied by Border Collie, Gracie, who is training to become a seasoned herding dog—get busy munching, Baltimoreans are welcome to stop by the slope to say hello and make some artwork with the BMA, which will provide coloring pages modeled after its most famous goat-themed pieces. 
Overall, Waldron has hopes that this year's visit will be meaningful for locals, just as it was in 2020. 
"It's a great opportunity to introduce folks to some creative solutions for vegetation management," she says. "It's also a really fun and engaging way to get people into Wyman Park, which is such a special place. Hopefully this will bring a smile to everybody's face and help the park at the same time."