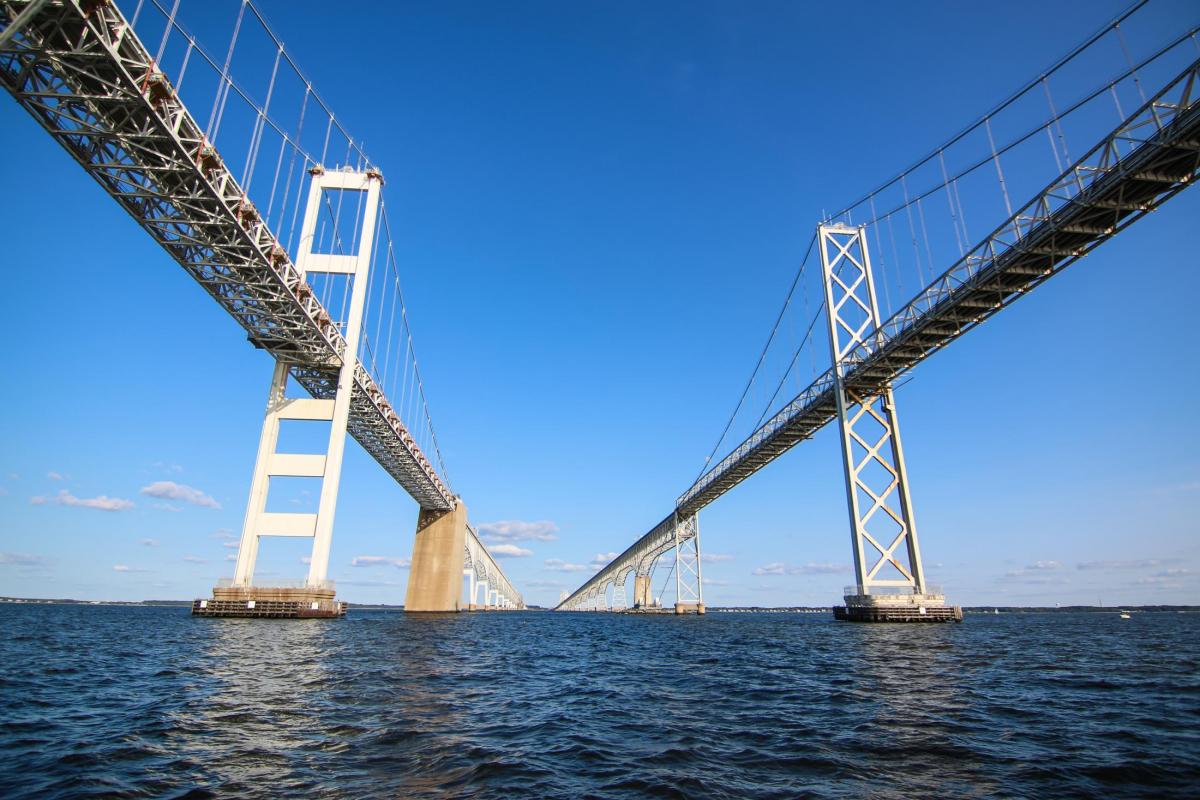 —Shutterstock
This April, the future of the Chesapeake Bay Bridge became slightly clearer when Maryland Transportation Authority officials announced that a new bay crossing, aimed at addressing the current infrastructure's notorious congestion, would be constructed near the site of the existing spans between Annapolis in Anne Arundel County and Stevensville in Queen Anne's.
It was a big moment for Maryland residents, who had waited five and a half years for the results of the first phase of a two-tier National Environmental Policy Act (NEPA) study, initiated by Governor Larry Hogan in September 2016. Thirteen other potential locations were eliminated in the process, but questions still remained, including what the crossing would look like—be it a third span, a whole new replacement bridge, or even a bridge-tunnel—and also where and when funding would arrive for the NEPA's second and final phase.
Now, after months of anticipation, Governor Hogan provided some of those answers with this morning's announcement that the state will be fully funding the $28-million Tier 2 NEPA study. The news moves Maryland that much closer to a new means of traveling across the nation's largest estuary, which geographically separates the Eastern Shore from the rest of the Old Line State. As with Tier 1, funding will come from the Consolidated Transportation Program (CTP), which approves transportation projects to be paid for with toll dollars.
"Over the course of our administration, we have ushered in a series of changes to try to bring the Bay Bridge into the 21st century," said Hogan this morning beside the eastbound off-ramp, referring to a recent transition into all-electronic tolling and the forthcoming automated gate system for traffic management at the bridge. In a recent interview with Baltimore, he compared this study to a continuation of Governor William Donald Schaefer's 1989 "Reach the Beach" initiative, which added express lanes to the bridge, widened Route 50, and established a toll-free travel hotline for traffic information. "This is the critical next step which is necessary in order to move forward so that we can make a new bay crossing a reality in the years to come," says Hogan. "It's just one more way that together we truly are changing Maryland for the better."
On both sides of the bay, the announcement is sure to stir passionate debate, which the bridge—first proposed in the 1880s, then officially launched with the original span in July 1952, and expanded with a second parallel span in June 1973—has been the center of for centuries.
In the weeks leading up to Hogan's announcement, a coalition of elected officials from at least 12 of Maryland's 23 counties—including the mayor and entire city council of Ocean City—made their position clear with the request for construction of a new bridge to replace the existing spans. Those politicians are requesting a minimum of eight lanes, which is larger than the six-lane Brooklyn Bridge in New York City and Golden Gate Bridge in San Francisco.
Some cited the age of the existing spans as rationale for new construction—the eastbound lanes turn 70 next month, while the westbound turn 49 in just a few weeks. Others justified the eight-lane capacity by pointing to the Tier 1 study's traffic analysis, which projected that, by 2040, there would be seven hours of congestion on non-summer weekdays and 22 hours of congestion on summer weekends, compared to three and 19 today. GPS-clogged side roads in both Anne Arundel and Queen Anne's counties can block emergency vehicles and hinder residents from leaving their homes, particularly during beach season.
"We've heard from the counties that they're looking for answers for a path forward to relieve that congestion," says MDTA executive director Will Pines. "This will give us a vision for that future."
All parties seem to agree on there being a traffic problem, but there are also community members who fear that a bigger bridge will simply mean more traffic. They point to the economic concept of "induced demand," which has found that the initial benefits of congestion relief fade within a decade, when additional cars inevitably fill in the expanded roadway.
"Our view is that a [new crossing] would open up the Eastern Shore to even more development," says Jay Falstad, executive director of the nonprofit Queen Anne's Conservation Association, who would like to see the state exhaust its traffic management and non-car transportation alternatives before the construction a new crossing, which is expected to cost up to $13.1 billion. "Our biggest fear is not just what a new crossing would do to Queen Anne's County but the entire Delmarva Peninsula."
With that, some worry that the expanded capacity of a future crossing could lead to increased development pressure that would influence the character of communities not only in the 22-mile bridge corridor between just west of the Severn River Bridge in Parole and the U.S. 301-Route 50 split in Queenstown but along the entire pathway to the beach.
"A Tier 2 analysis that is just looking at the impacts of a bridge and the roads approximate to it is far from comprehensive," says Steve Kline, president of the nonprofit Eastern Shore Land Conservancy. "We already at times have tremendous traffic in Easton and Cambridge. What is induced demand going to do in those areas? What can we expect the land-use impacts to be? . . . I also think we ought to take a good look at whether the beach and other tourist locations can accommodate that many more people without affecting the quality of the experience."
There are concerns, too, surrounding the environmental impacts—such as habitat loss and water pollution—that could be caused by a multi-billion-dollar construction project in a watershed at the crossroads of climate change.
Those will be further considered in the Tier 2 study, where the primary focus will be to identify the exact type of future crossing, as well as the exact location within two miles of the current spans.
A baseline no-build alternative will also be considered, and there will be further examination of alternative modes of transportation—such as ferries, bus transit, or variable toll pricing for peak hours—though likely in some sort of combination with new construction. In Tier 1, all such considered options were deemed insufficient to relieve congestion on a stand-alone basis.
The study will take four to five years to complete, with the results to be left for consideration by Maryland's next governor, as Hogan currently nears the end of his final term.
"We just want to make sure that people know a Tier 2 study [will] include lots of public outreach," the MDTA study's project manager Heather Lowe recently told Baltimore, citing an online comment period, public meetings, town halls, and so on, as was the case in Tier 1. "We will be out there, reaching out the public, and that's a very important part of the process."