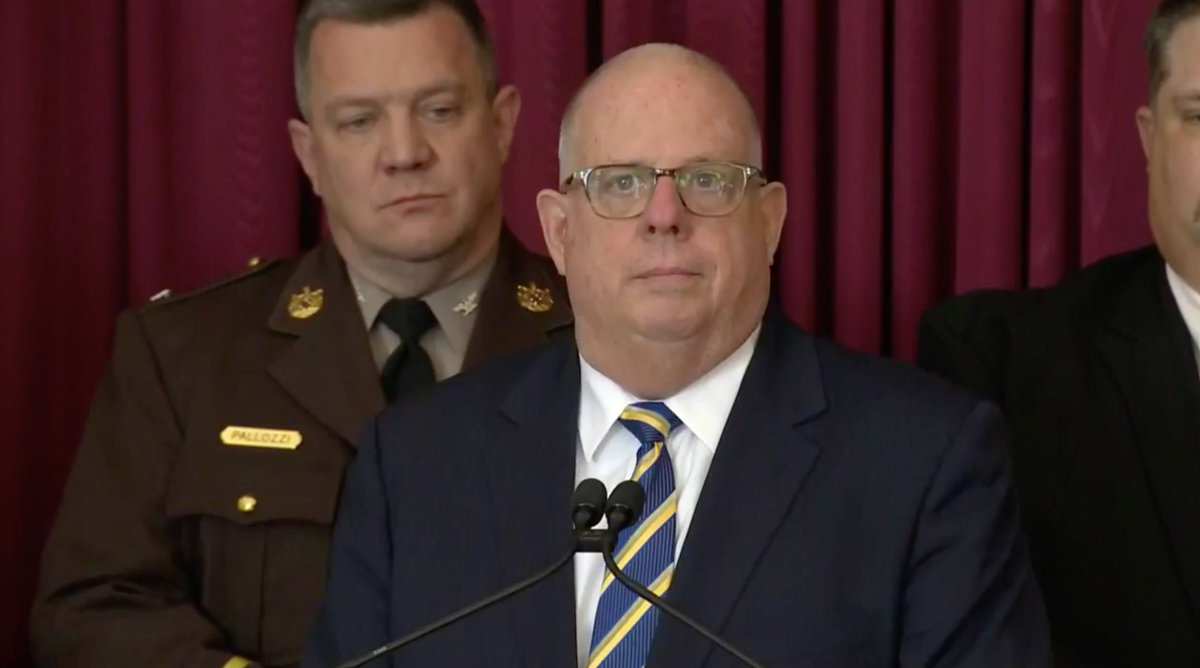 On Tuesday, Governor Larry Hogan announced that he will be implementing several new initiatives to target violent crime in Baltimore City, citing the increasing violence as "completely unacceptable." Hogan plans to open a Violent Crime Joint Operations Center in the city that will have 200 "strike force" officers from 16 federal and local agencies to fight crime and gangs.
"Citizens across the state are outraged by the daily headlines of this rampant gang violence," Hogan said at the press conference. "They don't feel safe in their own neighborhoods . . . They're crying out for somebody to do something to stop these killings."
For the last four years, the city has exceeded more than 300 homicides. Hogan said that "enough is enough" and that he will use every resource available to curb the amount of violence in Baltimore, including providing additional funding to the Baltimore Police Department for signing bonuses to attract more recruits, as well as $50 million to fund every request received from victim service providers across the state.
"All of these efforts won't be enough if we can't keep these repeat offenders off the streets," he said. "According to the BPD, 60 percent of those convicted of gun crimes in Baltimore City do not serve any real time and are released back onto the streets to commit violent felonies again and again. This is completely unacceptable."
The governor will fund the expansion of Project Exile, a federal program that targets repeat offenders and have them charged under federal laws and courts that may lead to longer sentences. Hogan also said he would introduce legislation at Maryland's General Assembly session, which begins today, that would increase the mandatory minimum sentence for repeat gun offenders.
"The federal mandatory sentences are 10 years. If we can process them on federal gun crimes and federal courts, we can put them in jail rather than a slap on the wrist with Baltimore City judges and without mandatory sentences with prosecutions here in the city," Hogan said. "They are not enough prosecutors to handle all these cases, and we ask them, 'How could they do more of them,' and they said they need more manpower, so we're paying for them."
Hogan believes that there has been too much focus on the misconduct of the BPD and not enough on the violent criminals plaguing the city, pointing the finger at the consent decree that was implemented in 2017.
He also said that permanent leadership is vital to make this all work expressing his frustration at the vacancy of the position for the past seven months. This comes just one day after Mayor Catherine Pugh announced New Orleans Superintendent Michael Harrison as commissioner-designate.
"There's been a whole lot of focus on the consent decree, that's all people have been talking about," Hogan said. "I think it's out of balance. We're going to focus on getting the criminals off the street."