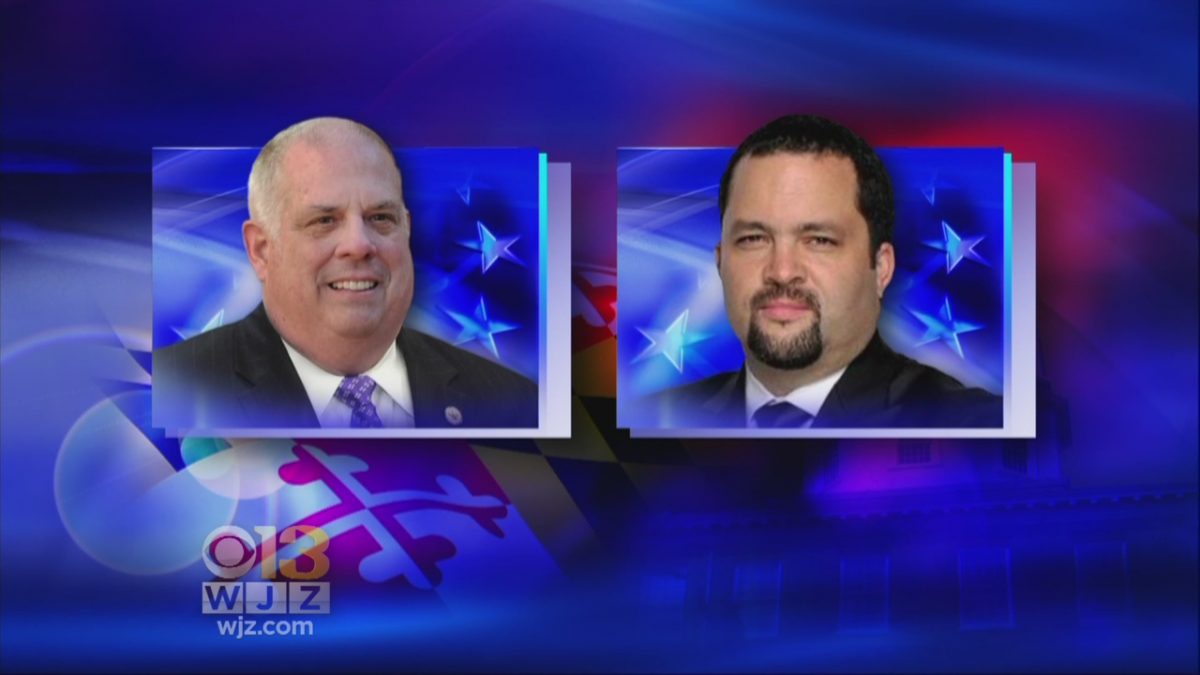 WJZ-TV
If the election were today, 54 percent of likely Maryland voters would cast their ballot for incumbent Republican Larry Hogan in the race for governor, according to the latest Goucher College poll. Thirty-two percent say they would vote for Democratic candidate Ben Jealous.
Green Party candidate Ian Schlakman and Libertarian candidate Shawn Quinn each received one percent of the support of likely voters.
Nine percent of voters remain undecided. Another quarter of likely voters indicated they could change their mind, leaving some hope for Jealous, who trails Hogan significantly in fundraising efforts and only began airing his first television commercial after the poll concluded. Interestingly, by a margin of 47 percent to 36 percent, likely voters say they value a governor who is more focused on bringing about change than ensuring stability.
Statewide, likely Republicans voters favor Hogan by 91 percent to 1 percent margin. Currently, registered Maryland Democratic voters only break for Jealous by 10 points—48 percent to 38 percent.
"The cross [tabulations] tell the story," St. Mary's College political science professor Todd Eberly commented on Twitter. "The lesser known GOP candidates running against Cardin, Frosh, and Franchot are getting crushed. But Hogan is receiving strong support from core Democratic voters."
New Goucher Poll has Larry Hogan 22points ahead of Ben Jealous. The cross tabs tell the story. The lesser known GOP candidates running against Cardin, Frosh, & Franchot are getting crushed. But Hogan is receiving strong support from core Democratic voters. https://t.co/DdCuvHDgmz

— Todd Eberly (@ToddEberly) September 19, 2018
In the first half of the Goucher College survey released yesterday, a significant majority of Marylanders backed policies—typically viewed as progressive Democratic initiatives and supported by Jealous—while also strongly supporting Hogan. Seventy-one percent of Marylanders now back raising the statewide minimum wage to $15 an hour—up from 66 percent in February 2018—with 25 percent in opposition. By a margin of 54 percent to 33 percent, Marylanders hold a favorable opinion of a Medicare for All/single payer healthcare system. And 62 percent of Marylanders support the legalization of marijuana for recreational use.
The single, one-hour televised debate between the two candidates is scheduled for 7 p.m. Monday and will be broadcasted on Maryland Public Television.
"Ben Jealous has faced a months-long barrage of negative ads and has a substantial disadvantage in campaign fundraising—and it's prevented him from defining his candidacy to the public and making gains on his opponent," said Mileah Kromer, director of the Sarah T. Hughes Field Politics Center at Goucher College. "Hogan's electoral strength continues to be grounded in political moderation and the confidence the public has in him to handle economic issues. We have less than two months to see whether Hogan can maintain his bipartisan voting coalition or if Jealous can turnout enough progressives to make up the difference."
The Jealous campaign appeared to suffer an unforced error earlier this week when they vetoed a Hagerstown Herald-Mail reporter from the upcoming MPT debate panel and then rescinded the move after an up road from other local media outlets.
The economy/jobs (25 percent), education (13 percent), racial/social justice (13 percent), President Donald J. Trump/national political concerns (13 percent), and healthcare (11 percent) were highlighted by likely voters as the most important issues in making a vote for governor.
Overall, 66 percent of likely voters expressed more confidence in Hogan in terms of economic development and job creation, 51 percent had more confidence in Hogan in handling education concerns, and 51 percent had more confidence in Hogan in regards to healthcare issues.
Sixty percent of likely voters said their opinions toward embattled President Trump, the GOP's national standard-bearer, "will have no or little effect on their choice for governor."
A Hogan endorsement, the poll found, holds less sway perhaps than his strong survey numbers suggest. Just 38 percent of likely voters said they would be more likely to vote for a candidate endorsed by the governor. Meanwhile, Democratic incumbents Sen. Ben Cardin and Maryland Attorney General Brian Frosh both maintain significant leads on their challengers.
Fifty-six percent of likely voters in the state indicate they will vote for Cardin and 17 percent for Republican challenger Tony Campbell. Independent Neal Simon captured eight percent support.
Fifty-eight percent of likely voters in the state indicate they will vote for Frosh and 26 percent for Republican challenger Craig Wolf.
"Ben Cardin and Brian Frosh are both in a strong position to easily win their reelection bids in November," said Kromer. "They both earn strong support from their Democratic base, as well as a solid percent of independent voters."