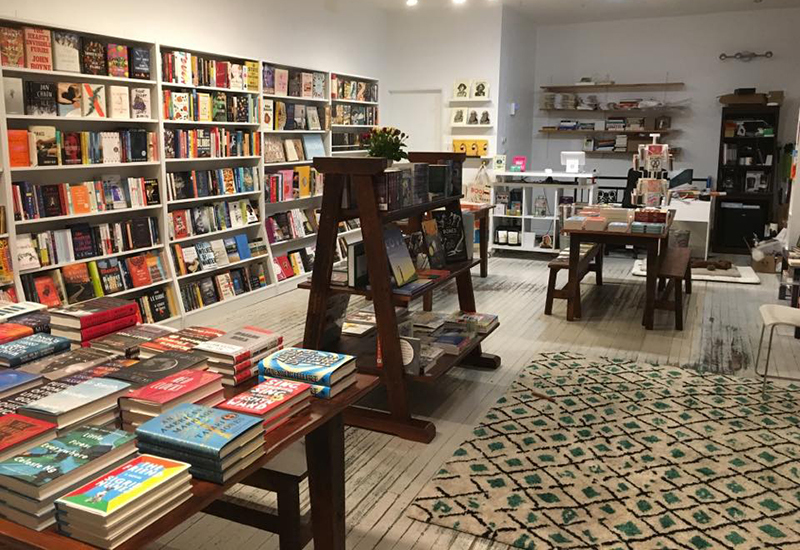 Greedy Reads/Facebook
When Julia Fleischaker first saw the Fells Point space that would become Greedy Reads, she had an immediate vision for how her store would lay out and where everything would go. Eighteen months later, Fleischaker had a similar picture in her head when she came upon a space across the street from R. House in Remington, which will soon serve as the second location for the independent bookstore, set to open in late fall.
"I love my Fells Point store—I'm obsessed with it," Fleischaker says. "It's incredibly beautiful and I love the vibe. But the one thing I can't really do is the events that I want because it's a smaller space."
That will change in Remington, as Greedy Reads will take over the front half of the former Twenty 20 Cycling space. The new location will be twice the size of its Fells Point counterpart, around 1,300 square feet, which will allow for more inventory and a bigger selection. The stage from the cycling space will remain, giving Fleischaker the opportunity to put on a whole host of events, from author readings, stand-up comedy nights, to even jazz trio performances.
This news also comes on the heels of Baltimore County's The Ivy Bookshop's recent announcement that it will move to a bigger space two blocks south of its original location. In total, it's proof of Baltimoreans' willingness to support local, independent bookstores.
"I think there was this kind of recognition over the past 20 years where communities were losing their bookstores and saying, 'Wait a second, this isn't what we wanted—we didn't realize that this is the consequence of bargain shopping online,'" Fleischaker says. "I think that Baltimore is particularly conscious of that dynamic."
Fleischaker says the reception to the expansion has been overwhelmingly positive, a testament to how the bookshop has ingratiated itself within the Fells Point community and beyond. She hopes to collaborate and work together with R. House and her future neighbors like Mount Royal Soap Co. and B. Willow, and is excited to establish new connections in Remington. Fleischaker picks and curates every book in her flagship store along with personalized recommendations, and that won't change at this new store.
"I love books and talking about books," says Fleischaker, a Chevy Chase native. "Getting to know this community of people and getting to know the city a little bit, it's exciting for me to expand. The way I set up the bookstore allows for discovery and happenstance. I feel like that's reflected itself in my life in the last few years. I've been fortunate to stumble into these two great locations."