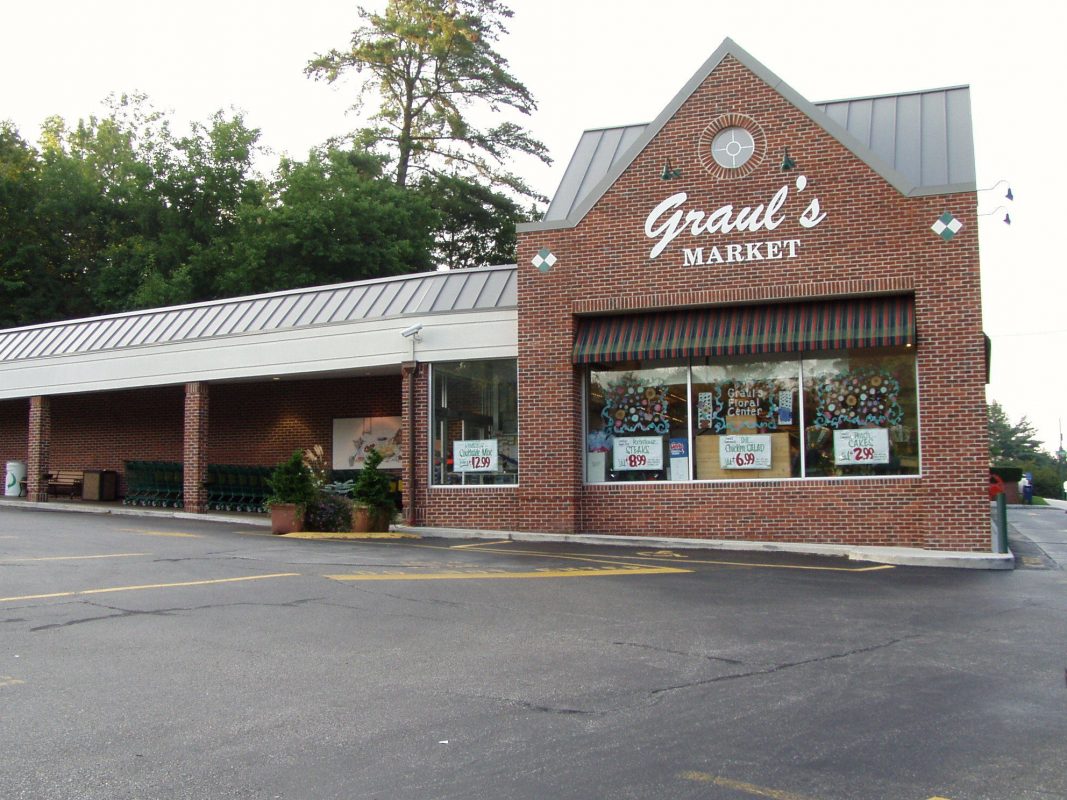 Last week, Kate Poffenberger, the owner of Graul's Market Ruxton, woke up at 4:45 a.m. worrying about eggs. As one of the essential businesses allowed to stay open during the coronavirus pandemic, grocery stores and markets like Graul's have taken on an even greater utility role as a provider for quarantine supplies.
"You start going through your brain to think about what else we need to do to make sure customers have food," Poffenberger says.
On the supplier side, that means going to great lengths to ensure stores are stocked. Poffenberger has done everything from renting trucks and driving to pick up inventory from a wholesaler in Harrisburg, Pennsylvania, to frantically calling New Jersey and Virginia suppliers to restock.
"I've never seen anything like this," Poffenberger says. "We're trying to get stuff from anywhere and everywhere. I think that when this is all said and done, no one's going to buy another roll of toilet paper."
Indeed, certain items—including hand sanitizer and toilet paper—have become hot ticket purchases to the point where stores are having trouble keeping them on shelves. Across the country, a hoarding mentality has become common among shoppers, and supplies are being sold for exorbitant prices online.
However, locally, Poffenberger says that she has been heartened by those who have reached out to help ensure people are getting what they need.
"We hear about customers who are shopping for their elderly neighbors who can't come out to shop," she says. "People really are helping each other."
Additionally, several Graul's customers have taken to buying boxed lunches and dinners for Greater Baltimore Medical Center and Johns Hopkins Hospital employees, and the store is doing its part by offering significant discounts on these items.
Meanwhile, at the Safeway in Charles Village, a welcome consequence of the increased volume of customers has been the need for more employees.
At a time when unemployment numbers are skyrocketing and millions of Americans are being laid off, hiring more employees has been a point of pride for the store's director, Dee Frances. Frances has recently hired 30 people, and started referring other applicants to surrounding Safeway locations as her store reaches its employee limit.
"We know we have to be here," Frances says. "Because if we're not here, who's going to be here for the people? We all made a commitment, and we all know what we have to do."
Both Safeway and Graul's are ensuring their stores are as safe as possible. By the end of this week, Frances will have five employees whose sole job will be keeping the store clean.
Additionally, both stores have instituted special hours for elderly shoppers. Graul's Ruxton offers these hours Mondays and Fridays from 7 a.m. to 8 a.m., while Safeway has designated time from 7 a.m. to 9 a.m. on Tuesdays and Thursdays.
At Harris Teeter, similar measures have been taken on Mondays and Thursdays, as 6 a.m. to 8 a.m. has been reserved for seniors and vulnerable shoppers. And at Giant Food stores, the first hour of every day—6 a.m. to 7 a.m.—has been dedicated to customers 60 or older.
These changes also mean longer hours for store employees, who are working around the clock to ensure their stores are stocked and sanitized.
"It's stressful," says Lester Watson, who has worked at Graul's as a stocker and cashier for 25 years. "You go home and you're more tired than normal. It's a faster pace."
Both Safeway and Graul's have taken measures to ensure morale stays high among workers on these extended shifts. Frances has prepared meals for her employees a few times a week and provided bagels in the morning, while Poffenberger has tried to keep things light, giving employees special hats and gift certificates along with free lunches.
"I'm a small part of this," Poffenberger says. "There's a whole group of workers down there talking to customers. That's our biggest challenge—keeping morale high and everybody healthy."
Because grocery stores are firmly cemented in the communities they inhabit, workers often get to know customers on a personal level. This idea is heightened at a moment when the ability for human connection is severely limited. As those on the front lines tell it, these circumstances have brought out the best in people.
"We know a lot of our customers already," Poffenberger says. "A lot of [our workers] have fairly good relationships with them, so we almost feel like they're family. There's some pride in that. We're still here, and we're still taking care of them."