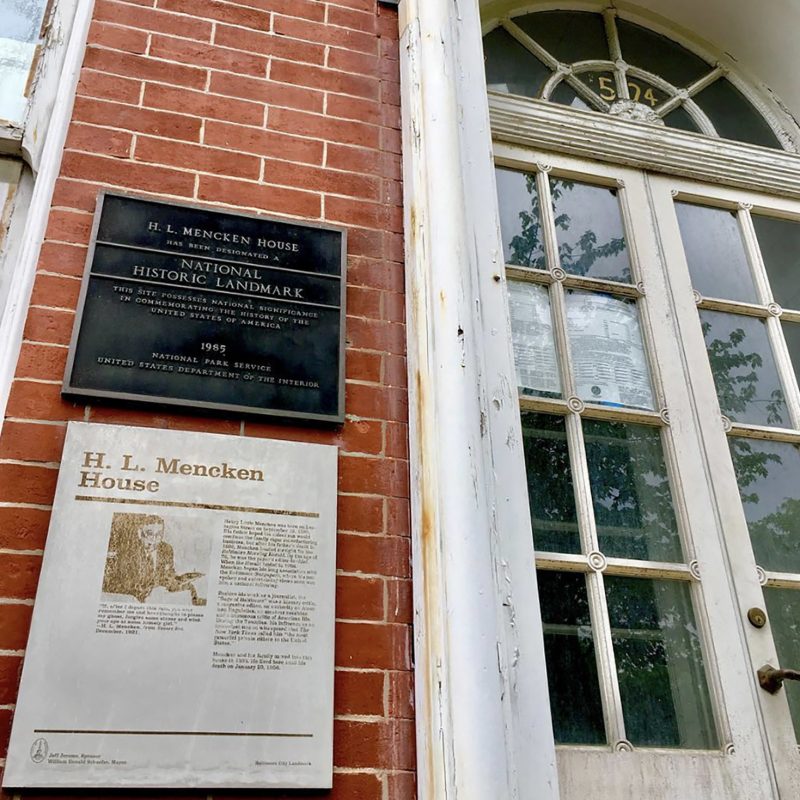 @the_fotographer/Instagram
Given that the property that once housed The Sage of Baltimore, H.L. Mencken, has been vacant for 20 years, it's fair to assert that there are those in the city with limited knowledge as to just who he was. Even those overseeing a new project to turn the house into a museum—as well as an office space for the Baltimore National Heritage Area (BNHA)—acknowledge that there is a bit of forgotten history to the writer and journalist beloved by academics and scholars alike.
"As we get further in time, Mencken and his work is less and less well known," says Jackson Gilman-Forlini, a historic preservation officer for the Baltimore City Department of General Services. "And what's important is we have a museum that is relevant for contemporary people."
Though widely recognized as a deeply talented writer of novels like The American Language and autobiography Happy Days, as well as a long-time columnist for the The Baltimore Sun and the The Evening Sun, Mencken is a controversial figure for his views that have often been called racist, misogynistic, and Anti-Semitic. Excerpts from his diary published by the Baltimore Evening Sun in the late '80s revealed hateful language toward minorities, and there is much debate on his legacy and his place in history.
With this in mind, the museum that will occupy the first floor and half of the second floor of the H.L. Mencken House on Union Square in Southwest Baltimore will showcase his personal belongings and life inside the place he called home for most of his life, but it will also be a thoughtful consideration of how his ideas fit within a modern landscape.
To achieve this, the BNHA is partnering with the Society to Preserve the Legacy of H.L. Mencken—a local organization which holds the writer in high esteem—to find a consultant who will mediate and curate an all-encompassing experience and ensure that all sides of Mencken's story are told.
"We want to use the space to start a dialogue," says BNHA's executive director Shauntee Daniels. "We want to shine a light on who he was, and show how people thought at that time."
Though the house has been abandoned for an extended period of time, Gilman-Forlini says it is in decent shape compared to other preservation projects—thanks to a loyal group of neighbors who have tended to it. Interestingly, the house has only changed hands two times in its 140- year existence (after Mencken, it was taken over by the University of Maryland and later by the city). As such, its original architecture largely remains intact, serving as a time capsule for the tastes of that time.
"It's a very elegant home," Gilman-Forlini says. "It also is representative of how people in the city lived at that time and up to the present. We want to tell that story and preserve that."
It's also important to note that all preservation is being done through a private bequeathment. No taxpayer dollars were used in the project, which organizers are hopeful can be fully operational by next year, with the potential for the house itself to open to the public later this year. Baltimore has no shortage of historical homes—the Poe House and the Carroll Mansion are a few examples. The plan is for the H.L. Mencken house to also serve as the main office for the BNHA, where it can operate and work on other preservation initiatives throughout the city.
"We need to bring attention to neighborhoods that are long forgotten," Daniels says. "It's unreasonable to leave the house derelict. And for the Heritage Area, it's a great opportunity to be in a historic property and to make sure it remains open to the public."