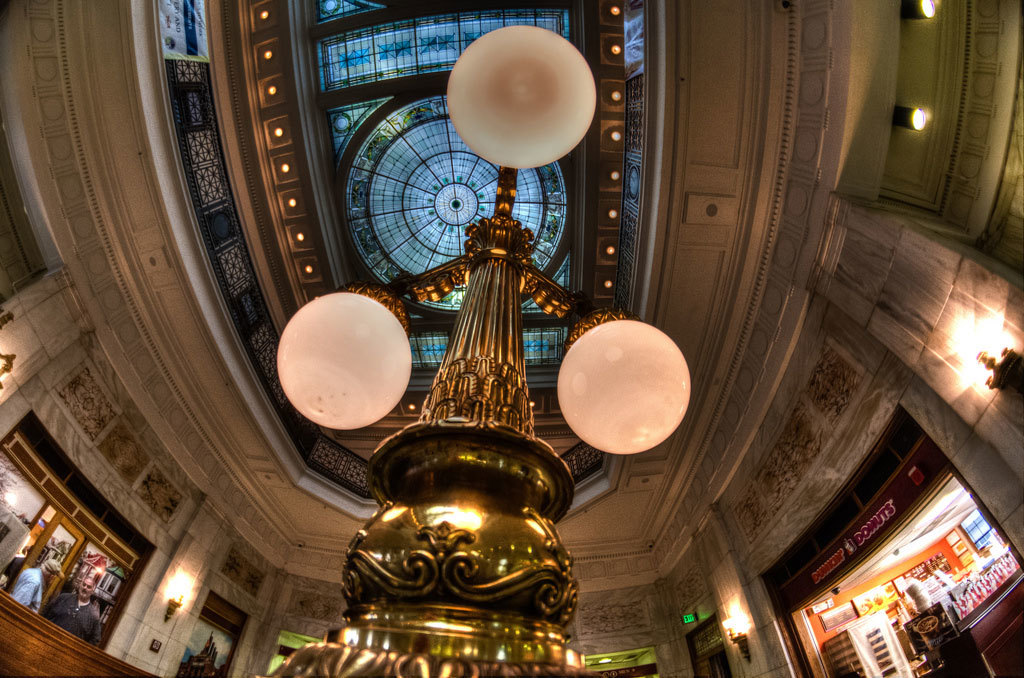 Flickr Commons
Baltimore's transportation hub is getting a facelift and we couldn't be more excited. Penn Station is scheduled for redevelopment with construction set to begin as early as this year.
Penn Station Partners—a Baltimore-based team—will be working with local companies including Beatty Development, Armada Hoffler Properties, and Gensler among others to refresh the more than 100-year-old train station. The new mixed-use development could bring as many as 1.6 million square feet to the area. Some preliminary ideas include a hotel in the station head house, as well as residential and office space connected by an expanded concourse with new retail shops.
"Baltimore Penn Station is the eighth busiest station in our national network," said Bart Bush, Amtrak's VP of real estate stations and facilities in a statement. "This important step underscores Amtrak's continued efforts to significantly enhance the station experience and amenities for all travelers."
While the designers are drafting up plans, we have a few things to add to the list:
A movie theater
Things happen and trains get delayed. Unless you are totally into people watching, passing the time while waiting is no fun. Cincinnati Union Terminal got it right with their onsite OMNIMAX Theater. Catching the latest flick or feeling nostalgic during a classic is better than staring at the wall or draining your phone battery playing Candy Crush. 
Charging stations
This is self-explanatory. While Penn Station finally got around to updating its Wi-Fi system that was installed in 2010, the connectivity is of no use to us if our phones are dead. The more outlets, or even USB portals, the better.
Enclosed garden patio
Imagine running into the train station during a rainy Baltimore day and sitting in an enclosed room full of beautiful wildflowers and lush greens. In the Madrid Atocha Train Station, lush palms reach toward the sky and turtles swim in the indoor pond. Sounds pretty tranquil, right?
Mini museum
Penn Station is right in the middle of Station North Arts District and the MICA campus with talent bursting at the seams. A museum of local artwork inside the train station would be an awesome opportunity to showcase our up and coming artists. We could take a cue from this train station in Lakewood, Colorado that installed a permanent, colorful installation outside (and seems to be way less controversial than the Man/Woman statue).
Dining & Bars
No, we don't mean a Cinnabon or Dunkin Donuts—although there's nothing wrong with either—we're thinking more like R.House or Mt. Vernon Marketplace. The train station could be a place where visitors can grab a good, quick meal at an affordable price. We were inspired by Union Station in Denver with its beautiful Terminal Bar and bountiful restaurants for brunch, coffee, or ice cream.
Live entertainment
WTMD already has a program where musicians play at BWI baggage claim and BSO musicians play at Penn Station around the holidays. But what about the rest of the year? Union Station in Los Angeles has monthly shows in its terminals to keep travelers in high spirits as they go about their day.  A little smooth jazz or a festive Mardi Gras celebration is sure to elevate your experience.