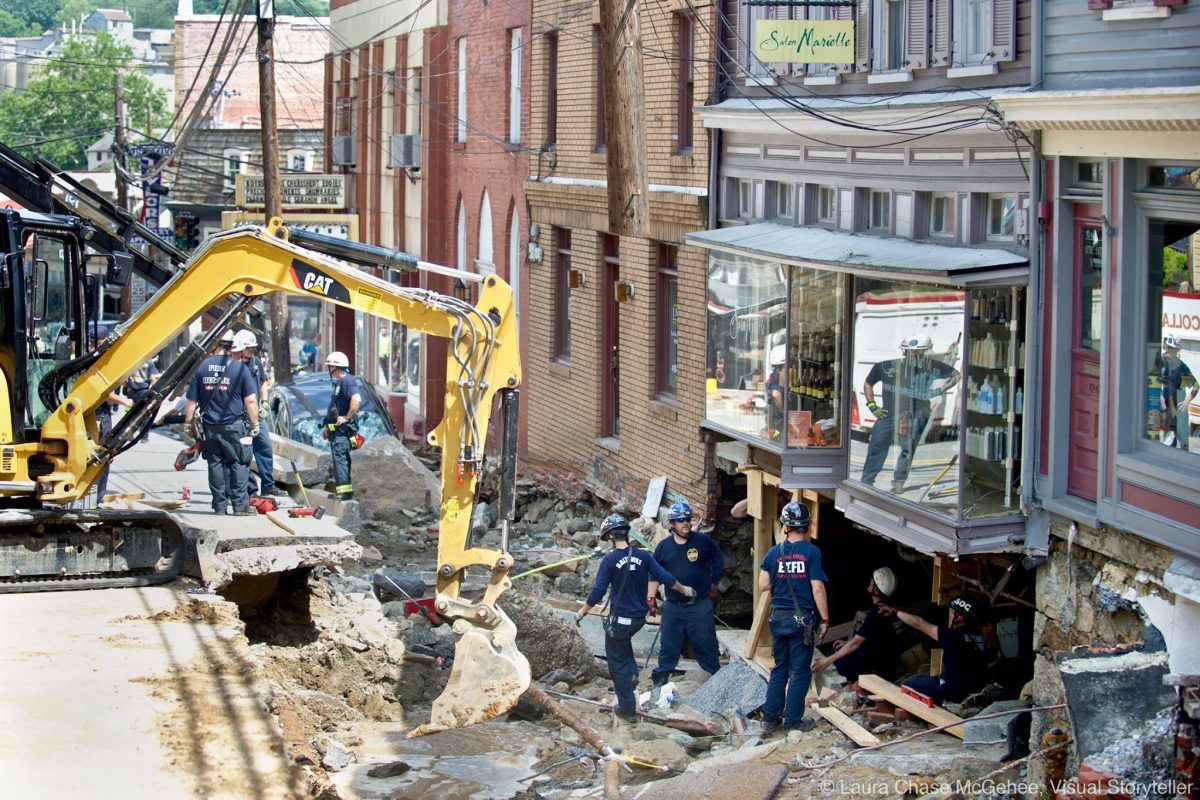 Laura Chase McGehee
The man at the end of the human chain who slips and is nearly swept away himself is Jason Barnes, the owner of All Time Toys, another Main Street business that was caught in the flood.
According to WBAL, Barnes, who had just purchased the toy and collectibles store two months ago after working there for 10 years, was working when the water virtually erupted through his basement door.
"He went ahead and started to exit the basement as his door imploded in and all that water came rushing in," Barnes' stepfather Chris Penning told WBAL. "As he went upstairs, he knew virtually all of his inventory was gone and everything he dreamed of for the last 10 years was quite possibly lost in all this."
Barnes, who had once dreamed of writing stories about superheroes, then saved 29-year-old Jamie Knight from the floodwaters.
Interviewed the next day, Knight told a reporter how grateful she was for the heroics of Barnes and fellow rescuers.
"Thanks a lot, man," she said. "I really owe you. I wish I could repay you somehow."
A list of Ellicott City businesses damaged by the flood reads like a Chamber of Commerce roll call, including restaurants such as Portalli's Italian Restaurant, The Rumor Mill Fusion Bar & Restaurant, and Bean Hollow coffee shop; boutiques such as Sweet Elizabeth Jane and Craig Coyne Jewelers; and businesses such as Insight180, a branding agency, and Shoemaker Country, a family-owned furniture-making business.
The extent to which each business is affected will likely vary depending on its position along the steeply sloping Main Street and whether or not the business owner had flood insurance. Some on higher ground are hoping for the best, but most business owners have not yet been able to survey the damage as officials barred access to Main Street while emergency crew worked Sunday and Monday to clear the approximately 180 vehicles and other debris left behind after the waters receded. Determining a monetary value for property lost in the disaster could take months.
On Sunday, Gov. Larry Hogan and Rep. Elijah Cummings toured the downtown with Howard County Executive Allan Kittleman. Kittleman's spokesman Andrew Barth told Baltimore that "like most people," the governor "was shocked by the severity of the damage. There are just big, empty holes there."
Retiring U.S. Sen. Barbara Mikulski also visited Monday morning, saying, "I have never seen devastation like this."
Speaking at a press conference after her tour of the destruction, Mikulski said that officials "are working as Team Maryland from every level of government" to aid in the recovery process. Indeed, the county and state have already declared the site a disaster area, and U.S. Sen. Ben Cardin attended a community meeting about the flooding Monday evening.
The storm has already become politicized, with one Maryland lawmaker suggesting the severe storm may be a result of climate change and others pointing out the inadequacy of storm management systems in towns and cities all over the country.
At the Monday evening community meeting, County Executive Kittleman told the overflow crowd that he believed the disaster could not have been prevented, but acknowledged that he has tasked the Howard County planning department with drafting a master plan to address flood-prone areas.
"It is an opportunity to make some changes," he said. "Make no mistake, we will rebuild."
---
Baltimore City Businesses Hit, Too
Though Ellicott City was hit the hardest, North Baltimore also saw devastating effects after the Jones Falls jumped its banks and flooded Woodberry's Meadow Mill complex with more than 13 feet of water, leaving cars in the parking lot stacked on top of each other.
The converted industrial property—which houses local businesses such as La Cuchara and Nepenthe Homebrew, as well as production facilities for Stone Mill Bakery and Mouth Party Caramel—has seen similar devastation occur during major floods throughout the years, the most recent being in April 2014.
Anticipating significant damage, Stone Mill Bakery owners Alfie and Dana Himmelrich instructed their staff to evacuate before the storm hit. Fortunately, the crew was able to move its delivery vehicles and necessary equipment to higher ground and, after an intense day of cleanup, the bakery is back up and running.
"We had been through it before, so we knew what to do," Dana says. "Especially for businesses like us where we bake everything fresh daily, being down for any length of time is damaging, so the sooner you can get back up, the better."
Neighboring business Nepenthe Homebrew, a shop that sells specialty beer-making tools and ingredients, wasn't as lucky. After locking up at 6 p.m. Saturday, husband and wife owners Brian Arnold and Jill Antos returned to their store Sunday morning to find it completely wiped out. The flooded space was riddled with ruined merchandise and shelves that had toppled over—a sight which they had seen before in the aftermath of the 2014 flood.
"Our first thought was 'Not again,'" Arnold says. "This time, it happened really suddenly."
Nepenthe saw $100,000 worth of damage two years ago, and though an exact estimate has yet to be made, its owners anticipate that the destruction is worse this time. Though this has happened once before, Arnold explains that complex commercial leases are tough to negotiate, so moving wasn't an option.
"Our shelving somehow managed to stay upright the first time, so we were able to salvage some of the merchandise from the top shelves," Arnold says. "But we've been expanding inventory over the past two years, so now there's more that we've lost."
Arnold says that, though the destruction is severe, the outpouring of support from the community has been overwhelming. A GoFundMe page supporting cleanup efforts has raised more than $8,000 in one day. Neighboring Hampden restaurant Le Garage has also pledged its support, launching its own initiative to raise funds. Throughout August 7, Le Garage will donate a portion of all Restaurant Week prix fixe and beer flight sales to Nepenthe's fundraising campaign.
"The debt of gratitude that we owe people who have helped, donated, and even just sent well wishes, is bottomless," he says. "Last time, I remember standing on the banks of the river just watching the water and sobbing because we had no idea what to do. This time, I went straight home, posted on social media, filed a flood claim, put together a to-do list, and got to work. We didn't have that emotional reaction until we started getting messages from people."
Adds Dana Himmelrich: "In times like this you see how people come together to help however they can, and that was really evident yesterday. If there is a bright side to be had, it's that."
See a full list of fundraising events and opportunities to help rebuild the flooded areas.