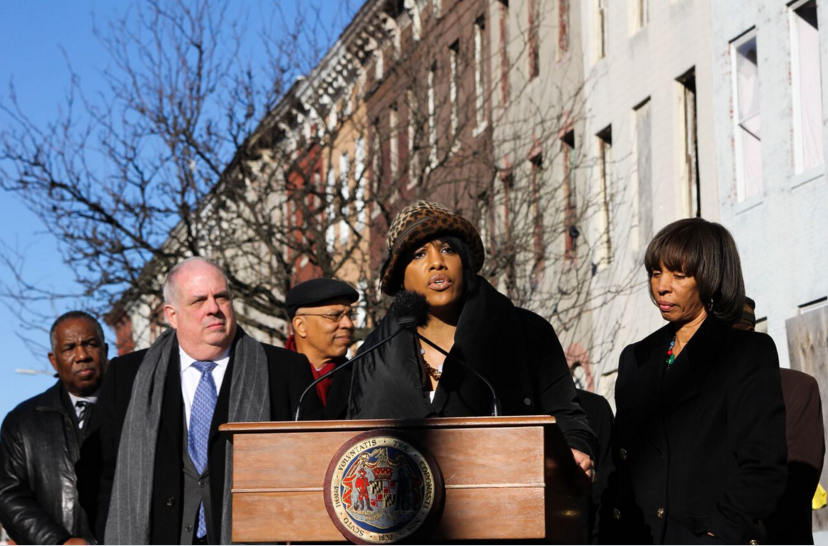 Meredith Herzing
Gov. Larry Hogan, Mayor Stephanie Rawlings-Blake, and representatives from the Maryland Department of Housing and Community Development announced a new $94 million project Tuesday aimed at removing blighted housing stock in Baltimore's most challenging neighborhoods.
At a press conference in the middle of North Stricker Street in the Sandtown neighborhood where Freddie Gray's arrest and subsequent fatal injuries occurred while in police custody, Hogan and Rawlings-Blake officially launched a multi-year partnership aimed at demolishing thousands of vacant properties and replacing them with green space.
The effort, called Project CORE, or Creating Opportunities for Renewal and Enterprise, will provide $75 million in state funds over the next four years for demolition efforts, plus in-kind contributions from Baltimore City equivalent to $1 for every $4 allocated by the state. The demolition of the 1000 block of N. Stricker began immediately after Hogan and Rawlings-Blake's announcement.
In addition, Hogan said that the state Department of Housing and Community Development will offer more than $600 million in private financing opportunities for redevelopment in the demolished areas, including more than $150 million in 2016.
Since assuming office last year, Hogan and Rawlings-Blake have clashed at times, most notably over the Republican governor's controversial cancellation of the Red Line mass transit project, which would have served West Baltimore, and the release of $68 million in public school funding. But on Monday both politicians appeared to be on the same page, describing the joint partnership, in which the Maryland Stadium Authority will serve as project manager, as transformative—not just for the targeted neighborhoods where the work will be done—but the city as a whole.
"Fixing what is broken in Baltimore requires that we address the sea of abandoned, dilapidated buildings infecting entire neighborhoods," Hogan said. "The city of Baltimore will always be the core of the state," Hogan added. "And the core of our state's economic development."
Rawlings-Blake said that transforming vacant homes and vacant buildings into welcoming green spaces and livable developments is a critical step in her oft-stated goal of attracting 10,000 new families to Baltimore. She used the occasion to tout her administration's ongoing Vacants to Value initiative, which uses a variety of tactics, including the demolition and rehab of blighted properties, to tackle the problem of blighted properties.
"The governor's commitment of new state dollars will enable us to accelerate the progress we have made through our nationally recognized Vacants to Value program," Rawlings-Blake said. "I welcome this significant new commitment from Gov. Hogan.
"Essentially, this will help us put demolition on steroids," Rawlings-Blake said.
Not everyone on hand Monday was impressed by the plan, however. Several local residents said they wanted to see the city and state invest more in rehabilitating homes in the neighborhood rather than just creating a grassy knoll where a block of houses previously stood.
"A lot of these houses could be fixed up and resold with that money," said Calvin Jones, 50, who lives in the 900 block of N. Stricker Street. "We have a lot of people in this city who need a place to live."
"I don't see how making one block a 'green space' is going to change anything," said Ron Johnson, 50, who also lives in the 900 block of N. Stricker St.
Kevin Simmons, who rehabbed a home in the 900 block of N. Stricker, gave the effort a mixed review. "We all own property here and we're not going anywhere, but I wish they'd do something else rather than just put 'green space' in place of what they're knocking down," Simmons said. "It might be better than what's there now, but that's about it. I wish they'd do something more."
Marvin "Doc" Cheatham, former president of the Baltimore chapter of the NAACP and current president of the Matthew A. Henson Neighborhood Association in nearby Winchester, and Monica Cooper, co-founder of the Maryland Justice Project, both said that city and state officials haven't reached out to people in the community about their plans.
"I heard about this [the press conference and plans to demolish the 1000 block of N. Stricker St.] on WBAL," Cheatham said. "How do you say you are going to do something about vacant homes in the Sandtown-Winchester community and not talk to the community association? I live 10 minutes away. I walked here. We have 300 vacant homes in the Matthew-Henson community and I have not heard a word from anyone."
Launched in 2010 by Rawlings-Blake, the city's Vacants to Value program garnered cautious support in a recent report by The Abell Foundation.
That study showed that, despite the Vacants to Value initiative, the number of vacant buildings continued to increase over the program's first four years, growing by more than 600 properties to a total of 16,765 vacant homes and buildings in the city by August of 2015.
The U.S. Census Bureau estimates the total number of vacants in Baltimore is actually higher, at roughly 23,000. Despite the shortcomings of the Vacants to Value initiative, the Abell Foundation concluded that the program remains "the city's most ambitious blight-elimination effort in 40 years." It concluded that while the program needed more funding, it is showing "signs of success in rejuvenating neighborhoods that were long neglected, like Oliver, McElderry Park, and Greenmount West."
Overall, the city reported that 1,585 vacant properties were renovated in the Vacants to Value program's first four years and that another 1,800 vacant and abandoned properties have been razed or slated for demolition.