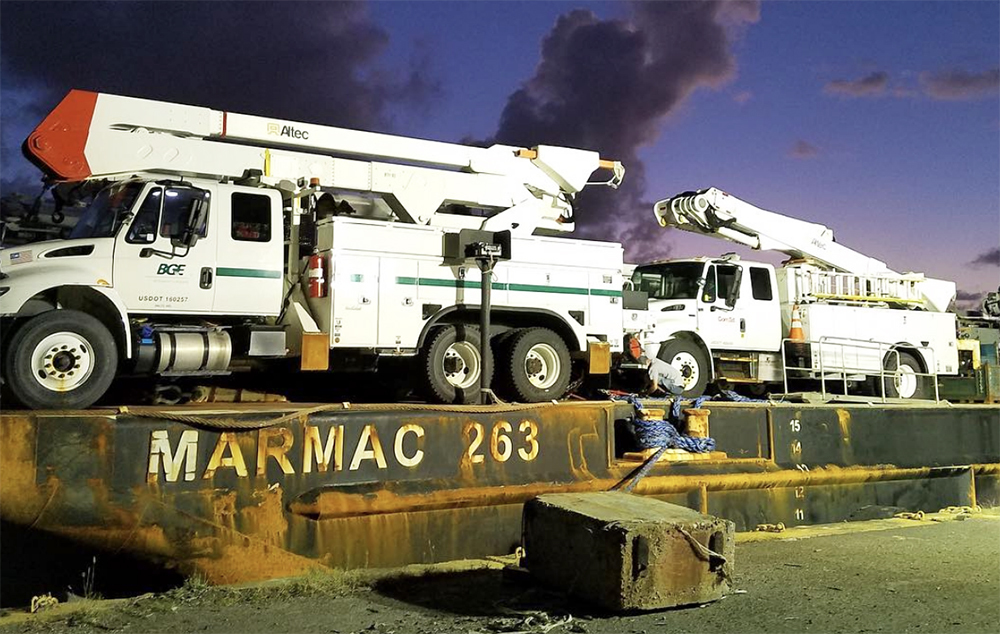 Exelon
There's a weather-related disaster, and within days, the interstates are being plied by long convoys of utility trucks and their crews, coming from other states to assist locally, or dispatched by BGE to help in such disasters elsewhere.
Mindful of how high your electricity bill is already, you have to ask yourself, "Who's paying for that, anyway? Not me, right?"
BGE has, in fact, a long history of helping other states, and has also been on the receiving end of the deal on a number of occasions, in both cases because of mutual-assistance agreements between different utilities.
In the case of Florence, though Maryland sent resources including two National Guard helicopters and dozens of local Red Cross staffers, BGE got a pass.
"Everybody looks at the forecast," says BGE communications manager Richard Yost, "and we might anticipate days before a storm hits being able to share certain resources to help another state. But we were also within the possible track of the hurricane, and the first priority is to take care of own customers."
So the utilities in the Carolinas looked further afield to have extra crews on stand-by—this time including crews from Florida, Mississippi, and Arkansas—in case the worst occurred. And it did, so far killing more than 40 people in North Carolina, South Carolina, and Virginia, setting records for rainfall from hurricanes in both Carolinas, and causing nearly $50 billion in damages.
But it was just a year ago that BGE helped out in a similar situation: More than 200 employees and contractors were deployed to help restore electric service to customers in the Southeast affected by Hurricane Irma, joining hundreds of others from sister companies owned by Exelon, BGE's parent.
It's gone the other way, too, such as in March when a powerful nor'easter caused more than 435,000 outages in the Baltimore metro area. Among those working around the clock to get the lights back on were crews from BGE's Exelon sister utility ComEd in Illinois, as well as from 13 states including Alabama, Arkansas, Florida, Georgia, Illinois, Louisiana, Michigan, North Carolina, Ohio, Oklahoma, Texas, Pennsylvania, Texas, and Canada.
"It makes the utility industry pretty unique to have this system of cooperation to restore our systems as fast as possible," Yost says.
But about that electric bill: No, it generally won't be affected by the millions of dollars spent on trucks, travel, wages, food, and lodging for the crews sent to help another state: Says Yost, "All the costs of that are reimbursed by the requesting utility."