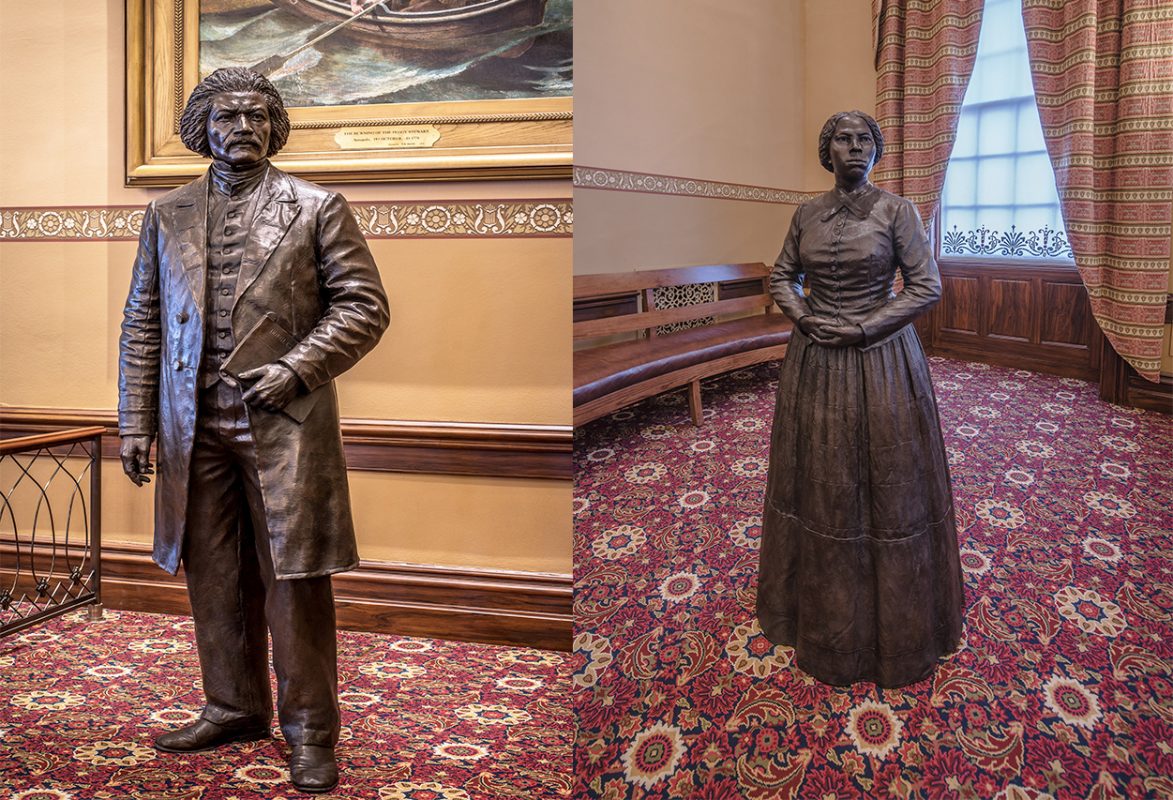 A few weeks ago, at the dedication ceremony for the new statues of Harriet Tubman and Frederick Douglass at the Old House Chambers of the Maryland State House in Annapolis, one of Tubman's descendants walked up to sculptor Ivan Schwartz, president and founder of StudioEIS in Brooklyn, New York.
Schwartz, whose studio had been tasked with crafting the pieces, started to get nervous. As he saw it, the descendant's judgment would be a litmus test for how successful the years-long process had been. Thankfully, the reception was positive.
"She told me that the way the statue shows Harriet holding her hands is the way that all the women in her family stand when they have their photograph taken," Schwartz says. "How amazing is that?"
The statues of acclaimed writer and abolitionist Frederick Douglass, and Harriet Tubman, a fearless conductor of the Underground Railroad, arrive as the national conversation around historical symbols continues to evolve. Their commissioning by then-House Speaker Michael E. Busch and then-Senate President Thomas V. Mike Miller came in the wake of the 2017 removal of a statue outside the Capitol of Roger B. Taney, a staunch defender of slavery who, as a chief justice, wrote the Dred Scott decision that denied citizenship to African Americans.
"Where the void was created, there clearly was a new impetus to fill it," says Schwartz, whose studio has made hundreds of historical sculptures, including a depiction of George Washington resigning his military commission that sits at the State House. "We are living in a time of changing symbols. What more appropriate symbol of changing times than to install sculptures of two of the most famous Marylanders in the history of the state in the very room slavery was abolished [in the state of Maryland]?"
Catherine Arthur, the senior curator and director of the Maryland Commission on Artistic Property at the Maryland Archives, which collaborated with StudioEIS on the project, calls the two pieces of artwork "forensic sculptures," referring to a process in which the final product is generated by studying myriad photos and gathering historical research. Schwartz and StudioEIS first met with Arthur and other stakeholders in the project to discuss where the statues would be placed and exactly which photos would be used as reference points.
Douglass is one of the most photographed figures of the 19th century, so they had plenty to choose from. But when it came to Tubman, the group decided to take a chance and use a newly discovered photo of her at a young age as her statue's framework.
"It's a new view of Harriet," Arthur says of the photo, which was a joint acquisition by the Library of Congress and the Smithsonian Museum of African American History and Culture. "Most photos of her are of when she's very old. This showed her at a younger age in a different costume."
After that meeting, Schwartz and his team got to work. They hired actors to dress up in costumes relative to the time Tubman and Douglass lived, and took countless photographs to use as visual aids. Those photos were then the focal point of an all-hands-on-deck meeting at the state capitol where the final blueprint was designed.
In the midst of a months-long creation process that Schwartz estimates included 20 to 25 people, they even molded the hands of Ken Morris, Jr., Douglass's third great-grandson, to obtain the closest approximation of what his hands might look like. Interestingly, there is both recent and historical precedent for this practice. Arthur notes that, in creating the first-ever Douglass statue in Rochester, New York, Douglass's son's hands were used as a model. Morris has also lent his hands to additional Douglass statues.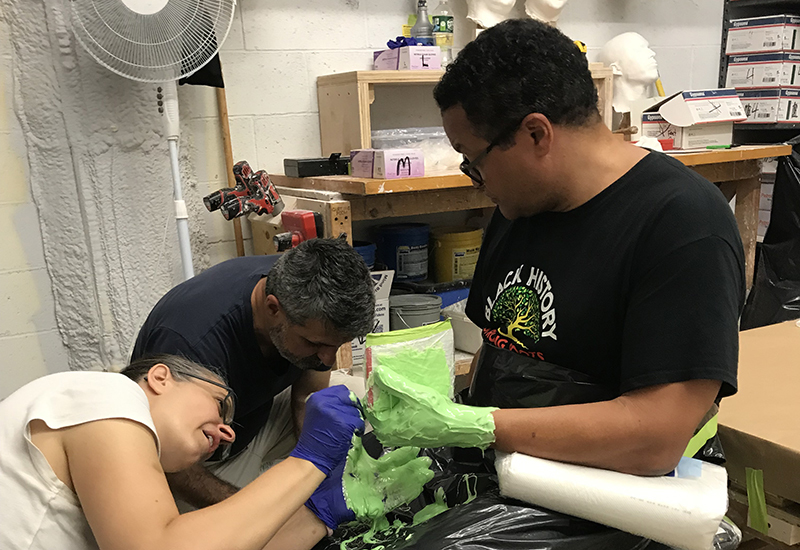 "This is a very orchestrated process," Schwartz says. "The communication is scrupulous. We are not historians, but it's very important that people working on our projects are not just coming in to do their jobs, but that they know something about the people that we're working to create. You cannot afford missteps."
There is, of course, the conversation surrounding exactly what historical symbols can and should mean in 2020.
For the state of Maryland, honoring Douglass and Tubman in a very public and outward way is an effort to highlight their struggle and remarkable achievements. Arthur says she has been blown away by the reception to the statues, noticing more foot traffic than in the past at the Old House Chambers.
"I've been down in the State House, and guards that I've walked by and said hello to five million times have literally come over and hugged me and thanked me for my role in making this kind of recognition possible," Arthur says. "There's a real sense of a more balanced story being told. To see the joy with which visitors—particularly African American visitors—feel like this is an important part of their story being told and acknowledged so many years after the heroism of these two individuals—it allows the conversation to deepen."