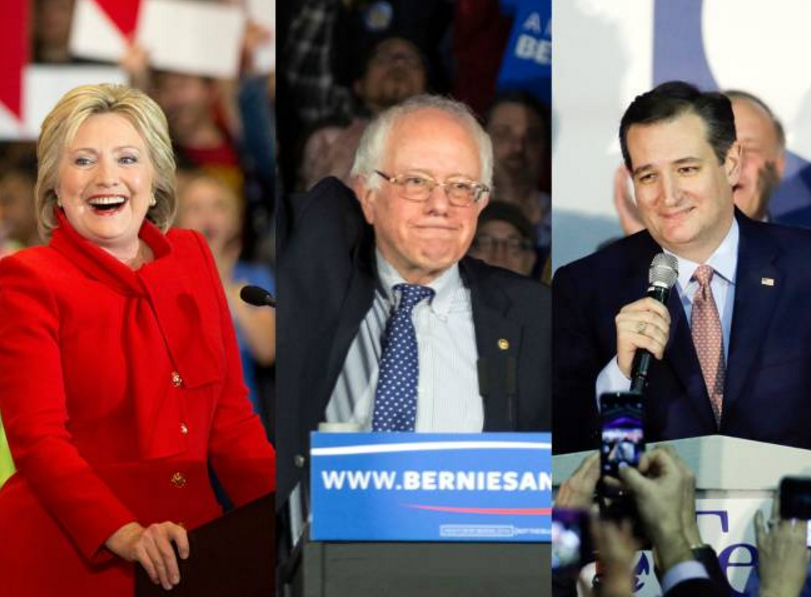 AP
It wasn't for a lack of effort.
Former Maryland governor Martin O'Malley announced that he was suspending his presidential bid after failing to win over Iowa democratic primary voters, earning less than 1 percent of the delegate tally in the state's caucus.
As O'Malley noted in ending his struggling campaign Monday night, "Iowa has been like a second home" for the 53-year-old candidate for the past year. Nonetheless, an inability to connect with Hawkeye state voters on the ground; the unexpected success of Sen. Bernie Sanders' progressive message; unrest in Baltimore, where O'Malley, of course, served as mayor; as well as mediocre debate performances against rivals with more national experience—notably frontrunner and former Secretary of State Hillary Clinton—kept O'Malley from registering more than low single digits in polls all primary season.
The winner, however, of the Iowa primary for the Democrats remained up in the air late Monday night, with Clinton and Sanders essentially splitting the vote and delegate tally.
On the Republican ledger, Texas Sen. Ted Cruz was the clear winner, with 28 percent of the GOP vote. He was followed by businessman Donald Trump with 24 percent and Florida Sen. Marco Rubio at 23 percent.
Former Johns Hopkins neurosurgeon Ben Carson, a political newcomer, who at one time led in the Iowa polls, fell to fourth, registering 9 percent of the tally.
Carson's slip in the Iowa polls in late November, while certainly disappointing to his supporters, was not completely unexpected by Maryland GOP observers.
"Politics is a contact sport and Ben Carson is not contact person—he's a nice guy and a genius in his field," said Joe Custer, executive director of the Maryland Republican Party.
Custer, in an interview Friday, said that he thought Rubio was picking up momentum with more people in the Republican establishment getting behind his candidacy in recent weeks—which was reflected in subsequent Iowa numbers.
Neither Custer and Greg Kline, of the blog Red Maryland, offered support for Trump's campaign, doubting the real estate developer's commitment to conservative causes. "It's very disconcerting," said Kline, a Cruz supporter, of the former reality TV star's popularity among the GOP electorate. "He connects with people [who are frustrated with the direction of the country], but he's a very imperfect vessel. He could be very damaging to conservative principles."
Towson University communications studies professor Richard Vatz, a longtime, conservative political observer, expressed similarly strong reservations about Trump's campaign, adding that he's backing Rubio at this point.
On the other side, Vatz, though certainly not a Sanders supporter, said it's easy to see why the 74-year-old senator's populist economic agenda and campaign has surpassed expectations: "He's authentic," Vatz says. "There's no political trickery. He says what he means and that's that. If you don't agree, he says 'fine.' He doesn't say one thing to one group of people and then something else to another group of people."
Todd Eberly, director of Public Policy Studies at St. Mary's College, said he finds Sanders success to date even more surprising than the rise of Trump—a political rookie—in national polls. But he puts part of the blame at Clinton's feet.
"It's amazing to me that she's making the same mistake she made in 2008, which is running a [a centrist] general election campaign in Democratic primaries," Eberly said.
In national polls, however, as well as in Maryland, where she out-tallied Sanders by 13 percent (40-27 percent) in the most recent Gonzales poll, Clinton still maintains a healthy lead.
Trump—despite the aforementioned concerns among some state GOP activists—topped the Gonzales poll in Maryland, garnering 32 percent of the Republican vote. He was followed Cruz (15 percent), Rubio (13.6 percent] and Carson (9.3 percent.)
Up next: the New Hampshire primary scheduled for Feb. 9.
Our chance to weigh-in on all this in the Maryland primaries? Not until April 26.