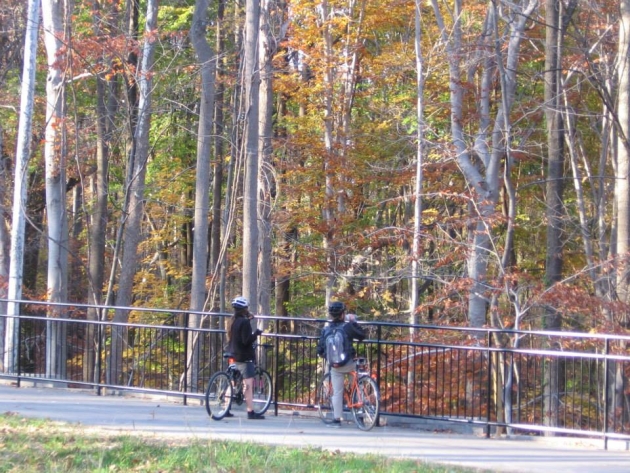 Jones Falls Trail Facebook page
From the Inner Harbor, the popular Jones Falls Trail will eventually
stretch 10 miles—all the way to the Mount Washington light rail
stop—after funding to complete its final phase was approved this week by
the City's Board of Estimates.
Currently, the bicycling and walking path ends at the Cylburn Arboretum.
While the Jones Falls Trail terrain varies greatly—from rough sidewalks to smooth, beautiful vistas of Druid Hill Park—parts,
including the Fallsway dedicated bike lane in East Baltimore and Falls
Road area below Hampden, are well-trod bike commuter routes.
Baltimore City Recreation and Parks Department spokesman Gwendolyn Chambers told The Baltimore Brew the hope is for construction to start in September, taking an estimated 18 months to complete the trail.
This
trail system follows the Jones Falls stream valley and will ultimately
connect 20 neighborhoods, including the cultural and arts districts of
Mount Vernon and Station North with the Inner Harbor, Druid Hill Park,
and Lake Roland in Baltimore County, according to the Maryland Department of Natural Resources. The trail also links with the Gwynn Falls Trail near the Baltimore waterfront area.
A detailed map of the Jones Falls Trail, including local destinations on or near the trail, can be found at www.baltogreenmap.org.