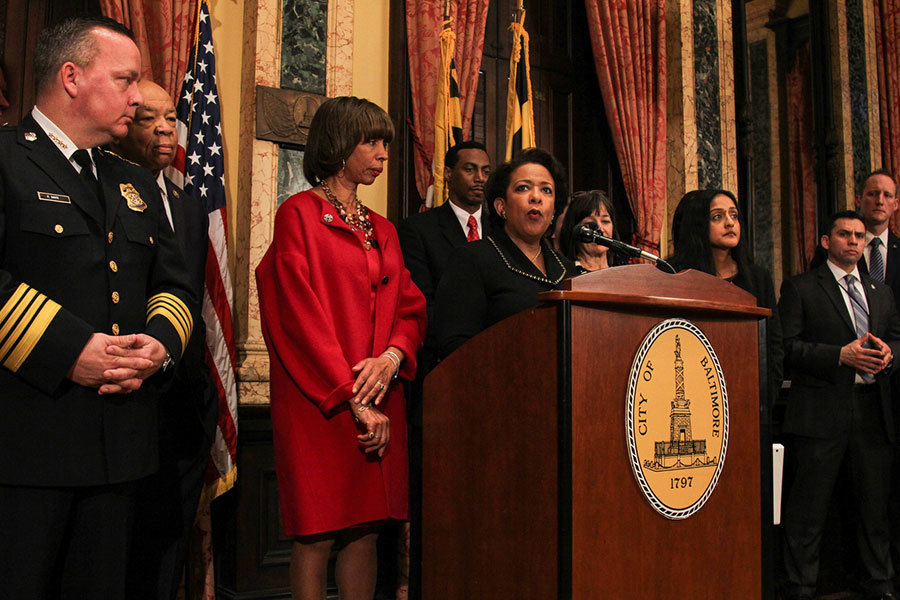 Meredith Herzing
Five months after the U.S. Department of Justice released a scathing report on the Baltimore Police Department, the city and federal agency reached an agreement on police reforms Thursday morning.
The binding, 227-page consent decree mandates changes to policing policies and practices in regards to stops and searches; the use of force; interactions with youth, protestors, and those with mental health issues; the handling of sexual assault complaints; and the transportation of detainees.
The agreement, which is projected to cost the city tens of millions of dollars to implement, was approved by the Board of Estimates in a special meeting earlier this morning. The decree also requires that the Baltimore Police Department introduce greater oversight of its officers, improve methods for tracking complaints of misconduct, expand training, and make significant investments in new technology, including upgraded computers in patrol vehicles to enhance data collection, analysis, and reporting.
The police department has already begun making some changes following the death of 25-year-old Freddie Gray while in police custody in April of 2015 and the ensuing unrest and broad public demonstrations. City police are now deploying body cameras and have added cameras inside police transport vehicles. Starting this year, Commission Kevin Davis doubled the hours of required in-service training for officers from 40 hours—the Maryland minimum requirement—to 80.
Notably, the agreement calls for the creation of a community oversight task force of the Baltimore Police Department. It describes the community oversight task force as "essential to rebuilding trust between the BPD and the communities it serves and ensuring that BPD's enforcement activities reflect community values and are consistent with the Constitution and federal, state, and local laws."
Mayor Catherine Pugh, as well as Davis, reiterated in recent days that they support putting civilians on oversight review boards. However, Pugh acknowledged at a press conference Wednesday that despite the consent decree, placement of citizens on disciplinary trial boards can't happen until that is negotiated with the police union.
Gene Ryan, president of Baltimore City Fraternal Order of Police, has stated strong opposition to putting civilians on police oversight boards. He also issued a statement Thursday that said "despite continued assurances" his organization was not included in the consent decree negotiations.
U.S. Attorney General Loretta Lynch joined Davis and Pugh in announcing the signing of decree at City Hall. Lynch is scheduled to make an address at the University of Baltimore School of Law Thursday afternoon and discuss community policing, and efforts around the country designed to build trust and collaboration between citizens and police.
Pugh called the signing of the consent decree "a great day for Baltimore . . . This is about fairness and understanding," she said, adding that while the cost of the mandates and funding mechanisms remain uncertain at this point, she is committed to pursuing the necessary resources for full implementation.
Davis said the reforms, additional training, transparency, and oversight can only benefit the Baltimore Police Department in the long run. "I have no doubt we will emerge from this as better crime fighters," he said. "And with better relations with the community. This is a path forward."
The next step in the consent process will be getting the agreement approved in the U.S. District Court for Maryland, where it has been assigned to Judge James K. Bredar, according to The Baltimore Sun. It will be up to Bredar to appoint an independent monitor to oversee the implementation of the decree mandates and measure the Baltimore Police Department's progress.
City officials and the Department of Justice said they have worked around the clock in recent weeks to get an agreement in place before the presidential administration of Donald J. Trump assumes office on Jan. 20. His nominee to replace Lynch, Alabama Sen. Jeff Sessions, has said in the past and in recent confirmation testimony that he is generally skeptical of such consent decrees.
The most positive takeaway from the press conference, said University of Maryland law professor Douglas Colbert, who followed the police trials related to Gray's death closely, was the cooperation of the Baltimore Police Department. "I find it very promising that the police department didn't resist this process," Colbert said. "We've seen in other jurisdictions where police don't engage in the process [of a Department of Justice investigation and consent decree], drag their feet, and even obstruct."
Colbert added that the selection of the independent monitor remains a lynchpin to any reform. "It needs to be someone who knows Baltimore," Colbert said. "It can't be just someone who graduated from the best law school.
Attorney Billy Murphy, who has represented the Gray family, Colbert, and City Councilman Brandon Scott described the Department of Justice's intervention into Baltimore police practices and polices as an historic occasion. "Today is a revolution in policing in Baltimore," said Murphy, adding criminal justice activists in the city have been waiting decades for such action. "It will be remembered. It is a sea change."
In its 164-page August report, the Department of Justice investigation concluded that there was "reasonable cause to believe" that the Baltimore Police Department "engages in a pattern or practice of conduct that violates the Constitution or federal law."
Those systemic violations included:
Making unconstitutional stops, searches, and arrests;
Using enforcement strategies that produce severe and unjustified disparities in the rates of stops, searches and arrests of African Americans;
Using excessive force; and
Retaliating against people engaging in constitutionally protected expression.
Some of the statistics produced by the DOJ investigation were startling:
"BPD's pedestrian stops are concentrated on a small portion of Baltimore residents. BPD made roughly 44 percent of its stops in two small, predominantly African-American districts that contain only 11 percent of the City's population. Consequently, hundreds of individuals—nearly all of them African American—were stopped on at least 10 separate occasions from 2010– 2015. Indeed, seven African-American men were stopped more than 30 times during this period. [However] only 3.7 percent of pedestrian stops resulted in officers issuing a citation or making an arrest. Arrests without probable cause: from 2010–2015, supervisors at Baltimore's Central Booking and local prosecutors rejected over 11,000 charges made by BPD officers because they lacked probable cause or otherwise did not merit prosecution."
The DOJ report also highlighted the Baltimore Police Department's "unreasonable force against people who present little or no threat to officers or others," and "ineffective oversight of its use of force."