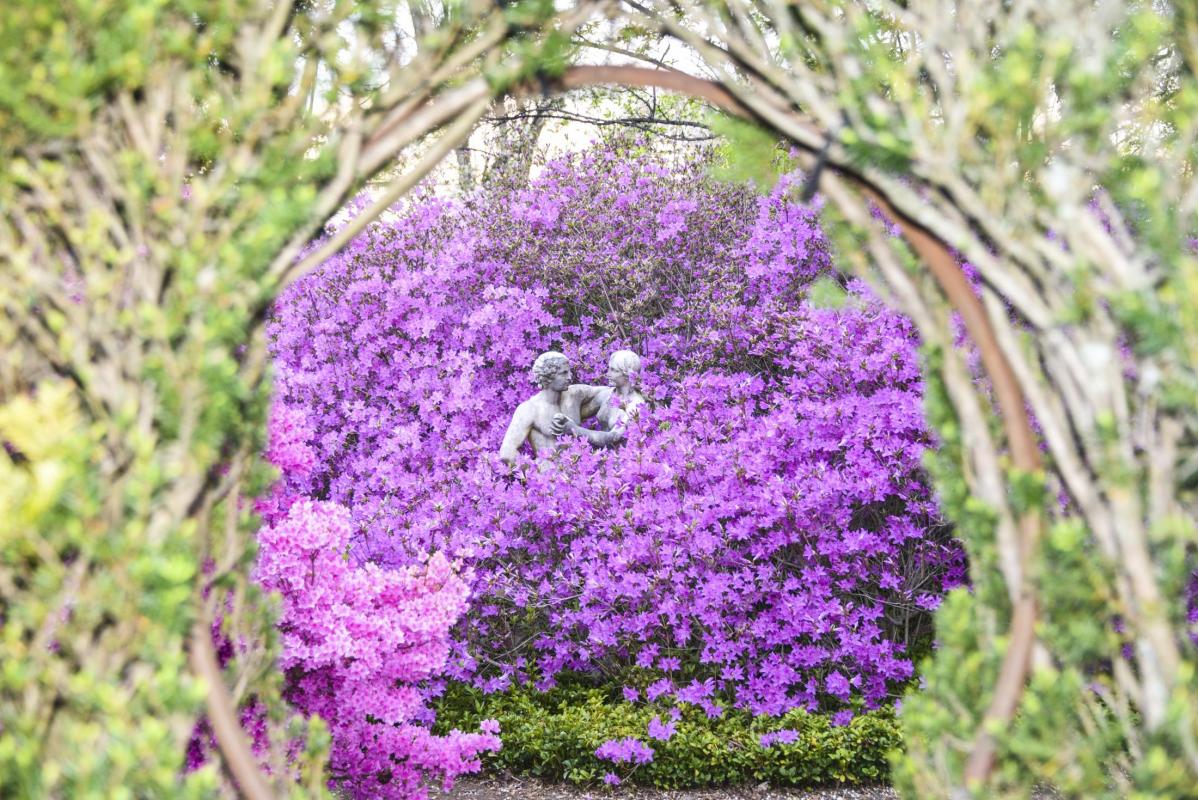 —Photography by J.M. Giordano
Earlier this month, Ladew Topiary Gardens—the historic Monkton venue perhaps best known for its mesmerizing geometric shrubbery and array of native plant species—rang in another season of community programming. In recent weeks, the nature center has added extended "Twilight Tuesday" walking tour slots for visitors, two new artists-in-residence, and online lectures led by horticulturists and writers such as Ellen Ecker Ogden and Val Bourne.
And, in just under two weeks, the warm-weather festivities will continue with Ladew's long-awaited Garden Festival, which allows guests to shop the likes of one-off small trees, garden furniture, perennials, and trinkets.
Ladew's longstanding executive director Emily Emerick shares that the annual event was inspired by renowned interior designer Bunny Williams. Williams' annual Trade Secrets show, a fundraiser for domestic violence victims, took off in her backyard 21 years ago, with vendors toting rare plants and antiques. With Williams' blessing, Ladew adapted the event into a showcase of its own.  
"We started off slowly, and now we're up to more than 30 vendors," Emerick says, calling the festival "a labor of love." "It's delightful to be back. I want our guests to meet these lovely vendors who are so enthusiastic about what they do, and learn a little bit about some plants that they may not know about."
Throughout the pandemic, the festival—now in its 14th year—has seen its share of alterations, including a remote display two years ago and last year's temporary relocation to the Elkridge-Harford Hunt Club near the south side of the property. However, this year's festivities will be held, as in years past, on Ladew's own 22 acres.
Tickets to a first-dibs preview on May 6, and to the actual festival on May 7, will allow guests to browse goods from local exhibitors such as Pine Knot Farms, Antiques from Home, and Hearts Desire Pottery. Proceeds will aid in the preservation of the gardens, the property's Manor and Butterfly House, and Ladew's education programs for children. 
As she gears up for the big day, Emerick says she's thrilled to help Ladew to safely bring guests back. 
"We need a little bit of joy right now. People are tired," she says. "We're always delighted when we can raise money to care for this fabulous property, while doing something people can enjoy at the same time." 
In case you need any more convincing to plan a visit this spring, Baltimore photojournalist J.M. Giordano captures the breathtaking beauty of Ladew's grounds—on everything from 1971 Polaroid film to digital—in the images that follow: