Last Mile Park Illuminates the East Side
The community-led project will bridge the one-mile stretch that divides neighborhoods along the Gay Street corridor with an infusion of "light art."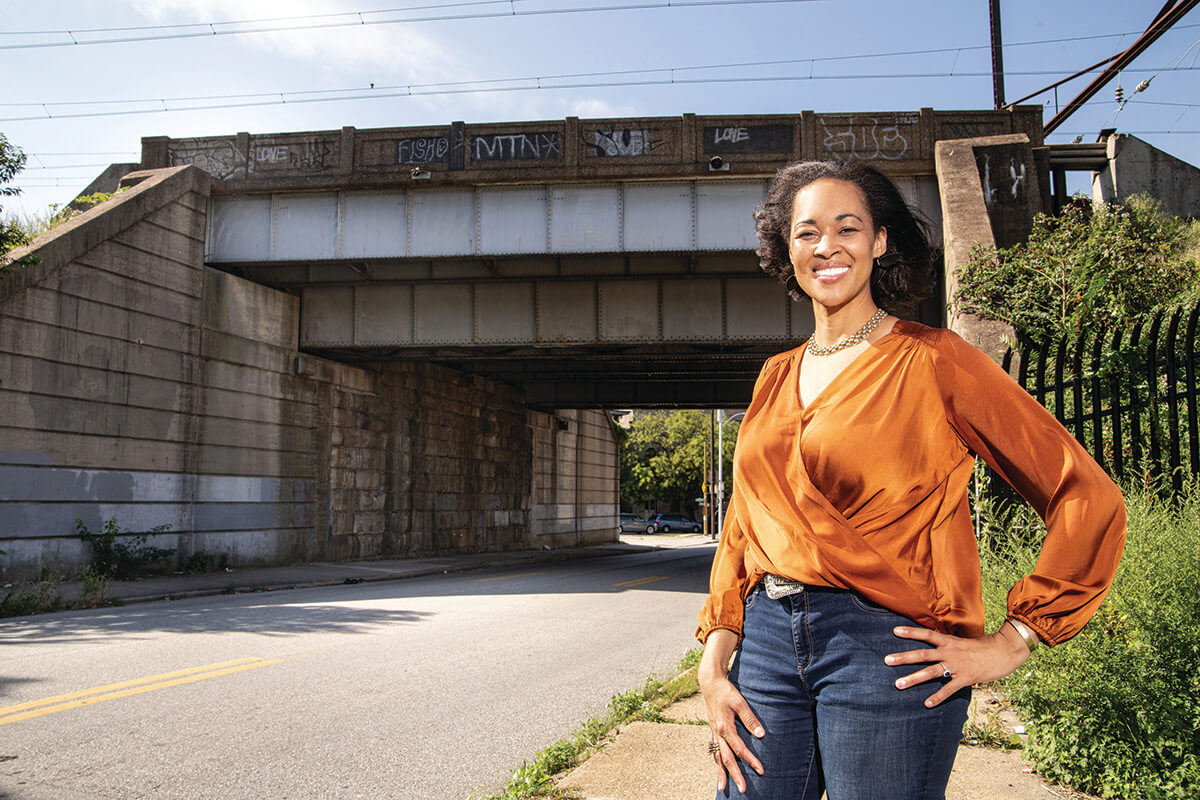 The underpasses of the Amtrak train line carving through East Baltimore aren't exactly where most Baltimoreans want to be walking at dusk—no lighting, litter along the sidewalk, cars and trucks rushing by, hardly a neighbor to be found. Despite new development nearby, this uninviting one-mile stretch divides neighborhoods along the Gay Street corridor.
"Those underpasses are a detriment to anyone walking north of the tracks to go south of the tracks to take advantage of those amenities," says Ellen Burke, executive director of City Life Community Builders in Oliver. "It has separated folks."
But this fall, the community-crafted Last Mile Park project, led by nonprofit developer American Communities Trust and its CEO China Boak Terrell (pictured,) will start bridging that gulf with an infusion of "light art."
Several years in the making, the park, which was adopted as an official city plan in 2019, will better link the underpasses and their surrounding neighborhoods with another ACT project—the $27-million redevelopment of the Baltimore Pumphouse in Broadway East, a historic, four-acre site that will become a collective of restaurants, catering businesses, and offices.
"Everyone says, 'You need to build from a place of strength,'" says Terrell. "But it's not really building from a place of strength if you don't actually build a bridge to the community that you're working in."
At roughly $500,000 per section, the finished product will eventually illuminate all eight underpasses along the city's right-of-way down Gay Street. The design, created by Kuo Pao Lian and Courtney Richeson of PI.KL Studio, will use light totems, manufactured by local steel fabricator Kevin Seymore, casting a "moire effect" pattern of varying colors to passersby. The first section will tackle an underpass between Preston and Wolfe streets by the end of 2021, says Terrell, hopefully providing a proof of concept to be replicated at other underpasses, and to help raise the needed funds.
A bright, walkable thoroughfare "is a way of creating connectivity" that's long been lacking, says Ella Durant, president of the Collington Square Neighborhood Association, and will perhaps even capture the attention of nighttime train travelers who will want to visit Baltimore. "That creates another tourist attraction."
It may not be the glitziest East Side development underway today, but Terrell deems it "the most important strategy, economically, for weaving these communities together…People will be willing to take more walks, venture further," she says. "We get rid of something that's not reflective of the spirit of revival that's happening in these communities."