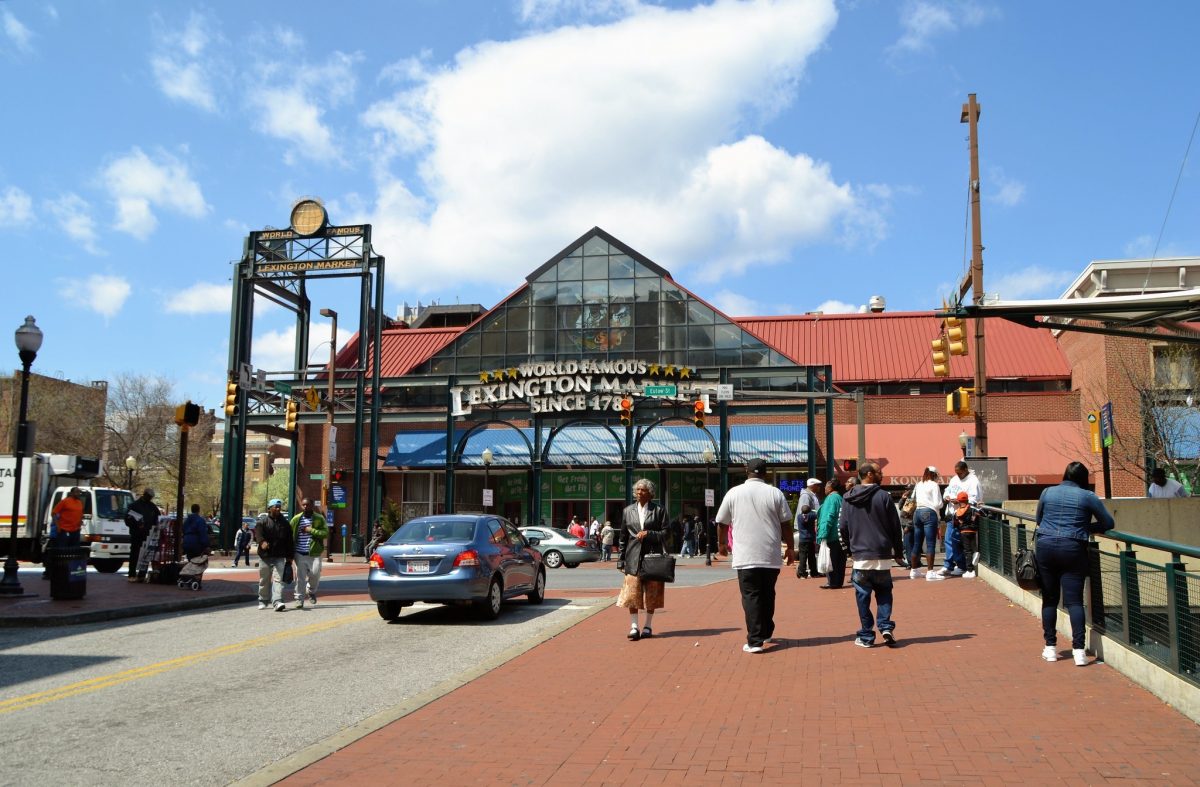 @jpellgen via Flickr Commons
The next project for Seawall Development—the team behind R. House, Union Collective, and other local community initiatives—is the long-awaited renovation of Lexington Market. Since beginning the process, and hosting the first in a series of town hall meetings to gain input from the neighborhood, the firm quickly recognized that the area surrounding the market is just as important as the Baltimore favorite itself.
With this in mind, Seawall has turned its eyes toward creating opportunities to engage with the community. And this Sunday, October 20, the new Market Center Trash Bash hosted in partnership with Everyman Theatre and the Market Center Merchants Association will do just that.
"The market can be this really important uniting force for the city," says Katie Marshall, Seawall's director of communications. "It has always been a hub for great food and community, and we see Trash Bash as part of a very large and broad community engagement process that we've been working on for the last year."
The event will begin with a trash cleanup that extends around the Market Center area, in which participants will sweep up trash and help with weeding. Following the pickup will be a block party for volunteers in the Lexington Market parking lot with featured fare from stalwart vendor Faidley's Seafood, which will serve up its signature crab soup, as well as Taco Town Baltimore located nearby.
"We want to show people that this is a community," Kristen Mitchell, executive director of the Market Center Merchants Association. "We're paying attention and we want to be part of it. If that means we're doing our part to improve and reduce litter on our streets, then that is our part."
An additional perk: all volunteers will have the opportunity to purchase $25 discounted tickets to a same-day, 7 p.m. performance of August Wilson's Radio Golf at Everyman Theatre. The company has a history of shepherding activation within the community, and this particular instance is a natural fit given the play's themes.
The show centers around main character Harmond Wilks, a candidate for mayor of a Pittsburgh district. Though the story takes place in 1997, Everyman's artistic director Vincent M. Lancisi says the problems facing the town mirror many of those that Baltimore City grapples with today.
"Because of the timely and immediate connection of Radio Golf's exploration of the complexities of urban renewal to Baltimore, we want to live our values both on and off stage," Lancisi says. "Working together with our local organizations is an opportunity to show love to the neighborhood and welcome folks who might not otherwise come into the theater a chance to experience this play."
As Lexington Market ushers in a new era—construction is expected to break ground in early 2020—it's events like these that allow developers another opportunity to meet face-to-face with area residents. Lexington Market is a cherished part of the city's fabric, so it's understandable for those who frequent it to have questions and concerns.
"If we want to do this in the right way, we have to have community input along every step of the process," Marshall says. "We need to build trust and make it something that is owned by the entire city. We know that people need to see concrete signs of what's going on, and this is a great way to do that."