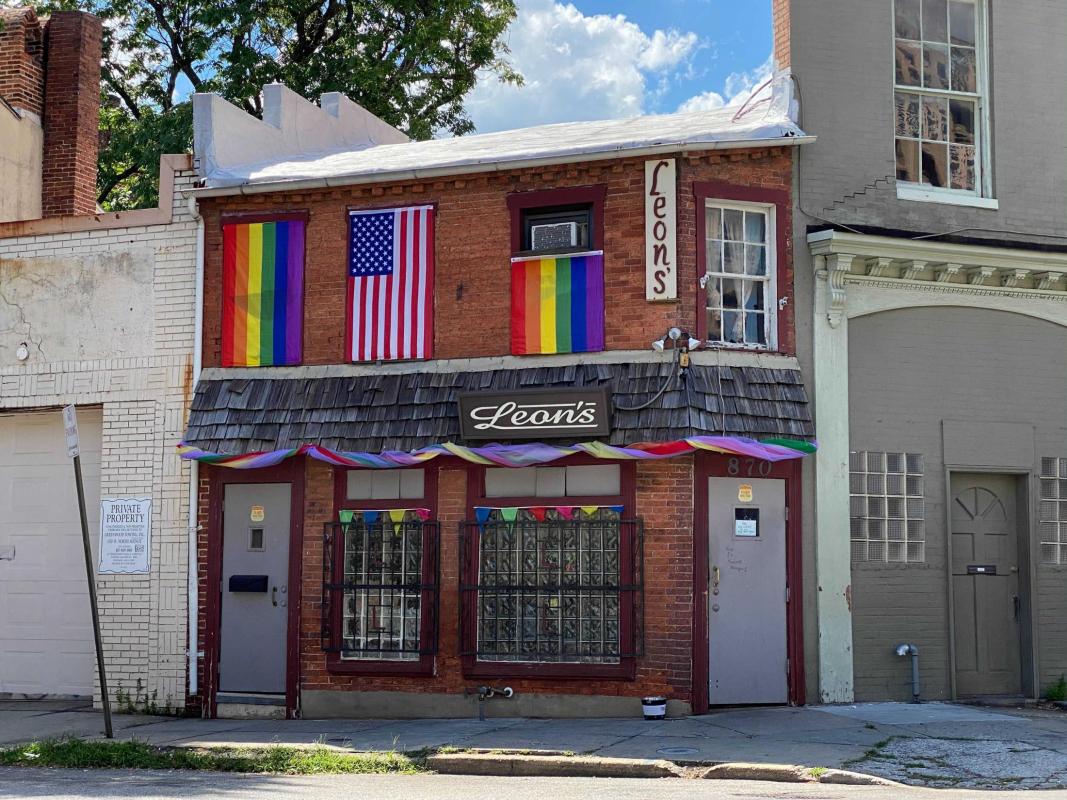 —Huanjia Zhang
It's a hot Saturday in June, and Leon's in Mt. Vernon has opened its doors at 12 p.m.—four hours earlier than usual—in celebration of Pride. 
The day is still young, and the streets are barely awake, with only a small crew of road workers and a few brunchers on the block. From outside, it's hard to tell if the tiny corner bar tucked in between Park Avenue and Tyson Street is open for business. But locals are already drinking inside. 
And they have been for more than a century. The two-story building that houses Leon's was occupied by its forerunner, Georgia's Tap Room, in the 1890s. Coming out of Prohibition, Leon Lampe purchased the bar in the 1930s and gave it its name, which has remained ever since. In 1957, Leon's, a bohemian hangout for Mt. Vernon's artists and hippies, started to promote itself as "gay friendly." Now, it's believed to be the longest continuously running gay bar in Baltimore. 
"You can tell right away there are lots of regulars," says Frank Vitrano, who himself has been a regular of Leon's since 1982. For as long as Vitrano can remember, Leon's has always been a neighborhood spot at heart.  
With the oval-shaped bar filling the room, red-and-black tile floor that has seen better days, and vinyl-sealed bar stools that are threadbare, Leon's is the quintessential dive. Hanging out there is like being inside the bowel of a ship—even the brightest summer light can barely penetrate through the hovering black ceiling and blue-and-black painted walls. The TVs and the digital Jukebox mounted on the wall are the only reminders that you are still in the 21st century. 
"It's kind of off the beaten path," says Tina Wallace, who has been a bartender at Leon's for six-and-a-half years, and plans to stick around for the long haul. "We like it that way. It's our home away from home." 
Like Leon's, there are many other places in the city—from old churches to corner bars to ordinary rowhomes—that have played significant roles in Baltimore's LGBTQ history. Lurking beneath their mundane, or even lackluster, semblances, these places have witnessed the trajectory of Baltimore's LGBTQ community and its fight for equality.
In fact, a statewide LGBTQ historic context study published last fall by Preservation Maryland—a Baltimore-based preservation nonprofit—has listed more than 200 sites in Baltimore City and Baltimore County that are important to Maryland's LGBTQ history. And many sites—such as the Gallery One Bar in Station North and Black LGBTQ activist Louis Hughes's former house near Hollins Market—are as quotidian as Leon's.
Susan Ferentinos, the author of the study and a historian consultant brought on by Preservation Maryland to lead the project, says that a lot of people equate historic buildings with beautiful buildings. She makes the point that a building can be historically important, but also non-descriptive. "What makes [a place] historic is what it meant to the community and to the neighborhood," Ferentinos says, "and what happens there."
Preservation Maryland's president Nicholas Redding agrees: "It's important that all Americans from every walk of life are reflected in the places that we recognize as historic," he adds.
To that end, Ferentinos is now working on behalf of Preservation Maryland to nominate three Baltimore sites to the National Register of Historic Places by the National Park Services. Among them are Leon's, the Monumental Elks' Lodge No. 3 in West Baltimore—where Black LGBTQ social events and drag performances happened in the early-20th century—and a former gay clinical site in Mt. Vernon that later developed into what is now Chase Brexton Health Care. 
Standing at the intersection of West Chase and Brexton streets, the unassuming commercial building was at the forefront of Baltimore's AIDS crisis in the early 1980s. The center became known for providing the LGBTQ community with early anonymous HIV testing and treatment, as well as compassion and care during a dark time. 
"I think finding our dignity through recognition of our history and our struggle is so beautiful and really essential," says Kate Bishop, education coordinator for The Center for LGBTQ Health Equity at Chase Brexton Health Care. 
Both Chase Brexton and Leon's are not only historic, but also community staples in the present. While Leon's regulars believe preservation is important, they're adamant that they always want it to be a working bar. "We don't want it to turn into a museum," one bartender says. 
"It's not Fort McHenry," Vitrano says, while drinking his Rose Kennedy. "Don't make it ironic." 
Phillip White, who first entered Leon's in 1999 when he was 23 years old, concurs. "I think it deserves recognition, but keep it as is," he says. To White, Leon's is "one big bowl of John Waters," one of the few remaining places in Mt. Vernon—where he has lived for decades—to meet interesting characters and feel a sense of belonging over simple, affordable drinks. "A lot of places have closed," he says. "I would chain myself to the door without Leon's."
Speaking of interesting characters, Tony Cammarata, wearing rainbow-colored Mickey Mouse ears, walks into Leon's with his husband, who he met at the bar on Christmas Day in 2003. 
"One year, three months, and four days!" he announces to the crowd, marking the official end of what must be the longest separation (due to COVID-19) between him and Leon's since 23 years ago, when he first started coming to the bar. Before that, his uncle, a gay man, had frequented Leon's in the 1950s. 
"I think it is important to preserve this place," he says after a sip of Michelob Ultra—a beer that he convinced the bartenders to serve at Leon's after its debut in the early 2000s. "But just don't change a thing."