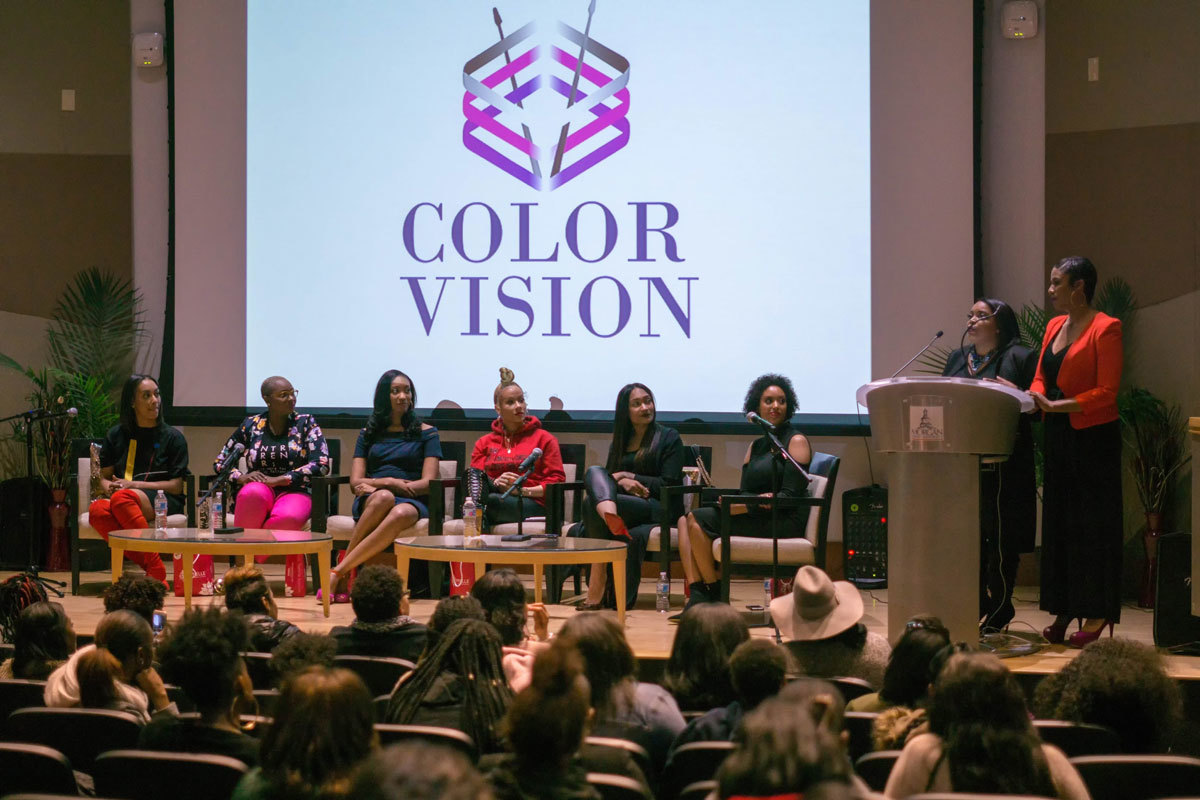 Color Vision
The role of women in the media industry has become a hot-button topic in recent years with complaints of unfair wage gaps and lack of opportunities. Although women dominate communications departments at universities, the same cannot be said for newsrooms, film sets, and press meetings—a number that only decreases for women of color, according to reports.  
When Baltimore native and television producer Mia J. Davis got her start more than a decade ago as an assistant to Star Jones, she quickly noticed the lack of diversity. When she met casting recruiter Thea Washington who had similar experiences working on shows like The Bachelorette and Big Brother, the duo decided to create Color Vision—a platform for women who are seeking guidance in the communications world. 
"It's really hard for women of color to get in the door," Davis said. "Once they are in the door, it's hard for them to get past a certain title. It's just something that seems to be a recurring theme that I've found throughout my networks."
Membership is free and open to any woman of color in the television, film, marketing, and digital industry. By signing up on Color Vision's website, members will gain access to job boards for positions in the field, weekly newsletters with tips and advice, and information about networking events.
"I think it's important for inclusion when it comes to media and representation," Washington said. "A lot of women of color, actually, just women period, don't know about all the opportunities open to them. and we wanted to make them available to all. I want to help them to navigate through the industry with things that I had to learn on my own."
The Color Vision team is comprised of six additional women in various fields of communications, as well as an advisory board of 13 members. In addition to providing services for its members, Color Vision also offers assistance to companies looking to add some diversity to its marketing campaigns, including DeBeers, Beats By Dre, Under Armour, and Hilton Worldwide. 
The organization held its first event, "The Power Hour: Creating The Life of Your Dreams," two weeks ago at Morgan State University. The panel discussion focused on navigating the communication field as a woman, featuring seasoned professionals in the media world including reality television personality Cyrene Lovette, radio and television personality Persia Nicole, and author and writer for Good Morning America Joi Marie McKenzie.
"We want to bring unity to the women of color in this industry," Washington said. "We want them to have someone to look up to, and someone to help. Mentorship works both ways—we can share knowledge with one another."
Davis and Washington are now planning their next networking event scheduled for early spring with high expectations for the future.  
"I would love for there to be Color Vision Wakanda," Davis jokes, referring to the fictional country in Black Panther. "I just want to pay it forward. I want people to say, 'Color Vision gave me the outlet to move my career forward.'