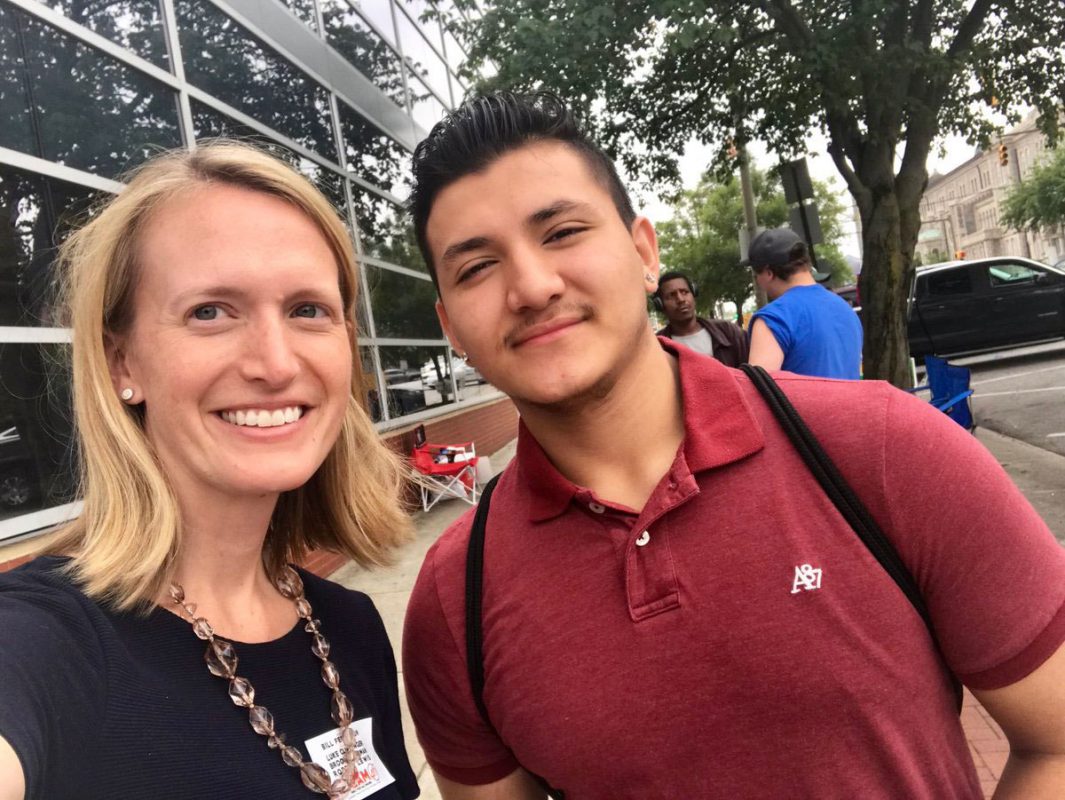 Brooke Lierman
With record numbers over the eight days of early voting in Maryland—a 57 percent increase from the last primary election in 2014—polling places throughout the city experienced shorter lines and wait times today. When the polls opened at 7 a.m., local politicians and campaign staffers were there to eagerly greet voters for the 2018 Maryland primary election.
Del. Brooke Lierman—who is one-fourth of the district 46 team including senator Bill Ferguson, and delegates Luke Clippinger and Robbyn Lewis—was out bright and early to greet voters at William Paca Elementary School in Patterson Park.
Lierman also believes that this primary election may be the turning point for major change within the city. She says that residents are more focused than ever on all of the major issues in the city and are ready to put leaders in places they believe will do some good.
"It's been good to see people coming out," she said. "We face big challenges here in Baltimore City and there's a lot of work to be done at the state level and we need proven leaders who have shown that they can be effective."
The climate amongst voters at William Paca today was split. There were some who enthusiastically cast their votes for their favorite candidates, while others said they were simply fulfilling their civic duty, with no feelings one way or another about the pool of candidates.
"I feel good about who I voted for," said Patterson Park resident Marissa Fleming after exiting the polling place. "I'm exercising my right, so my voice will be heard and I'm hoping they can do some good for the area."
Earl Jones, who registered to vote today, did so because he believes this is the only way to help evoke change in his community. While he's not particularly pleased with the campaigns he's been following, he's hopeful that there is a "diamond in the rough" among politicians running.
"We need someone that's really going to work and be out here with us and active in all the communities," he said. "I will be able to vote in November now, and I'm hoping that the right candidates make it to that ballot. I know [voting] is something that needs to be done to help my city."
Eileen Del Valle, feels that it's not only her civic duty to get out to the polls, but it's also important to teach her 4-year-old daughter the importance of making her voice heard.
"She comes with me all the time, this is her third time now," Del Valle said. "I want to get her excited about doing her duty early."
With some races heating up in the city—namely the state's attorney's race with Ivan Bates suing State's Attorney Marilyn Mosby and Thiru Vignarajah for defamation—some voters have been turned off by the smear campaigns and negativity.
"It's gotten pretty nasty, especially towards the end," said Nelson Vasconcelos. "It just muddies the water. It affects my voting to a degree, I mean I know who I wasn't voting for in the state's attorney's race, but it did affect who I ultimately voted for."
To add another layer of drama to election day, a computer glitch at the Motor Vehicle Administration (MVA) has caused as many as 80,000 Marylanders to cast provisional ballots today. It affects residents who tried to change their address or party affiliation through the MVA since 2017. When these residents show up to vote, the correct information will not be available, however no one will be turned away. Those voters will be given a provisional ballot that will be counted on July 5.
On Monday, Democratic legislative leaders called for the immediate resignation of MVA administrator Christine Nizer, who oversees the agency that failed to forward voter information to the Maryland Board of Elections. Gov. Larry Hogan has ordered an audit to find out what went wrong.
"It's absolutely unacceptable," Lierman said of the glitch. "This is one of MVA's core jobs—to make sure they are an entry point to registering. We will be having oversight hearings to figure out what happened and demanding that Gov. Hogan make some changes to make sure this doesn't happen again. We need to make sure every single vote is counted."
The polls will be open until 8 p.m. tonight.