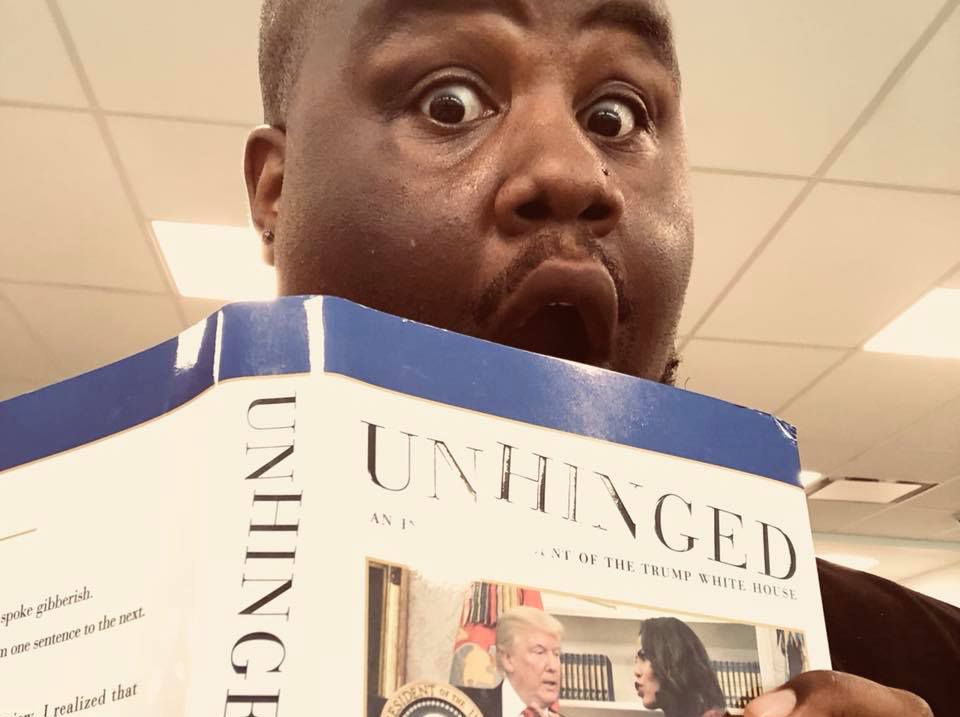 "Honey, let's get into this chapter here," is how Baltimore-based rapper DDm began his Facebook Live video Tuesday night as he began his latest live reading of Omarosa Manugault Newman's tell-all book, Unhinged: The Omarosa Story. For the past few weeks, DDm, who was born Emmanuel Williams, has been reading in his living room with his cat Taco Bell by his side—with plenty of colorful commentary—to his thousands of followers.
Williams, who is very much into politics, planned to read Manigualt Newman's book just for leisure but he says that when she revealed that she had tapes of White House conversations, he just knew that he wanted to take it to social media.
"I didn't think anybody was going to care," he said. "I just thought that me and a few of my friends would just laugh and ki-ki and then move on with our lives. I had no idea it would be all this."
Viewers tune in Tuesday through Thursday as he reads various excerpts from the book and discusses it in the only way he knows how—very candidly. Tuesday night, Manigault Newman even commented on his live stream saying that she wanted to meet him.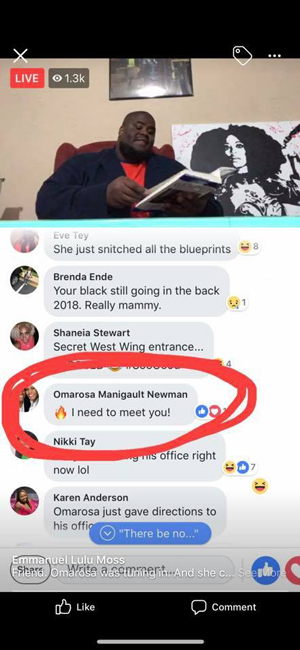 "I wasn't expecting that at all," Williams said of the comment from the former reality star and Trump political aide. "I'm gagging! I was so shocked. I didn't even know until someone pointed it out to me."
Williams' videos come at a time when plenty of whistleblowing and controversy is surrounding the Trump administration and the rapper says he's happy to be part of the conversation.
"I get so many emails and messages from people who were completely tapped out with the whole situation in the White House," he says. "They say I've reinvigorated their interest in what's going on politically."
After receiving an overwhelming amount of support from his more than 20,000 Facebook followers, Williams has decided to expand his reach by launching a new YouTube channel, a Christmas special, and a podcast Secretary of Shade set to debut on September 4.
"People are telling me that they watch it like a TV show," he said. "If they like it, I'll keep doing it. It's a great way to showcase all that I do. People aren't tuning in because I have a hot record, or they love the video. They just like to hear me read a book."