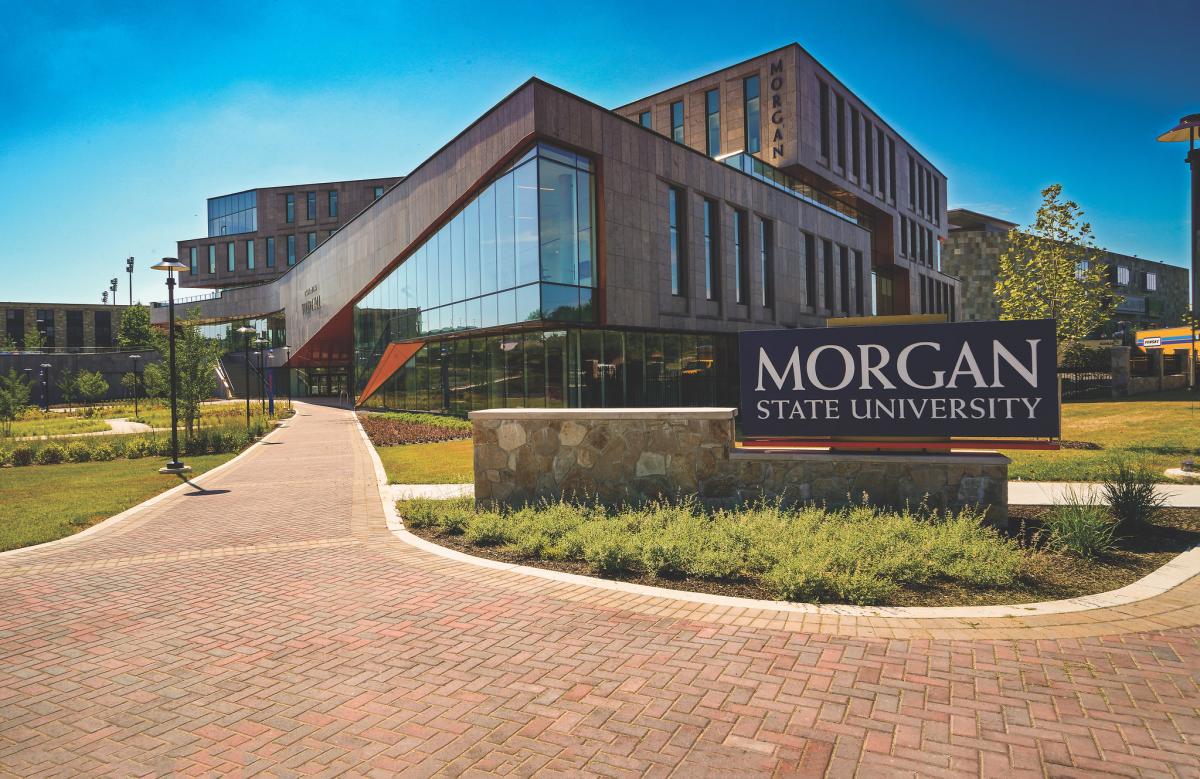 Morgan State University will receive a record-breaking $40 million from Scott. —Courtesy of Morgan State University via Flickr
Philanthropist MacKenzie Scott, the former wife of Amazon founder Jeff Bezos, will be making a record $85 million in donations to three of Maryland's historically Black universities.
The state's largest HBCU, Morgan State University, announced earlier this month a $40 million gift from Scott, the largest single private donation in the school's history. Similarly timed $25 million and $20 million gifts from Scott to Bowie State University and the University of Maryland Eastern Shore, respectively, have also been announced.
"This monumental gift will change lives and shape futures," Morgan President David Wilson said in a statement. "I thank Ms. Scott for her due diligence and acknowledgement of the substantive value Morgan offers to so many throughout this nation and around the world, and entrusting that we will ensure the enduring impact of her generosity is truly transformational for many years to come."
The majority of Scott's multi-million-dollar gift will be used to seed the school's newly established "Leading the World Endowment Fund," the first unrestricted endowment in the university's history. The donation also doubles Morgan's overall endowment and will be used to support research and faculty development initiatives.
Prior to the gift from Scott, Morgan's previous largest individual gift was a $5 million donation from philanthropist and Morgan alumnus Calvin Tyler Jr. and his wife, Tina. That gift established a scholarship fund, which bears their names, and supports students who are academically qualified but lack the financial resources to pursue higher education.
Scott and the United Way of Central Maryland also announced that she has given the 95-year-old organization $20 million, the largest single donation in the nonprofit's history.
"The fact that Scott's gift included no parameters for the critical work we do is a testament to her support of our work as a proven lifeline for those in need—all the time, but especially during the COVID-19 crisis," said Franklyn Baker, president and CEO, United Way of Central Maryland.
Scott, a 50-year-old novelist, was married to Bezos from 1993 to 2019. His estimated net worth is currently $185 billion, making him the wealthiest person in the world. Throughout the past four months, Scott has donated more than $4.1 billion to nearly 400 organizations—culled from a list of more than 6,500—across all 50 states, Washington, D.C., and Puerto Rico. Earlier this year, she signed a pledge to give away half of her money.
The gifts to Bowie State University and the University of Maryland Eastern Shore are also the largest donations ever to those schools.
Bowie President Aminta Breaux said most of the $25 million the school is set to receive will be used to grow the university's endowment. University of Maryland Eastern Shore President Heidi Anderson told The Daily Times in Salisbury that their $20 million will be used for the school's endowment and financial assistance for students.
The gifts are particularly meaningful now, says University System of Maryland Chancellor Jay Perman, in the midst the coronavirus pandemic, which "disproportionately harms students of color, students in poverty, and first-generation students."
"It is particularly meaningful as we struggle toward equal access and opportunity for Black students and communities," Perman said, "and as UMES and Bowie State educate the next generation of leaders who will move us closer to racial and social justice."
The gifts—$25 million to Bowie State and $20 million to UMES—are among the largest unrestricted donations ever awarded to an institution within the state's university system.
As part of Bezos and Scott's 2019 divorce, Scott received Amazon stocks valued at about $38 billion. Those shares, after surges in Amazon stock related to pandemic, would be worth about $62 billion today, according to the New York Times, which added in its reporting that it is not clear how many shares she has sold.
Scott noted in a Dec. 15 post to Medium that she was accelerating her 2020 philanthropy plans in light of the ongoing pandemic that "has been a wrecking ball in the lives of Americans already struggling."
"Economic losses and health outcomes alike have been worse for women, for people of color, and for people living in poverty," Scott wrote. "Meanwhile, it has substantially increased the wealth of billionaires."