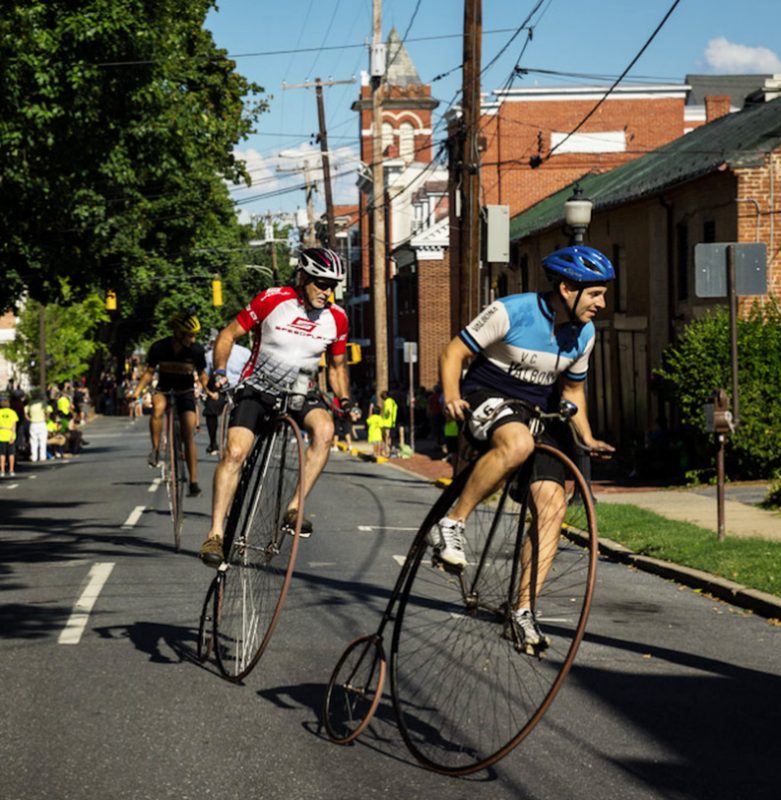 The Bicycle Escape
The League of American Bicyclists recently published their annual 2015 Bicycle Friendly State Ranking and there's good news for Maryland. Some not so good news, too.
First, the good news. We remain in the top 10 overall—No. 10 exactly—squeezed between Wisconsin at No. 9 and New Jersey at No. 11. We rank third in the east, still ahead of neighbors Pennsylvania (No. 12) and Virginia (No. 13), although they're making up ground, but well behind Delaware (No. 3).
Maryland received high marks from the League—whose history dates back to 1880— for our 3-foot safe passing law, dedicated "Bikeways" infrastructure funding, our "complete streets" policy, the Department of Transportation's "share the road" campaign and the just-updated state bicycle master plan.
Nonprofit Bike Maryland also got a shout out from the League for its active state advocacy.
The not so good news: Maryland's score actually dipped from 53 out of a potential 100 points to 49 points this year, falling from 7th overall to 10th. Massachusetts, Utah and California all leapfrogged over us. Washington state came in first.
In fact, a couple of areas where we've scored well in the past—bicycle-friendly legislation and enforcement, for example, and bicycle-friendly education and encouragement—are places where Maryland slipped, according to the League's state "report card."
Related to the Maryland's 3-foot safe passing law, the League noted that efforts failed again this year in the state legislature to amend potentially dangerous exemptions to the law.
The League of American Bicyclists survey also noted Maryland needs to improve its bicycle-related crash reporting, adopt a mode-share goal for biking, better integrate bicycle commuting into all transportation, provide training to engineers and planners on how to implement the "complete streets" policy and improve bicycle network connectivity.
Emily Ranson, Bike Maryland's advocacy coordinator, said the organization will be pulling together a summer working session with state legislators, Department of Transportation officials, state troopers and other stakeholders to try to find a solution to the 3-foot safe passing law exemptions. For example, allowing drivers to pass cyclists over a double-yellow line when room and sight line permit to maintain the 3-foot buffer.
In terms of big picture bicycle connectivity, the League also highlighted the failure of the state to move forward on a safe bicycle route over the Susquehanna River between Perryville and Havre de Grace that would allow cross state bike trips. Currently, the inability to cross the Susquehanna River by bike is one of the biggest gaps in the 2,900-mile East Coast Greenway, which runs from Maine to Florida. Preliminary proposals being looked at include adding a bicycle lane to the Hatem Bridge or building a pedestrian/bicyclist bridge alongside the bridge—or including a bike/pedestrian bridge alongside the new Amtrak bridge that's being planned over the Susquehanna in the next 10-15 years.
"The best news from the past year is that Gov. [Larry] Hogan decided to keep the Bikeways funding in place," Ranson says, adding that the state also formally adopted more modern state road building guidelines that potentially can protect cyclists. Launched in 2011 by then Gov. Martin O'Malley, the Bikeways effort has funded dozens of projects across the state over the past several years, with $15 million available in reimbursable grant funding in 2015 "for projects that enhance walking, biking, pedestrian safety and recreational trail access," according to Maryland Department of Transportation.
"That grant funding is the fastest way for municipalities to create bike lanes and trails, to put up signage and so it's important to maintain that funding," Ranson says. "Many states are making great strides, in terms of enhancing their bicycle infrastructure, making bicycling safer and more convenient for people, and that's what we want to do, too. Maryland isn't stagnating," Ranson adds, "but we need to do more if we are going to stay apace with other states."