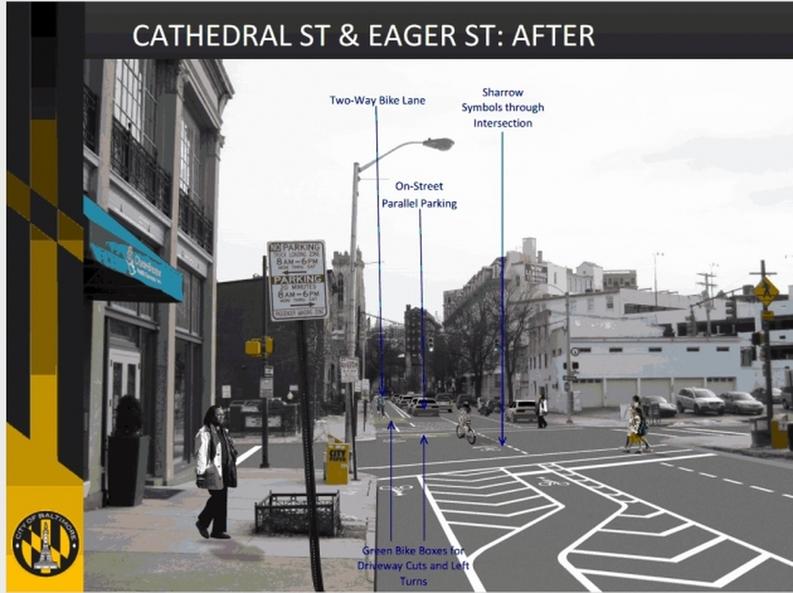 City of Baltimore
Bicycle commuting in Baltimore is about to get easier. And safer.
At
a standing room only public meeting at the downtown Pratt Library
earlier this week, representatives from the Baltimore Department of
Transportation presented plans for a dedicated, two-way cycle track that
will run north and south on Maryland Avenue from 29th Street to Pratt
Street. The cycle track (see above image for an idea what part of the
track will look like) is designed to separate bicyclists and cars, in
some areas by parked cars, in other areas by flexible posts, as well as
painted striped lines, particularly at interesections.
Also
included in the plan are several new east-west midtown bike lanes
(unlike cycle tracks, bike lanes only include painted lines and symbols
on the street without physical barriers to traffic).
The DOT
expects the Maryland Avenue cycle track to be completed by fall at the
latest, said Frank Murphy, deputy director of the Baltimore DOT."This
is going to be important because this is going to be the backbone of
what we are working toward — a citywide, world-class system of protected
bike lanes," said Chris Merriam, executive director of Bikemore,
a nonprofit bicycle advocacy organization in Baltimore. "This is not
going after one of those things that is just low-hanging fruit."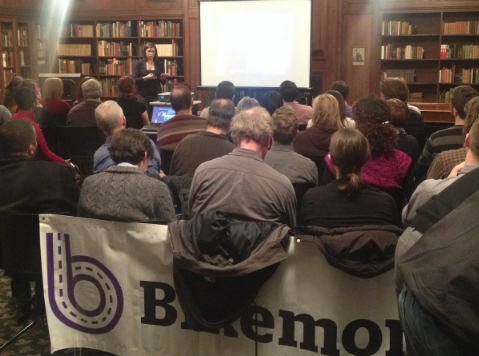 Currently,
the only cycle track in the city is the short, north-south Fallsway
stretch on the east side of Charles Street, which then links to the
Guilford Avenue bike route. The new Maryland cycle track will give
bicycle commuters a north-south option in a busier, commercial side of
town, with the expectation that it will also encourage more bicycle
commuting, said city bike planner Caitlin Doolin. She noted that bicycle
volume on 15th St. NW in Washington, DC, increased more than 200
percent — and is still increasing — after the implementation of a cycle
track there.
Doolin said that the implementation of the cycle
track, the first in the city on a high-volume downtown street, will
minimally affect the number of current parking spaces on the street.
Approximately 10-20 spaces will be removed, she said, or about one for
every 100 on the Maryland Avenue corridor. Doolin added, however, DOT
does expect the cycle track infrastructure will slow down traffic
exiting south from I-83 during peak hours. "Think of it as a piece of
world-class infrastructure in exchange for a couple of seconds of
delay," Doolin said.
Murphy and Doolin also talked briefly about
the city's planned bicycle sharing system, which will include 25 bike
stations around downtown and 250 bikes. The current effort to bring
bike-sharing to Baltimore, in partnership with Alta, a Portland-based
company which will operate the program, which was to launch this
spring, is being delayed, in part, because of financial problems with the Bixi, the supplier of the bicycles.
Capital
funding for Charm City Bikeshare infrastructure and implementation
remains in place, however, while city officials and Alta search for a
new bike supplier. Baltimore City is also looking for a lead sponsor to
support the operation of the system.
Murphy said he expects decisions on the locations of bike stations to be finalized by July.
Merriam
said he believes the city is doing its due diligence, in terms of
putting together a successful Charm City Bikeshare launch and utllizing
its state grant money for the program wisely.
"The mayor
[Stephanie Rawlings-Blake] has seen bike-share's effectiveness in other
cities," Merriam said. "This is what forward, progressive looking cities
are doing."