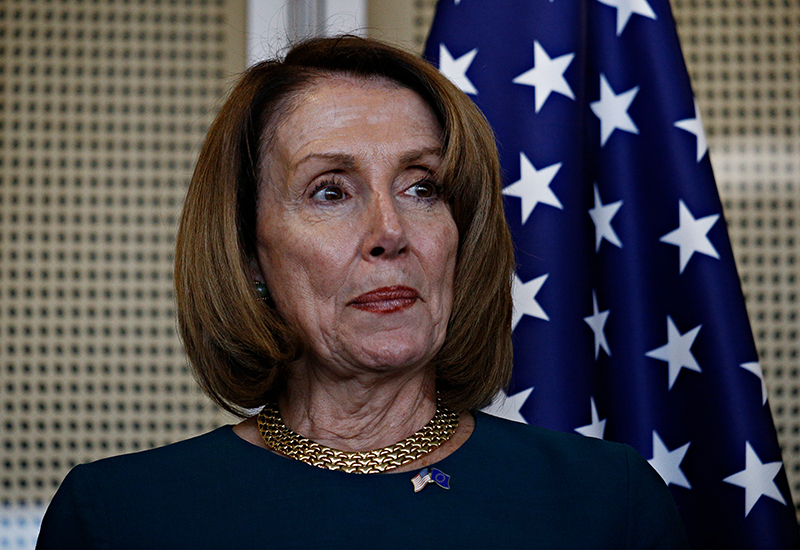 Courtesy of Shutterstock
In one of the more poignant moments of the final day of the House of Representatives' impeachment proceedings against President Donald Trump, Baltimore was front and center.
After the House successfully passed both articles of impeachment—citing abuse of power and obstruction of justice—Baltimore native Speaker of the House Nancy Pelosi paid tribute to her colleague and friend, the late Congressman Elijah E. Cummings, who served as the House Oversight Committee chair and presided over Maryland's 7th District until his passing in September.
"There's one person who isn't with us in this room, but I know was present all day for the deliberations," Pelosi said at a press conference following the eight-hour hearing and subsequent vote Wednesday. "He said, 'When we're dancing with the angels the question will be, what did you do to make sure we kept our democracy intact?' We did all we could, Elijah. We passed the two articles of impeachment—the president is impeached."
Speaker Pelosi, invoking the late Elijah Cummings: "We did all we could, Elijah. We passed the two articles of impeachment. The president is impeached." Via ABC pic.twitter.com/YaReEwNObc

— Kyle Griffin (@kylegriffin1) December 19, 2019
The swell of Democratic support for impeachment has grown louder as the process and hearings, in which 17 witnesses testified, has gone on. On Wednesday, an overwhelming majority of Democratic House members voted to impeach Donald J. Trump after evidence and testimony was presented that indicated the president had pressured Ukraine to assist him by declaring they were investigating potential 2020 rival Joe Biden, and the president's refusal to provide documents following Congressional subpoenas.
Maryland House members were among those who voted along party lines, issuing strong statements in favor of the House's decision to impeach.
"President Trump took direct aim at the heart of our democracy," reads a statement from John Sarbanes of Maryland's 3rd District. "I believe that Americans should decide our elections, not a foreign country. As long as the President continues to invite foreign inference into our democracy, the integrity of the 2020 election remains at risk. We had no choice but to impeach."
The Republican Party has been united in its staunch opposition to impeachment, put forth by the House's Democratic majority after a whistleblower. The whistleblower, understood to be an intelligence officer, came forward with allegations Trump was withholding a White House meeting and Congressional military aide to Ukraine, which has been at war with Russia, in exchange for the announcement of a corruption inquiry into Biden—whose son had been on the board of a controversial Ukrainian company. Not a single House Republican voted in favor of either article.
"The articles of impeachment passed on a purely partisan vote by the Democrats prove what a partisan stunt this impeachment sham really is," said Rep. Andy Harris of Maryland's 1st Congressional District, in a statement.
Harris also invoked a previous instance in which Eric Holder, the Attorney General under the Obama Administration, refused to answer House subpoenas—stating that they infringed on executive privilege.
Baltimore native Dutch Ruppersberger of Maryland's 2nd District also released a statement, reiterating the need to consider the facts of the case and service the Constitution.
"President Trump has no one to blame but himself," Ruppersberger's statement reads. "He violated his oath of office. This is why I support both articles of impeachment. The facts clearly warrant this action to protect the Constitution of the United States."
The attention now turns to the Senate, which will hold a trial of the president. Only if the president is found guilty of one or more of the articles of impeachment can he be removed from office. There is currently a delay in the transmission of the impeachment documents, however, as Democrats attempt to negotiate the guidelines for the trial.
Pelosi suggested Wednesday night that the House might not hand over the articles of impeachment before it is promised a fair trial. Senate Majority Leader Mitch McConnell has suggested that his position on the matter is no different than the White House's in a trial where Senate jurors are required to be impartial.
"As we go forward, it's up to the American people to demand a fair trial," reads a statement from U.S. Senator Chris Van Hollen, who previously represented Maryland's 8th congressional district. "Republican Leader Mitch McConnell has publicly expressed his plan to work in lockstep with the President during the trial and has rejected reasonable requests to allow key fact witnesses to testify. I hope my other Republican colleagues will agree that we have a duty to get all the facts and do justice."
Locally, a number of Baltimoreans have voiced their support for impeachment. A "Nobody Is Above the Law" rally was held at McKeldin Square in the Inner Harbor a few days ago, one of hundreds held nationwide. Participants were visible to commuters on their way home from work, spirited and making their presence known.
And when the news came down, Steny Hoyer, the House Majority Leader representing Maryland's 5th Congressional Disctrict, offered a solemn closing argument.
"All of us feel a sense of loyalty to party," Hoyer said. "It's what makes our two-party system function. It's what helps hold presidents and majorities accountable. But party loyalty must have its limits."