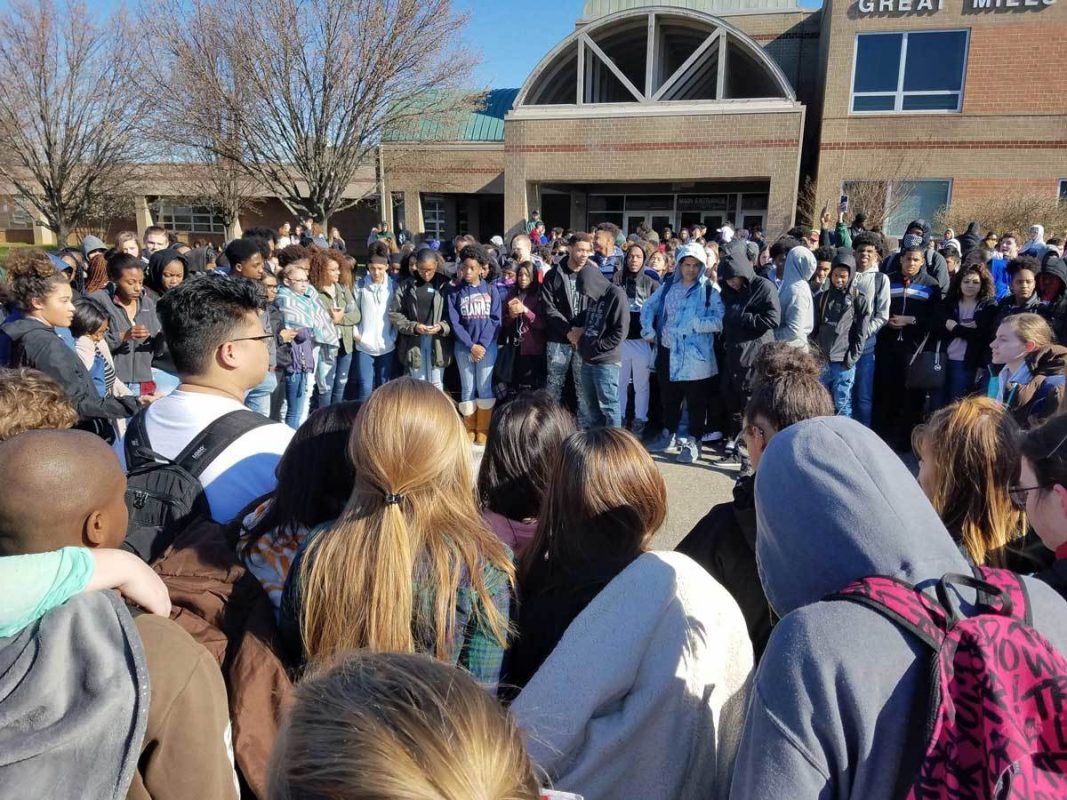 Joy Shrum
Shortly before 8 a.m. this morning, Austin Wyatt Rollins, walked into Great Mills High School in St. Mary's County with a handgun and began shooting students. Two students—a 16-year-old female and 14-year-old male, were shot and remain in critical and stable condition, respectively.
School resource officer Blaine Gaskill responded to the scene in less than a minute and fired a round at the shooter, who was pronounced dead. It has yet to be confirmed if Rollins' fatal injury came from Gaskill's bullets or the shooter's own.
Parents of Great Mills students were directed to report to nearby Leonardtown High School for reunification. Shortly after the shooting was reported, Governor Larry Hogan reassured residents via Twitter that the situation was being addressed.
"We are closely monitoring the situation at Great Mills High School," he said. "[The Maryland State Police] is in touch with local law enforcement and ready to provide support. Our prayers are with students, school personnel, and first responders."
Other local officials and politicians were quick to offer "thoughts and prayers" to the victims of the shooting.
"My thoughts are with the Great Mills High School community as we grapple with yet another school shooting," Rep. Elijah Cummings tweeted. "I pray for the victims of this horrendous tragedy and my heart goes out to their families."
Sen. Ben Cardin expressed his anger and frustration saying that at a minimum, universal background checks and a ban on assault-style weapons are needed. He said he believes the momentum for gun reform is building and is fueled by student activism.
"These students are literally just not taking 'no' for an answer," Cardin said. "I can tell you that Americans are listening to our students. I think our political system will respond."
Rep. Steny Hoyer praised the first responders, more specifically Gaskill who "answered the call this morning with swiftness, professionalism, and courage." Hoyer believes now it's time for Congress to act.
"We sympathize. We empathize," Hoyer said. "We have moments of silence. But we don't have action. Wringing our hands is not enough."
According to the Never Again Movement, this incident at Great Mills marks the 11th time a gun has been discharged in a K-12 school since the Parkland shooting in Florida on February 14. 
Last week, students at Great Mills participated in the National School Walkout to protest gun violence.
This is a picture from the student walkout at Great Mills High School on March 14th.Students gathered outside,held signs &talked about gun control.

Those same students are now being loaded onto buses to be reunited with their parents after a school shooting.

When will it end? pic.twitter.com/WULU0vCMUL

— CaliforniaLuv (@inminivanhell) March 20, 2018
"Headed to St. Mary's County to be with the students, teachers, and families of Great Mills High School," said Sen. Chris Van Hollen. "Much gratitude to all the first responders. We must stop the epidemic of gun violence."