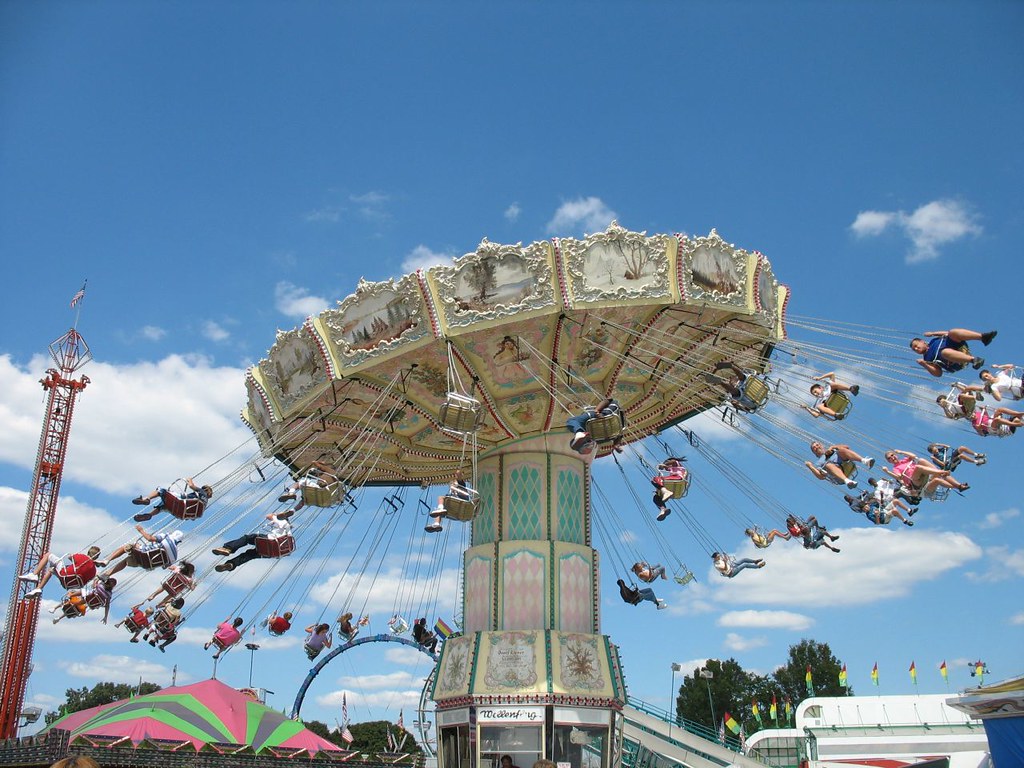 —Courtesy of Niko Retro via Flickr Creative Commons
Other than a sick leave two years ago, Andrew Cashman has never missed a single Maryland State Fair in his 60 years of life. (Even last year, when the fair took a year off due to the pandemic, there was a livestock show for kids—albeit not open to the public, but Cashman didn't miss it.) 
"It was always the end-of-the-summer excitement," Cashman, the Maryland State Fair's general manager, recalls of visiting as a kid. "We knew once the fair was over, school would start the next day." 
Now, the end of summer is once again near. And after a one-year hiatus, the annual attraction will be back in full swing August 26 through September 6 at the Maryland State Fairgrounds in Timonium. Celebrating its 140th year, the goal is for the fair to provide Marylanders with laughs and thrills, all while honoring the state's agricultural roots.
"I'm really excited," says Cashman. "We turn Timonium into our own little city that glows every night." 
Beyond the excitement, organizing the biggest family event in the state amid the coronavirus crisis—especially given the surging Delta variant—didn't come without its challenges. This time around, staff has added a number of handwashing and sanitizing stations, enhanced routine cleanings of the rides, and implemented a mobile vaccine clinic onsite (more on that later.) While health officials acknowledge that the event is outdoors, many still advise that crowds mask up. 
"The good news about the state fair is that a lot of it is to be held outside," Baltimore County Executive Johnny Olszewski recently told WYPR. "We want to keep people safe, but we also do not want to close down fairs or festivals. We don't want to have to close businesses."
Adds Cashman: "Everybody is working a little bit harder. The biggest thing is we want to keep everybody safe." 
Despite the precautions, the spirit of the festival will not be thwarted. From live performances and homegrown foods to glowing rides, horse races, 4-H exhibits, a goat mountain, and a 12-foot-tall roaming robot named Max, the weeks-long fête will feature all of its signature amusements. As Cashman puts it, "the State Fair owns 108 acres, and we use it to the fullest." 
Still, for Cashman, who has been involved with the fairgrounds his entire life, the most exciting thing above all this year is that "people are going to be back on the grounds."
In that spirit, we've curated a list of things to eat, see, hear, and do at this year's State Fair, highlighting both old favorites and new, not-to-miss attractions: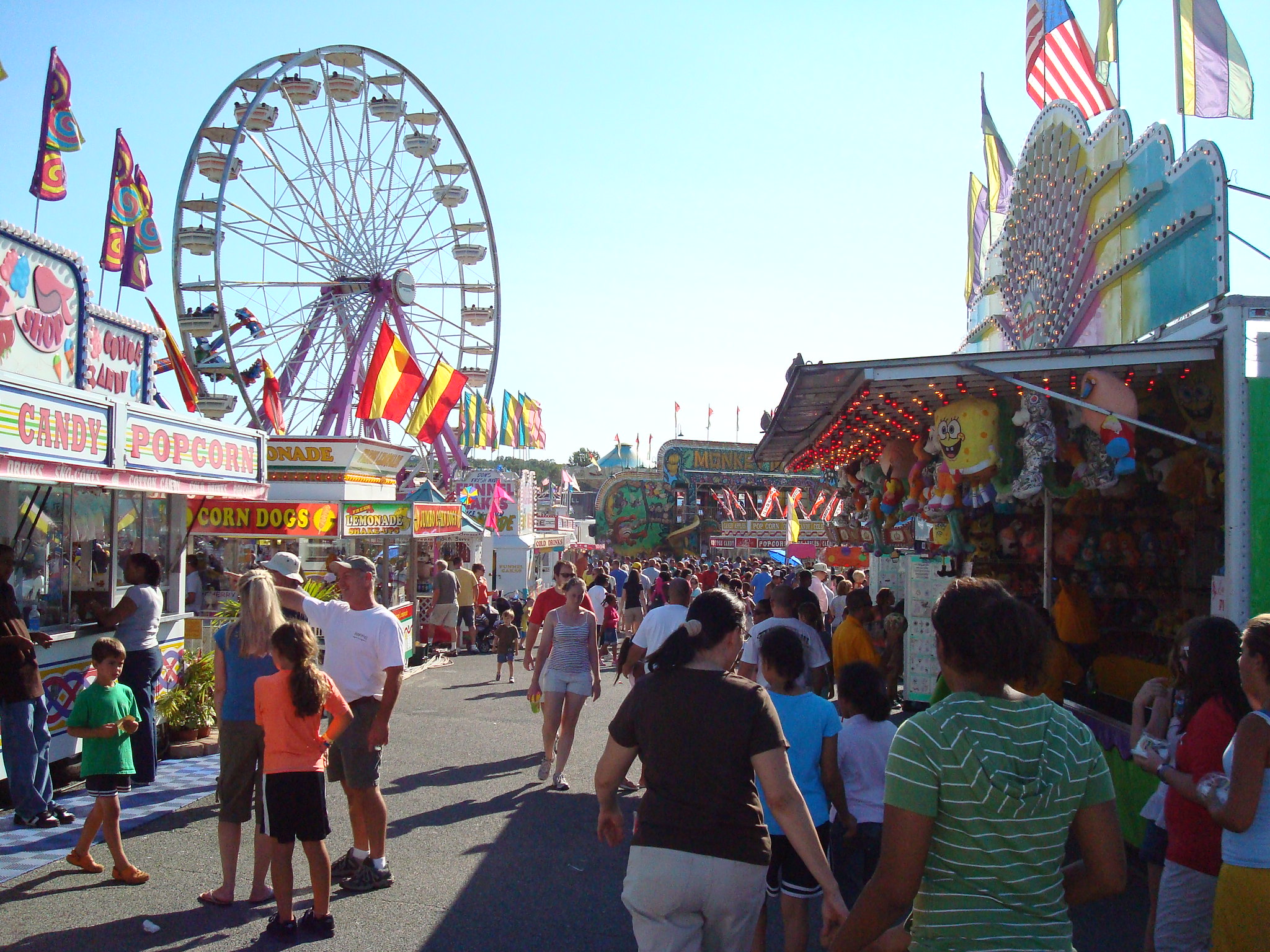 EAT
Indulge in classic fair foods
Cotton candy, corn dogs, ice cream, fresh fruit, corn on the cob. Are you hungry yet? Be sure to come to the fair with a healthy appetite and an empty stomach. In addition to the fan-favorite, deep-fried Midway snacks, you can find the Maryland-inspired Crabby Patty (a crab cake topped with a soft-shell crab, which was dubbed one of the "50 Best Fair Foods" by the Food Network), a raw bar, ribeye steak sandwiches, and more from local farms at the Maryland Foods Pavilion. Wash down all of the eats at the adjacent Chesapeake Craft Beer and Wine Garden, which will feature local pours including Guinness Blonde Ale, Heavy Seas Loose Cannon IPA, and wines from Harford Vineyard.
Visit the daily farmers market
Growers from all over the state will come together to showcase their produce in the Farm & Garden building daily from noon to 6 p.m. Stroll around and fill your tote with locally sourced fruits, veggies, flowers, meats, and dairy products. Farm & Garden Building. 12-6 p.m. daily.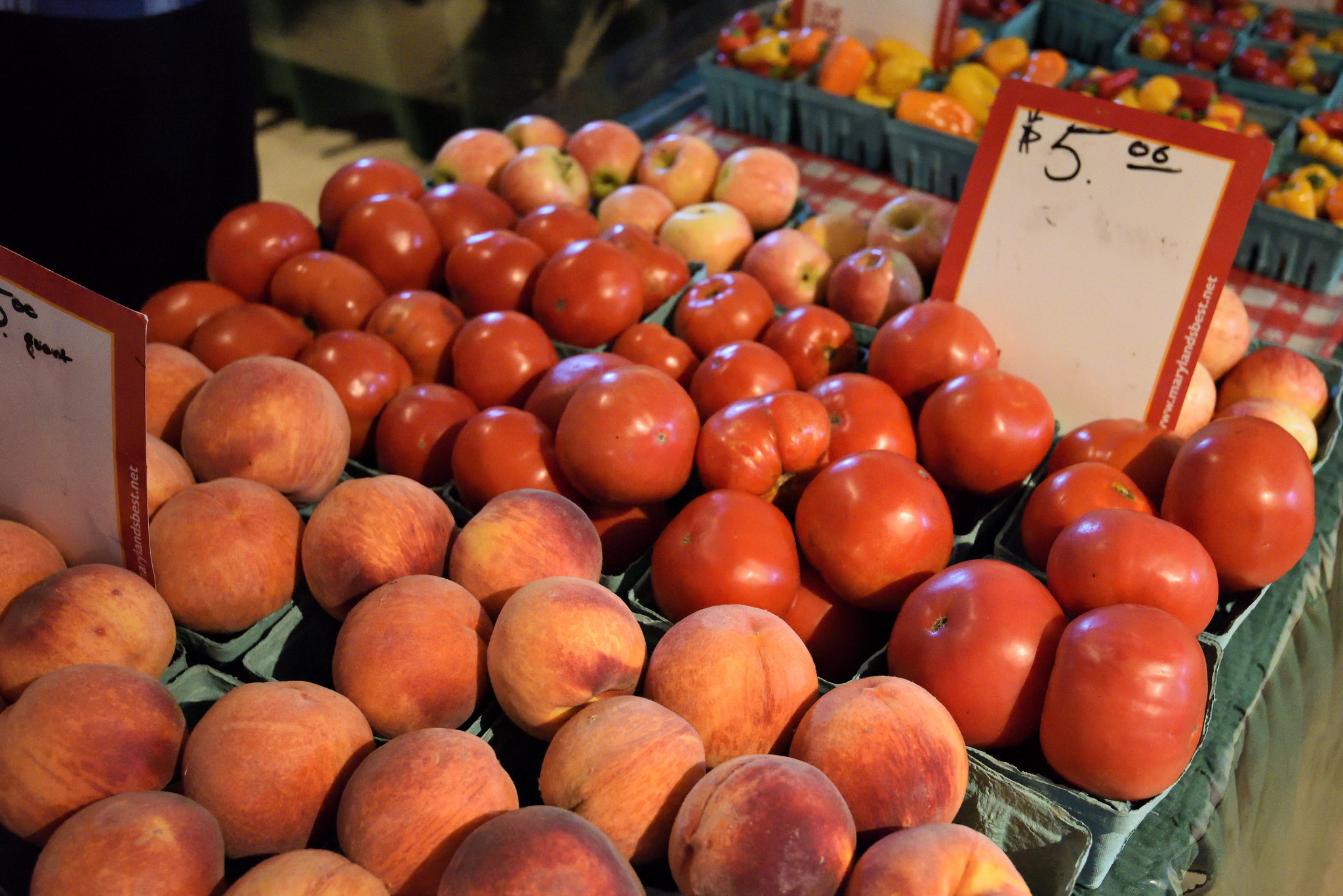 SEE
Browse the Maryland State Fair Museum ​​
At the museum inside the Mosner Miller building, you can learn about the State Fair's 140-year history, which dates back to 1878 when a group of Maryland businessmen hosted the inaugural event. (If you have any State Fair memorabilia, organizers welcome you to donate it to the display.) Mosner Miller Building. Weekdays, 12-8 p.m. Weekends and Labor Day 10 a.m.-8 p.m.
Learn about legendary players at the Negro League Baseball Exhibit
This year's exhibit highlights the late Hank Aaron, the legendary right fielder and first baseman who passed away this past January. Learn all about the famous "Hammerin' Hank" through photos, multimedia displays, autographed baseballs, bats, and other memorabilia from the local Hubert V. Simmons Negro League Baseball Collection. Negro Leagues Baseball ambassador Ray Banks, along with former Baltimore Oriole Fred Valentine and other influential Black players, will share their oral histories with the audience. Exhibition Hall. Weekdays, 12-9 p.m. Weekends, 10 a.m.– 9 p.m. Labor Day, 10 a.m.-8 p.m. 
Mingle with the barnyard animals
Swing by the Cow Palace, Sheep and Swine Barns, and Poultry & Rabbit areas to honor the fair's century-old agricultural roots. There are tons of 4-H and FFA (Future Farmers of America) livestock exhibits scheduled throughout the week. Plus, the Birthing Center will be open for fairgoers to witness chicks being hatched and pigs and calves being born—under the watchful eye of trained veterinarians, of course. It's a good chance for urban dwellers to get a peek at Maryland's farm culture.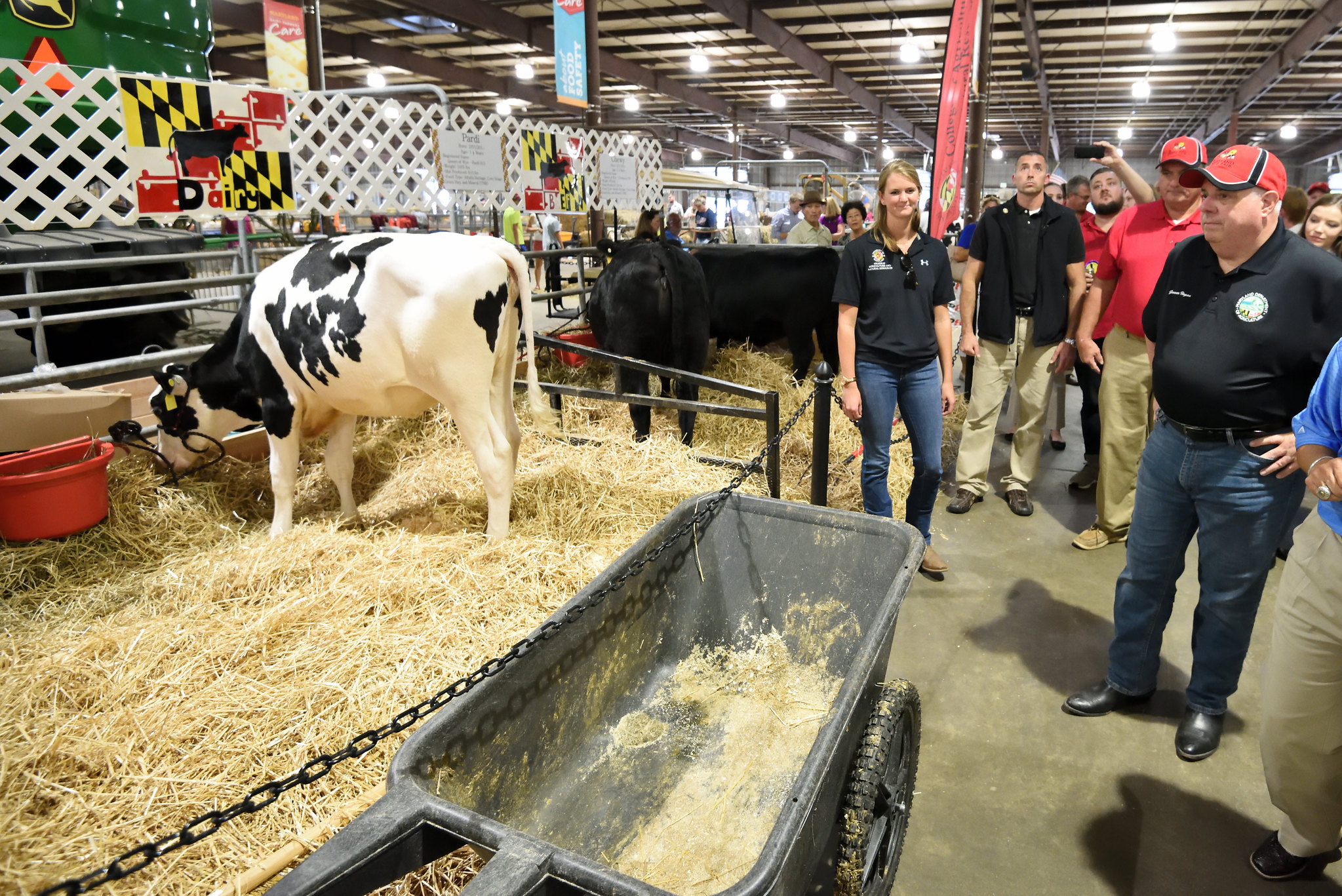 HEAR
Rock out with Blue Öyster Cult
The Long Island, New York natives are headed south to perform their hard rock hits including "(Don't Fear) The Reaper," "Godzilla," and "Burnin' for You." Grab a beer and head to the infield stage to hear the signature guitar riffs up close and personal. September 5. 7:30 p.m. $25
Bare your "Beautiful Soul" with Jesse McCartney
Early 2000's heartthrob Jesse McCartney is set to headline the festivities in advance of his new album release this fall. We can only expect that audiences will travel back in time with anthems like "Beautiful Soul," "She's No You," and "Because You Live," while also jamming to some of McCartney's newer material. September 3. 7:30 p.m. $25
Enjoy local bands on the Park Free Stage
A jam-packed lineup of local performers is scheduled to play free sets daily. Belt along to recognizable covers by The Uncommitted, Route 66 Band, Sharon and the Edge, Spellbound, and others throughout the fair's run.
DO
Get nostalgic with Midway rides and games
Located in the heart of the fairgrounds, the glowing rides are reserved for the bravest of the fairgoers. This year, there are more than 30 rides, including the giant ferris wheel, merry-go-round, rotating Cliffhanger, spinning YoYo swings, and the new two-story walkthrough Atlantis Fun House. Plus, try your luck to win a stuffed prize at more than 30-plus game booths. Weekdays, 12 p.m.-Close. Weekends and Labor Day, 10 a.m.-Close.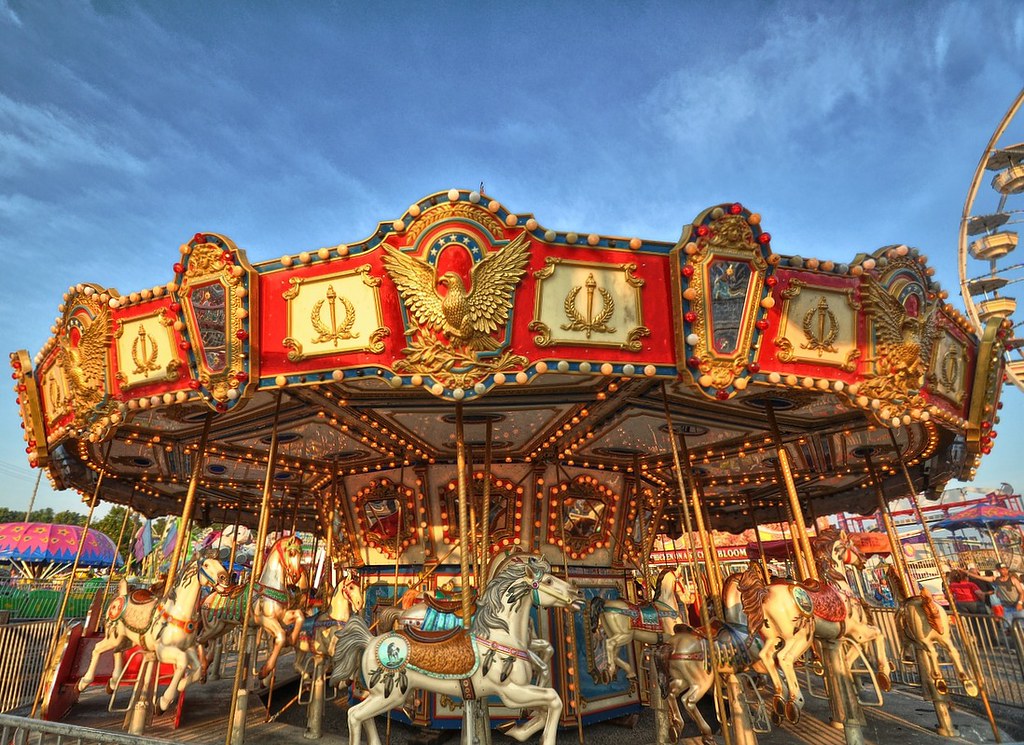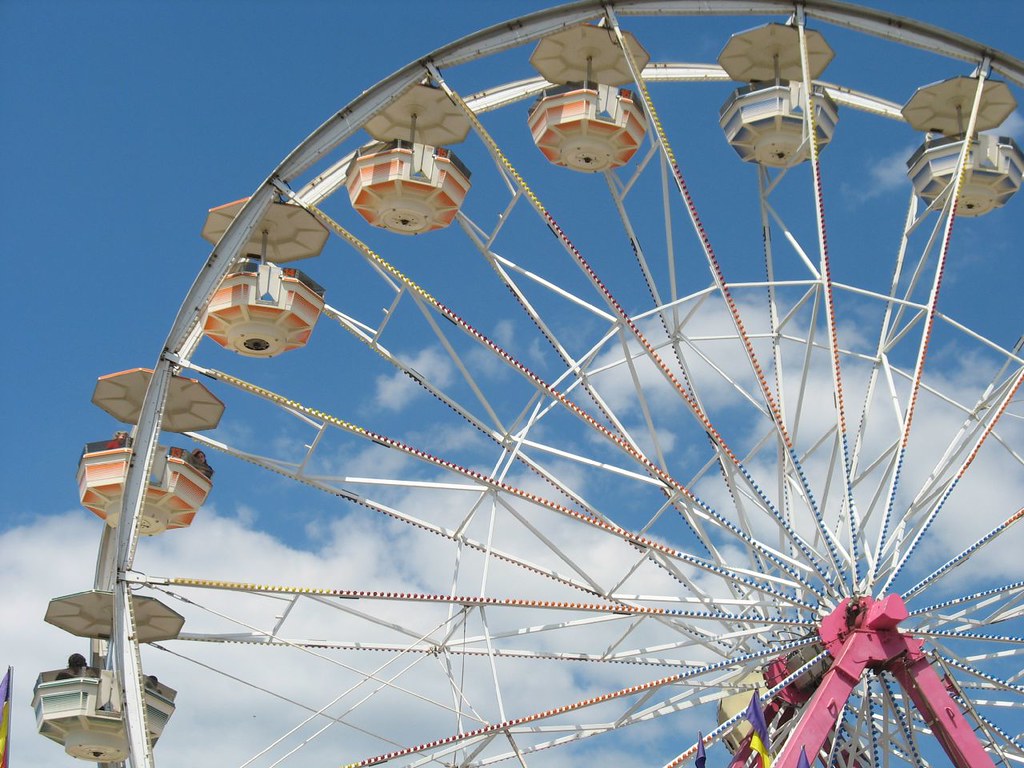 Aim for the bullseye during an axe-throwing match
Grab a group and make your way to the new Odyssey mobile axe throwing trailer to see how you do. After a brief training, you can enjoy a few rounds of axe throwing or participate in a competitive game. Weekdays, 12-10 p.m. Weekends and Labor Day, 10 a.m.-10 p.m. (Must be 9 years or older to play.) 
Find your way out of an escape room
Time to channel your inner Sherlock Holmes. In the new escape room, you will use teamwork to solve puzzles and mysteries. Winners are awarded exclusive bragging rights. Weekdays, 12- 10 p.m. Weekends and Labor Day 10 a.m.- 10 p.m. 
Get vaccinated at the COVID-19 Mobile Vaccination Clinic
Even throughout the festivities, the State Fairgrounds is maintaining its reputation as a mass COVID vaccination site. If you haven't yet gotten the jab, you can drop into the mobile vaccination site, hosted by the Baltimore County Department of Health, to receive your shot in the Exhibition Hall. The clinic operates weekdays from 3-7 p.m., and weekends from 10 a.m.-7 p.m., with no appointment needed. 
Browse the fair's full event lineup, here.