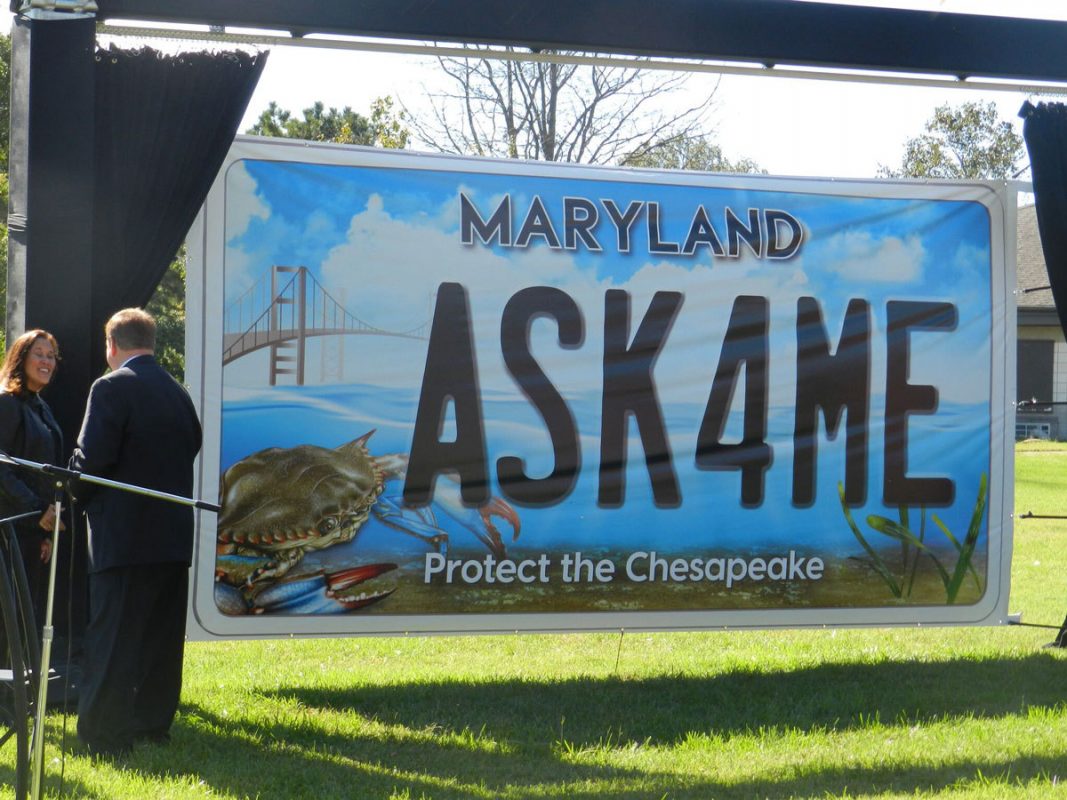 Chesapeake Bay Trust
Move over New Mexico and South Carolina, Maryland is coming for your top spots when it comes to best-looking license plates in the country. Maryland's newest specialty plate features Sandy Point State Park with a blue crab and the Bay Bridge in the distance—we got artsy with it—to raise awareness for the Chesapeake Bay Trust.
It's been 28 years since the foundation debuted the very first bay license plate and 14 years since it's had an updated design. With the help of Tina Cardosi, president of TM Designs and the plate's designer, the trust was able to unveil the most recent design at Sandy Point State Park last month.
"A lot of folks thought that it was time for a new design," said Jana Davis, executive director for Chesapeake Bay Trust. "We have a lot of new technologies now—both in the art realm and design technology—so we know wanted to give people something new and fresh."
After more than a year of scouting and reviewing 250 designs from all over the state, Cardosi's TM Designs had the winning combination. (Even Pennsylvania is envious of our latest plates!)
"One of the first things that came into my head is I really wanted to do something that had an underwater theme to it," Cardosi says. "That was one of the concepts that we proposed from the very beginning."
The new plate not only features an eye-catching design, but also an updated catchphrase to accompany it. The older plates read "Treasure the Chesapeake" with the newest version urging residents to "Protect the Chesapeake"—in case you needed a firm reminder that we need to keep it clean.
"By choosing these bay plates, drivers help to get kids outside on field trips and trees and gardens planted across our communities," Davis said. "All of which helps the bay and its contributing rivers and streams."
This specific plate is popular among Maryland motorists with more than 330,000 bay plates on the road to date. Drivers can now purchase the most recent ones for $20 from the MVA, the Trust website, car dealerships, or tag and title agencies. The funds will go to support K-12 outdoor education, environmental restoration projects, and community engagement in natural resources. So, it's aesthetically pleasing and benefits a great cause.
Hopefully with this new design—along with the basic Maryland flag plates and the orange and yellow agriculture plates—we can climb a little higher on Thrillist's list of license plates where we are currently ranked at 50. We can't blame them, we've had some pretty bland designs over the years.