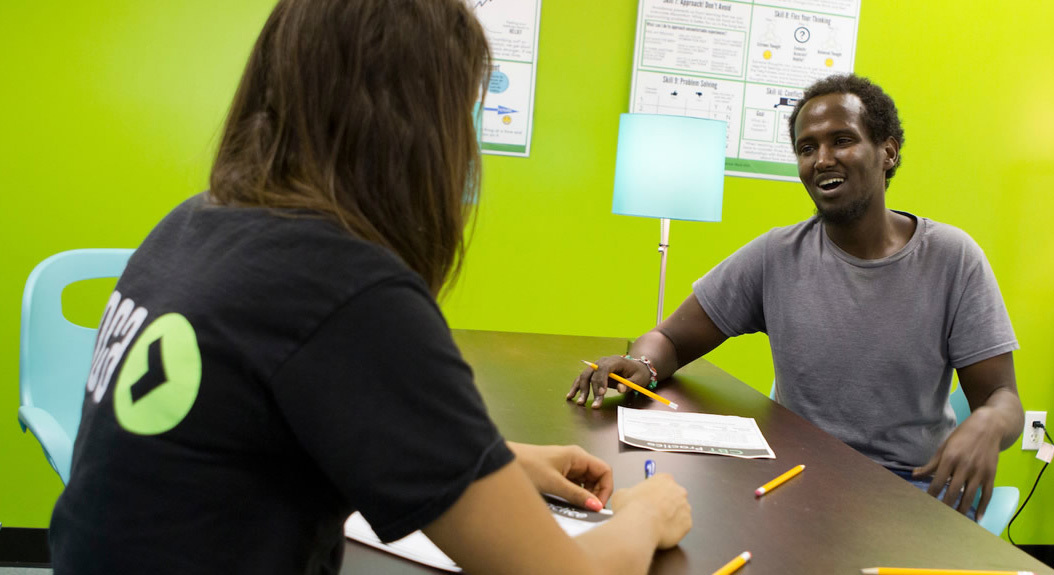 Roca
Mayor Catherine Pugh announced today that the City of Baltimore would be partnering with Roca—an anti-violence, nonprofit program based in Massachusetts—to connect with high-risk young adults by finding jobs and keeping them out of jail as part of her plan to reduce crime.
"We believe the approach to violence is holistic," Pugh said at today's press conference. "As we continue to look at the best practices among the nation, this is one of them. This will head the city in the right direction."
For nearly 30 years, Roca has helped thousands of young men between the ages of 17 and 24 to transform their lives. Roca's philosophy is that, with positive relationships, job training, and education, at-risk young adults can change their behavior "to disrupt the cycle of poverty and incarceration." The CEO and founder of Roca, Baltimore native Molly Baldwin, began this program in hopes of working with a demographic that she says is being left out and believes that "the timing makes sense" for this to be instituted in the city. 
"They are a small group that causes a huge impact," Baldwin said. "We are here to work with those young people who are not yet ready to show up and be the productive citizens they should be."
The mayor's office has been working with Baldwin and her team for the past five years to bring the program to Baltimore. Roca's unique approach, which they call "relentless outreach," uses data to target individuals with high recidivism and dropout rates—providing them with two years of intensive services and relationship building, as well as two years of follow-up and evaluation.
"This is data-driven and focused for those most at risk for violence," said Drew Vetter, who heads the Mayor's Office Of Criminal Justice. "It is something that is proven to work and we are optimistic that it will be successful here in our city."
In Baltimore, the four-year interventional program will partner with local organizations like Baltimore Safe Streets and the Baltimore Police Department to develop the best practices. Baldwin has even gone so far as to temporarily live in Baltimore to get the program off the ground.
"We know that change is possible," she said. "It's an enormous responsibility to work with people at this level, but we believe that even the highest-risk young people belong, and that each one of them can succeed. And we have the data to show that." 
As Baldwin affirmed, the data speaks volumes. Of the more than 850 participants in 2017, 84 percent had no new arrests. The program shows similar results in job retention with 76 percent of participants maintaining employment for at least three months. But this programming doesn't come cheap and will cost the city $17 million.
Mayor Pugh is currently seeking funding from the state but is still awaiting response for her request to finalize a four-year funding plan for Roca. In a press conference last week, Governor Larry Hogan said he did not consider educational and job training programs to be part of an immediate crime fighting strategy. 
Philanthropic groups like Harry and Jeanette Weinberg, the Annie Casey Foundation, and the Abell Foundation have pledged to step in a pay for a portion of the program. The Baltimore-based money management firm T. Rowe Price Foundation, The Johns Hopkins University, and BGE are also among companies in the private sector stepping up to fund the program.
In Baltimore, juvenile crime rates follow an overall pattern in the city and violent crime has surged since the 2015 riots with homicide rates surpassing 300 for the third consecutive year. Data from the Maryland Department of Juvenile Services show overall juvenile arrests in Baltimore are down 11 percent, but are up in certain neighborhoods.
"It's so tragic," Baldwin said. "It's heartbreaking, but we have a lot to learn. We're going to dig in over the next few months and look at what interventional efforts work best in Baltimore that will effect change."