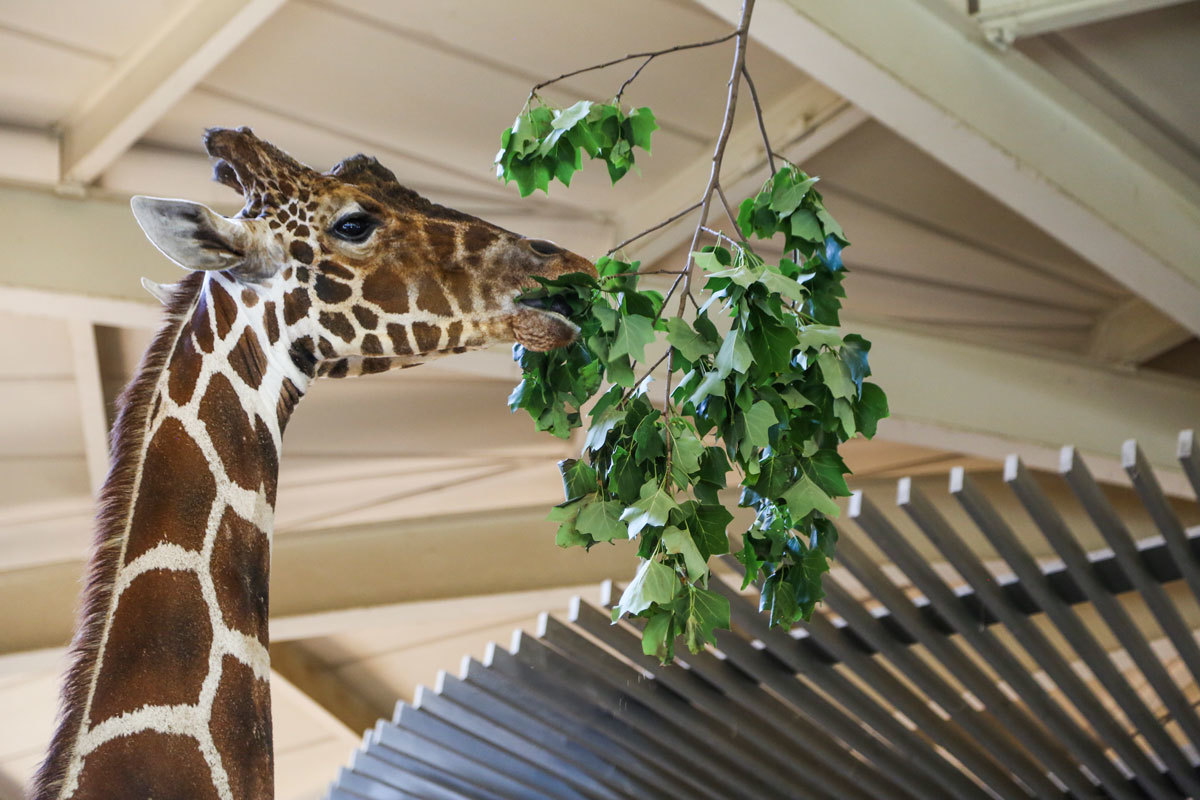 Kaitlin Newman
When our power goes out because of pesky branches in our neighborhood, we tend to only think of certain negative four-letter words. But a new partnership between BGE and The Maryland Zoo will turn these limbs that would otherwise be trash into animal treasure.
Beginning this summer, the program will provide branches from healthy trees to the animals at the Zoo for food. In addition to BGE, a number of Exelon's other companies provide to zoos around the country, including ComEd in Illinois to the Brookfield Zoo in Chicago, and PECO in Pennsylvania to the Philadelphia Zoo.
"Normally, we would just be putting these branches through a wood chipper," said Dan Mance, BGE's browse program coordinator. "It's far more beneficial to help the Zoo than to turn it into mulch."
Once the BGE vegetation management crews identify the healthy trees—only 50 species of trees in Maryland qualify for the program—the branches are bundled, washed, and delivered to the Zoo twice a week. It is then spread throughout various animal enclosures—feeding tortoises, giraffes, and elephants.
Across the state, BGE has cleared more than 2,300 miles of tree lines in 2017 to prevent power outages, and now those trees are helping to feed dozens of animals. The program will save the Zoo nearly $2,000 a week, money that was typically spent to procure out-of-state vegetation for the animals.
"What it's providing us is the ability to feed out a larger quantity and more variety than I would otherwise have means to," said Andrew Young, commissary manager for the Zoo. "Just the sheer quantity of what they're able to bring us is a huge cost savings."
Young also explains that this browse program, named for the plant material that feeds the animals, has richer nutritional value than hay that had previously been used as a substitute. The animals are also able to get some of their favorite snacks like mulberry and tulip poplar, which would normally be too costly to order. Not to mention, visitors can get a better idea of what the animals' eating habits look like in the wild.
"A giraffe walking across the prairie in Africa would come upon a tree and just eat directly from it," he said. "What we're able to do is hang it on fences and scatter it in other ways based on the animal's specific needs and manipulate it so they can mimic that natural foraging behavior."
This long-term partnership will run each year from the beginning of spring to as late in the fall as possible. During the winter months, the browse will be purchased but at a lower quantity and will also be supplemented with other nutritional items.
"Not only are the animals benefitting from the super fresh food," Young said. "We are able to spread the funds we are saving to other parts of the Zoo."