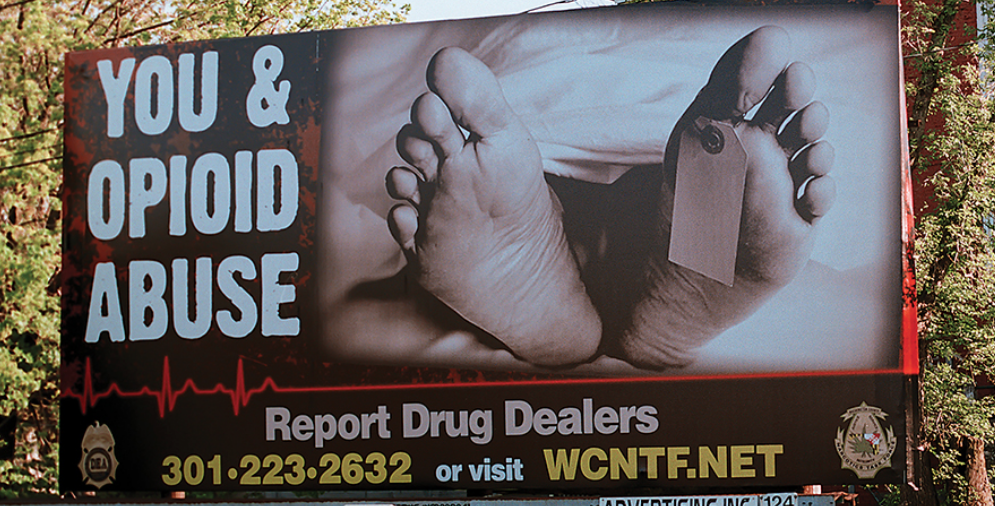 Benjamin C. Tankersley
Opioid-related deaths in Maryland, which have quadrupled since 2010, climbed again in 2018.
Overall, there were 2,385 total unintentional intoxication deaths last year in Maryland, an increase of 4.5 percent from 2017 Of that total, 2,114 deaths were opioid-related, an increase of 5.2 percent from 2017, according to data released Thursday from the state's Opioid Operational Command Center (OOCC).
Maryland is among the top five states with the highest rates of opioid-related overdose deaths.
The crisis continues to be acutely felt in Baltimore City, where opioid-related intoxication deaths jumped more than 15 percent, with 798 unintentional deaths, in 2018.
The fatal overdose epidemic continues to be driven by fentanyl—a synthetic opioid that is 80 to 100 times more potent than morphine. A deadly substitute for heroin and prescription opioids, fentanyl-related deaths in Maryland last jumped to 1,866—an increase of 17 percent.
"We haven't seen the peak of this, yet," said Mona Rock, Baltimore City Health Department's public information officer. "Right now, fentanyl is having a devastating effect in our community and we don't know when it is going to end."
Rock added that addressing the opioid epidemic remains a "top priority" for the Health Department under new Commissioner of Health Dr. Letitia Dzirasa, who was appointed in March after former commissioner Dr. Leana Wen was named president of Planned Parenthood Federation of America.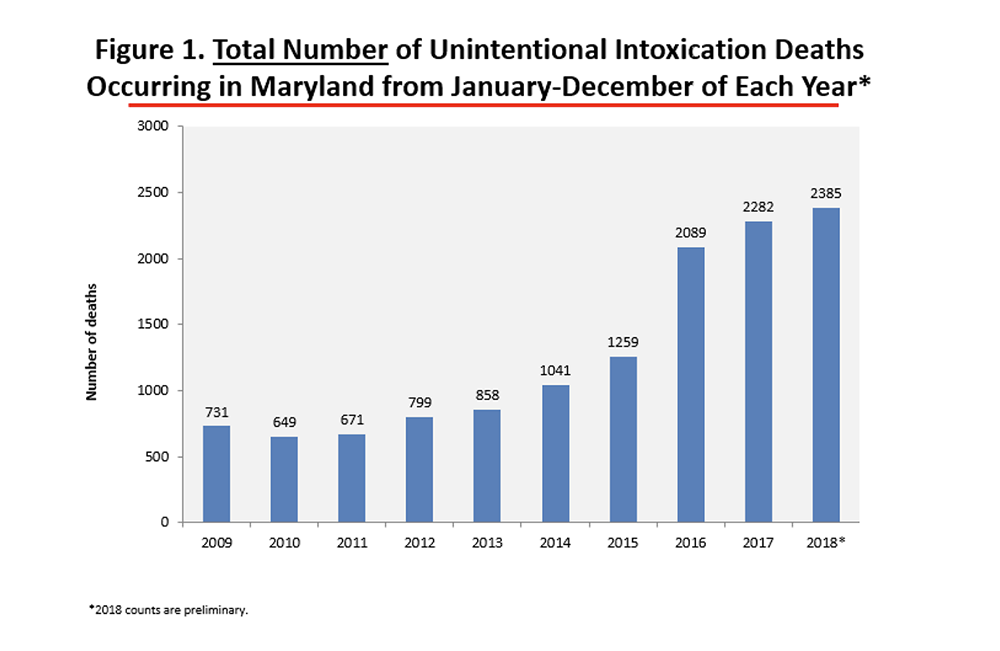 Adrienne Breidenstine, vice president of policy at the Baltimore Behavioral Health System, which works closely with the Health Department, said her agency and the city has begun receiving more state and federal dollars in the past two years.
She adds, however, it will take time to see the impact of new outreach, prevention, and treatment programs. "I think it will still take a couple of more years before we start seeing those numbers [overdose fatalities] turnaround," said Breidenstine, adding that building safe, healthy communities in the city remains the best long-term preventive measure in addressing Baltimore's heroin and opioid epidemic.
Opioids, now including fentanyl, are sometimes used in combination with cocaine, and fentanyl is also now pushing a dramatic increase in the number of cocaine-related deaths in Maryland. Cocaine-related deaths jumped 28 percent to a total of 784 in 2018, marking the third straight year of significant increases in cocaine-related fatalities. Approximately 89 percent of all cocaine-related fatalities in 2018 were in combination with fentanyl.
Washington County, driven largely by the opioid epidemic in Hagerstown, its economically struggling county seat of 40,000, saw the second largest increase in unintentional opioid-related intoxication deaths in the state. Opioid-related fatalities in Washington County jumped from 51 to 80 in 2018—a 58 percent increase.
In terms of the per-capita death rate for unintentional opioid-related intoxication deaths, Baltimore County, which saw an increase in overdose deaths from 323 to 348 last year, now ranks fifth among reporting Maryland jurisdictions.
If there's good news in the report, it's that several large Maryland counties, including Montgomery, Prince Georges, and Howard, saw decreases in unintentional opioid-related intoxication deaths.
Former Anne Arundel County Executive Steve Schuh, executive director of OOCC, praised Gov. Larry Hogan's response to the epidemic.
"Since Governor Hogan declared a state of emergency in response to the opioid crisis in March 2017, Maryland has made tremendous progress in implementing prevention and educational programs, stepping up enforcement, and expanding treatment and recovery programs throughout the state," said Steve Schuh, executive director of Opioid Operational Command Center.
Anne Arundel County saw a 10 percent increase in unintentional opioid-related intoxication deaths with 217 fatal overdoses last year.
In a statement, Schuh added that state officials are "encouraged that the epidemic is starting to plateau." "2018 was the second year in a row that fatalities increased by less than 10 percent," Schuh said.
Mike Gimbel, the former "drug czar" of Baltimore County, cautioned about leaning too much on fatal overdose figures in gauging the opioid-addiction crisis. With widespread use of Naloxone, a medication that can quickly reverse the effects of opioids in overdose situations, more people are surviving overdoses. More users are also likely becoming familiar with deadly fentanyl and better managing its use, said Gimbel, a proponent of on-demand, long-term treatment
"We don't need more billboards and hotlines," Gimbel said Thursday while at the opening of Awakenings Recovery Center, a 50-bed, residential treatment facility in downtown Hagerstown. "Everyone knows about the crisis now. We need more beds. This place accepts Medicaid and we could use 500 more like it across the state."