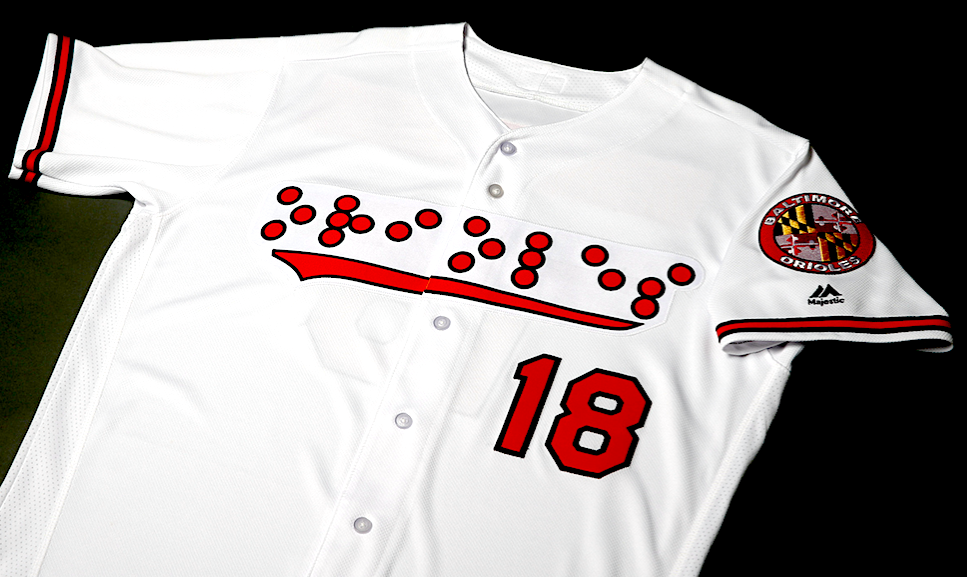 Baltimore Orioles
As we are all aware, the Orioles are in the midst of a historically bad season for the franchise. Nonetheless, some pretty awesome things are happening on the field this month.
The O's are set to become the first team in American professional sports history to incorporate Braille lettering into their game-day uniforms when they take on the Toronto Blue Jays at Camden Yards this September 18.
The Orioles also will host international concert pianist and singer Carlos Alberto Ibay, who has been blind since birth, to perform the traditional pre-game Star-Spangled Banner. The president of the National Federation of the Blind, Mark Riccobono, will throw out the ceremonial first pitch.
During the 7:05 p.m. Tuesday night contest, O's players and coaches will wear specially designed jerseys with the script lettering of "Orioles" and player last names in Braille. Afterward, the game-day jerseys will be autographed, authenticated, and auctioned via the Orioles team website to benefit the National Federation of the Blind.
"The National Federation of the Blind is proud of our 78 years of working together to help all blind Americans live the lives they want," said Riccobono. "For 40 of those years, we have coordinated that work from our headquarters here in Baltimore, where we have invested tens of millions of dollars to create a top-notch facility that benefits our organization and the surrounding community."
The first 15,000 fans will receive a co-branded NFB/Orioles Braille alphabet card, the team said in a press release, which will be distributed by National Federation of the Blind volunteers.
The NFB, founded in 1940, is the oldest and largest nationwide organization for the blind, with 50,000 members. With affiliates in every state, Washington, D.C., and Puerto Rico, the NFB offers programs and resources to enhance learning, advance job opportunities, help with recreation activities, and improve the quality of life for blind persons.
Though this is a marketing campaign for the team, the sentiment has been hitting home with baseball fans around the country.
@JLevering4 Hey Jeff my father is blind and a HUGE Brewers fan. Seeing how the Orioles are representing the Blind Community is absolutely amazing. We hope that seeing the orioles doing this will influence all the mlb teams to do this as well. It would mean the world to him — 1/2 pic.twitter.com/ARN6D9FxoG

— :honey_pot: (@PochaConcha_xx) September 7, 2018