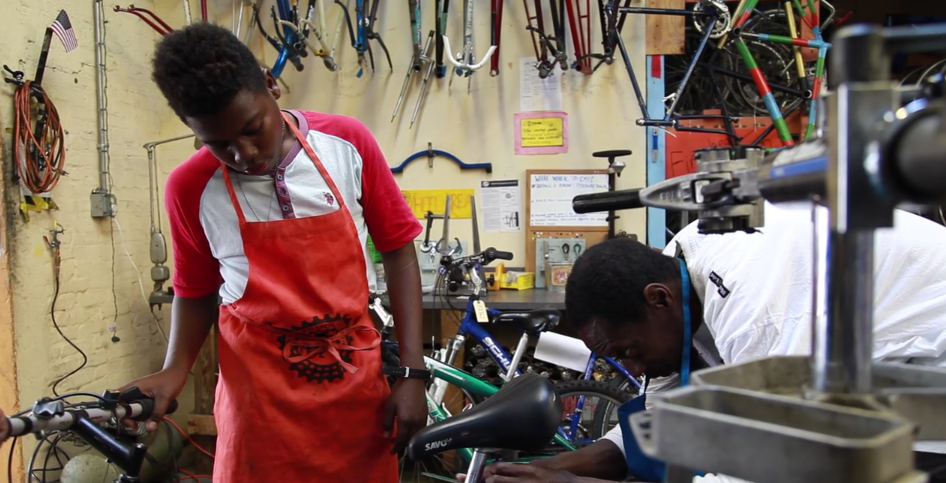 Open Society Institute-Baltimore
Can one person make an impact? How about 10 people with good ideas?
A former Baltimore City police officer who—with other retired female officers—mentors at-risk teenage girls, for example? Or, maybe an ex-offender and successful baker, who uses his skills and business to train other men with criminal records?
That's the wager Open Society Institute makes each year, offering $60,000 grants, spread over 18 months, to a cohort of community fellows.
Enduring local organizations like Wide Angle Youth Media, which provides young Baltimoreans media education to tell their own stories; Community Law in Action, a legal education and mentoring nonprofit; Bikemore, the city's nonprofit bicycling advocacy organization; and Baltimore Green Space, which helps preserve community gardens, parks, and open spaces managed by city residents—all benefitted from early OSI grants.
On Monday, OSI-Baltimore announced its 2015 fellows, which include, as highlighted above, Darlene Crider, a 23-year veteran of the Baltimore Police Department, whose program is called "Sisters-in-Law," and Gregory Carpenter, whose popular locally made carrot cakes are sold at a dozen and a half Hip Hop Chicken & Fish restaurants in the Baltimore area.
Other 2015 fellows include Brion Gill, a poet whose project, Free Verse, will bring spoken word and poetry to young people in prisons and group homes through workshops and performances, and Chavi Rhodes, a Johns Hopkins Bloomberg School of Public Health graduate who founded the Baltimore Youth Energy Collective (BYKE) in 2014.
For the past year and a half, BYKE has operated twice a week out the Velocipede Bike Project's space in Station North. By March, Rhodes expects BYKE—aimed at ages 12-17—to move into its own building in the same, centrally located neighborhood. "Youth need more attention, need more guidance," she says, than other local bike-oriented programs have the resources to provide.
The full profiles of all 10 OSI-Baltimore fellows can be found here.
Profiles of some of OSI-Baltimore's previous 160 community fellows can be found here.
In announcing the this year's fellows, Open Society Institute-Baltimore director Diana Morris said that one of the benefits in making the grants for OSI-Baltimore—which focuses on addiction and incarceration issues, and obstacles that impede local youth from succeeding—is listening to the annual influx of fresh solutions from applicants in an ever-changing landscape. It's something, she noted, the fellows have to do as well, if their projects are to grow.
"We think you can play important roles as change agents," Morris told the new fellows, adding that the 18-month period should be a time of experimentation. "You have to listen when the community brings ideas to you and change course when necessary."