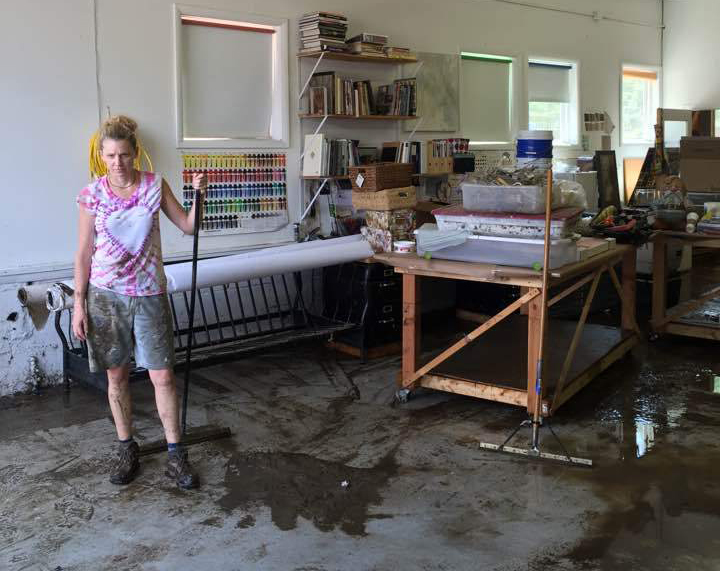 Photography by Wendy Appleby
When Dee Cunningham founded her fine-art business in 2012, she knew there was only one neighborhood she wanted to be in.
"I wanted to be close to Ellicott City because of the community—it's unique and unlike any other," she said. "It's not pre-fab, it's totally organic and something that has developed over centuries."
She quickly established herself and her business, Cunningham Studios, on Frederick Road. She founded the Ellicott City Arts Coalition, bringing together residents, merchants, and business owners who were interested in the arts, and developed countless friendships along the way.
That's why Saturday night's flash floods that took lives and devastated businesses along the neighborhood's Main Street, hit particularly close to home. Cunningham was in her Catonsville house bailing out water from the basement when she first heard the news.
"I drove down to the studio and, before I opened the back door, I said a little prayer," she said. "There was four feet of water in my studio, and my paintings were floating everywhere. Meanwhile, people were down on Main Street busting through windows and walls trying to get to safety. I was very, very lucky compared to a lot of other people."
Cunningham cites her friends and neighbors, like coffee shop Bean Hollow, antique store Joan Eve Classics & Collectibles, one-year-old boutique A La Mode, and beloved clothes and accessory store Sweet Elizabeth Jane.
"Sweet Elizabeth Jane looks like a Mac truck went through one wall and out the other. It's so surreal wrapping your head around what happened," Cunningham said. "My shop is on the route where they're bringing people in on Gator trucks to see the damage. Every time someone passes by, I run out and we hug and cry a bit."
Main Street, which Howard County announced will be closed to the public for the next two months, has had its share of flooding before, most recently in 2011 with Hurricane Isabel. Though the damage wasn't nearly as severe, Isabel prompted county officials to look into building retention ponds to contain storm water or rain run-off, but it was ruled cost-prohibitive.
"With overdevelopment, it's gotten worse and worse. But they say this is the type of flood that only happens once a generation," Cunningham said. "You wonder if it's worth the time and effort to rebuild. Some people will probably leave, but some people will stick their roots even further into the ground."
Cunningham, whose business is further up on Frederick Road from Main Street, said she plans to stay for one reason in particular: the people. She mentions a local chef who brought 50 bagged lunches for people in the community. She says, just on Tuesday night, which is typically open mic night at local watering hole Judge's Bench, people carried their guitars, mandolins, and beers out onto the sidewalk to keep the tradition alive.
"I wouldn't want to be anywhere else but here because the people are kick-ass," she says. "It takes a really interesting person to open a business here. We know it's going to take at least a year to rebuild. But we've got a lot of outspoken people here on Main Street so we'll keep the squeaky wheel going."
For her part, Cunningham is selling prints she recovered in her studio of the neighborhood's train bridge, and donating 100-percent of the proceeds to the Ellicott City Partnership. See our full list of events and fundraising efforts for more information.