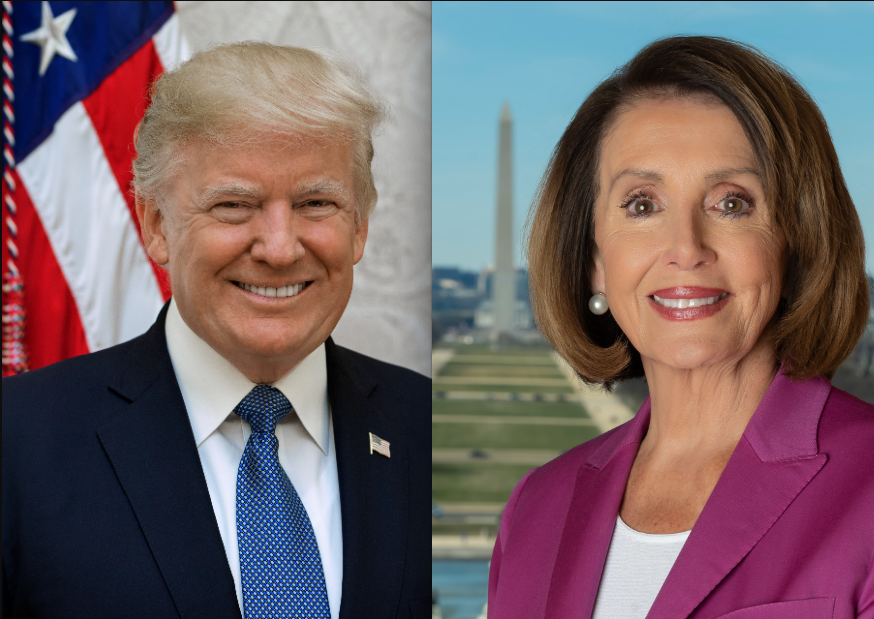 Wikipedia Commons
Speaker Nancy Pelosi announced Tuesday afternoon that the House of Representatives will begin a formal impeachment inquiry of President Donald Trump. Pelosi's action—long awaited by many Democratic activists after findings in the Mueller Report—comes in response to startling new allegations that the president recently sought to enlist Ukraine in his personal electoral cause. Namely, undermining current frontrunner for the Democratic presidential nomination in 2020—former Vice President Joe Biden.
Pelosi, the daughter of former Baltimore mayor Thomas D'Alessandro Jr., announced the start of an impeachment inquiry on Capitol Hill following a closed-door meeting with her Democratic caucus.
"The actions taken to date by the president have seriously violated the Constitution," she said. President Trump, she said, "must be held accountable—no one is above the law."
Impeachment has occurred twice in U.S. history, with charges brought against Presidents Andrew Johnson and Bill Clinton. Neither president was removed or left office. Rather than face a House of Representatives vote on impeachment over the Watergate scandal, President Richard Nixon resigned in 1974.
Even if the House—where the Democrats hold a majority—votes to impeach Trump after their inquiry, forcing a president from the White House requires a conviction in the Senate. In that chamber, where Republicans hold a majority, elected GOP officials have remained in lockstep behind Trump during each controversy of his presidency.
Trump's alleged efforts to pressure Ukraine into investigating Biden, his potential rival, and his son, Hunter Biden, who served on board of the country's largest private gas company, were brought forth by a U.S. intelligence whistleblower. Earlier Tuesday, Trump acknowledged he withheld $391 million in military support for Ukraine in the run-up to his July 25 phone call with Ukrainian President Volodymyr Zelensky.
The president and his personal lawyer, former New York Mayor and former GOP presidential candidate Rudy Giuliani, have suggested Biden tried to protect the Ukrainian company, and thereby his son, from a corruption investigation. Neither Trump, Giuliani, nor anyone else to date, has provided evidence of illegal activity by either Biden.
Fact checking and investigations by multiple U.S. news outlets have repudiated Trump's and Giuliani's allegations that the former vice president attempted to protect his son by advocating for the removal of the former top Ukrainian prosecutor. The current prosecutor general of Ukraine, Yuri Luiseno, has looked into the matter and cleared the Bidens.
Leading up to Tuesday's announcement by Pelosi, Maryland's congressional delegation, who had been hesitant to speak out in favor of an impeachment inquiry previously, offered their strong backing for formal hearings.
"We can now see with our own eyes that the President is jeopardizing our national security," Rep. Elijah Cummings said in a statement, referring to Trump allegedly holding back military aid to an ally in exchange for damning information on an American political candidate. "He admitted to personally withholding military security that Congress appropriated to help Ukraine counter Russian aggression. He admitted to personally urging a foreign actor to dig up dirt on his political rival. And he personally attacked a whistleblower whose protected information is being withheld from Congress in violation of the law."
When the history books are written about this tumultuous era, I want them to show that I was among those in the House of Representatives who stood up to lawlessness and tyranny.

Read my statement supporting impeachment: https://t.co/xppt73HN6k

— Elijah E. Cummings (@RepCummings) September 24, 2019
In a move described as unprecedented, the Trump Administration's acting director of national intelligence, Joseph Maguire, has refused to share the whistleblower complaint with congressional intelligence committees, even after receiving a subpoena.
Trump tweeted on Tuesday that he would release the transcript of his phone call with the Ukrainian president, referring to the conversation as "totally appropriate." The release of the whistleblower complaint, which is required to be turned over to Congress, remains another story, however. Intelligence Community Inspector General Michael Atkinson determined that whistleblower's allegations involving the president and his contact with Ukraine—of which the July 25 phone call with the Ukrainian president is just a part, according to reporting from The Wall Street Journal, New York Times, and The Washington Post—were deemed credible and of "urgent concern."
The Mueller Report, of course, found multiple contacts between Trump campaign officials and Russian representatives during the 2016 election season.
Fellow Maryland Democratic Rep. C.A. "Dutch" Ruppersberger emphasized his national security concerns regarding the president's contacts with Ukraine: "As a former prosecutor, I have resisted calls to begin formal impeachment proceedings against the President until we had clear, indisputable evidence that transcends politics," Ruppersberger said in a statement. "Jeopardizing our national security is where I draw the line. Withholding duly appropriated money meant to aid a country that could be overtaken by Russia is reckless and dangerous. This is yet another example of the President doing Putin's bidding."
"President Trump's actions are a threat to our democracy," Maryland Democratic Senator Chris Van Hollen said in a press release. "His continued disregard for our Constitution and the democratic norms that guide our nation have caused irreparable harm to our country, our standing in the world, and to the Office of the Presidency. As the White House continues to prevent the House of Representatives from exercising their Constitutionally-mandated oversight role, it has become clear that the tools provided by an impeachment inquiry must be employed."
Maryland Democratic Congressman John Sarbanes said Trump's alleged conduct, "constitute[s] a direct attack on our democracy and signify an unprecedented new level of corruption and lawlessness in the White House."
"President Trump's attempt to pressure a foreign government to interfere in the 2020 election is a blatant abuse of power," Sarbanes said.
By coincidence, former Vice President Joe Biden was scheduled for a private fundraising event at Citron, a Pikesville restaurant and event space, Tuesday evening, according to reporting by The Baltimore Sun. However, Biden and his team were forced to head back to home to Wilmington, Delaware, after realizing the former vice president would not make it in time because of traffic caused by an overturned a tractor-trailer on I-95.