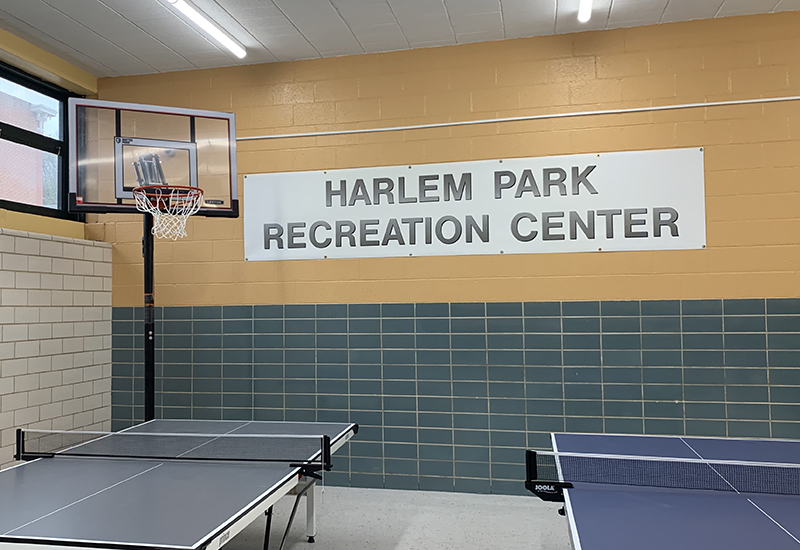 Evan Greenberg
If all goes as planned, the reopening of the Harlem Park Recreation Center in West Baltimore is just the beginning of a larger project for Baltimore City Rec and Parks (BCRP), one that will give back to communities and establish gathering centers to create city engagement.
"The bones of Baltimore exist," says Chuck Naurath, director of the reopened center. "Putting the flesh back together is easier than we realize."
At the launch for the center earlier this week, which was shuttered in 2012 under the administration of former mayor Stephanie Rawlings-Blake, city leaders emphasized the need for more gathering spaces like this one. This particular project came together in just 90 days, aided by the support of the University of Maryland Medical Center and a push from Ray Wylie, president of the Harlem Park Neighborhood Council.
"The community lead the way in expressing that we need to reopen our rec center," says BCRP director Reginald Moore. "We engaged the community in designing this building and also in creating programming."
The new Harlem Park Recreation Center has ping-pong tables, a basketball hoop, and a computer lab. With the upgrades and renovations, the space, as former center director Brandi Murphy puts it, is now "fresh, clean, and 21st-century."
At a celebration for the reopening, Mayor Bernard C. "Jack" Young spoke about how he grew up with rec centers, and asserted his commitment to the department in charge of their development. Moore spoke at length about the concept of "rec deserts"—areas where recreation centers do not exist or have ceased to exist, and leadership in place to rectify this issue. There is clearly a demand for the reopening or creation of rec centers across Baltimore—it's just a matter of doing it.
The department hopes that Harlem Park can serve as a model for what it wants to do in other areas. Ideally, the city will find other partners and leaders to jumpstart similar projects. The center will be open on a temporary basis starting Wednesday, August 14, and operate on a Monday, Wednesday, Friday schedule until it becomes fully operational in September.
It can now also resume the functions it served for kids in the community who were mainstays at its old iteration—many of whom have children of their own now. With programming like sports leagues, out-of-school learning, and youth and adult initiatives, centers like these are jumping off points, serving as a radius for activity in the community.
"It's a new beginning—an opportunity to restart what was stopped," Naurath says. "The potential is limitless."