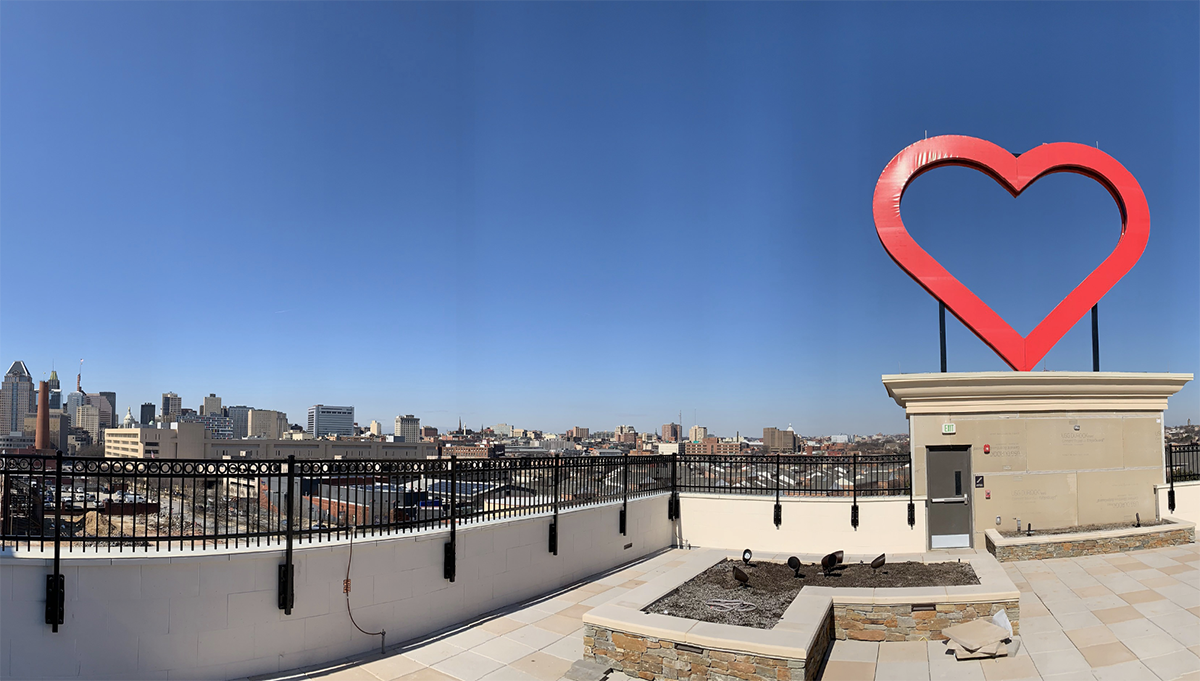 Ronald McDonald House Charities Maryland
If you've driven in Southeast Baltimore these past few weeks, you may have noticed a glowing, red heart has been added to the skyline. That beaming symbol belongs to the much-anticipated Ronald McDonald House Charities Maryland (RMHC), which will open its brand new location in the historic Jonestown neighborhood on May 14.
The $30 million, 60,000-square-foot project will allow the nonprofit to expand its purpose of providing a home-away-from-home to families with seriously ill or injured children by accommodating 2,200 families annually, more than doubling the occupancy of the current house. Ahead of its opening, we talked with the facility's president and CEO Sandy Pagnotti to learn more about the new house.
What inspired the decision to construct the new Ronald McDonald House Charities Maryland?
We've been over on West Lexington Street for 36 years. We can currently house 32 families, but over the past 10 years we've had an ongoing waiting list. We were turning away as many as 30 families per night and over 600 families per year because we didn't have room. So six or seven years ago, we decided to start thinking about building a new house. Our old house is a wonderful place, but our families deserve the absolute best.
Why 1 Aisquieth Street?
We wanted to be close to our partner hospitals, about equal distance. The new house is more central to our kids at Johns Hopkins, Kennedy Kreiger, the University of Maryland Hospitals, and Sinai Hospital. This also gave us the opportunity to come into an underserved community and really try to become an anchor of change. We hope that we become a catalyst for more good things to come into this community. There's so many wonderful people and programs here already and we're excited to add to it.
How will RMHC interact with the Jonestown community?
We've been working with Baltimore City Recreation and Parks to build a new city park with a basketball court and a playground. That's part of our auxiliary project so that when our doors open we'll also have helped make a new city park. That way local kids and our kids can all play together. That's the vision: Our mission goes beyond our own bricks and mortar. It is bigger than what happens inside the walls—we're also helping to spread love outside.
Tell us about some of the new features and amenities in the new house.
Our team has a philosophy that our house is the Ritz meets Disney meets Grandma's. The accommodations are five star, it's family-focused and child-friendly, and our families feel feel warm, nurtured, and taken care of here. New to the house is a serenity room, a teen and young adult room, student classroom space, a business center, fitness center, our first-ever kosher pantry, a board and community room that can be rented out by community groups or businesses, and more. There's also a special Magic Room for when the kids get surprise visits, presents, or anything special. We have been collecting ideas for years, and now we're excited to implement as many as we can.
What is the All You Need is Love project and how will it be utilized in the new house?
About seven or eight months ago, we put a call out to artists saying that we wanted to adorn the walls of the new house with art that's loving and happy and brings joy to families. Now we have more than 250 pieces of art that were donated. We asked for as many of them, if they could, to put hearts somewhere in the work. And then eventually, we'll make a heart-art scavenger hunt for the kids. When planning, we tried to think, "What's going to make this feel like more than just a hotel? What are the pieces that are going to make it feel like home?" So we really put a focus on art and infusing the community into everything we do.
What's the idea behind the giant red heart on top of the building?
Our heart is 26 feet tall and, at night, it lights up the sky. We just kept thinking, "How great would it be to have an iconic part of the skyline?" I say that the biggest hearts in Baltimore have always been inside [the RMHC], but now it's outside, too. And now we can shine that love all over Baltimore.