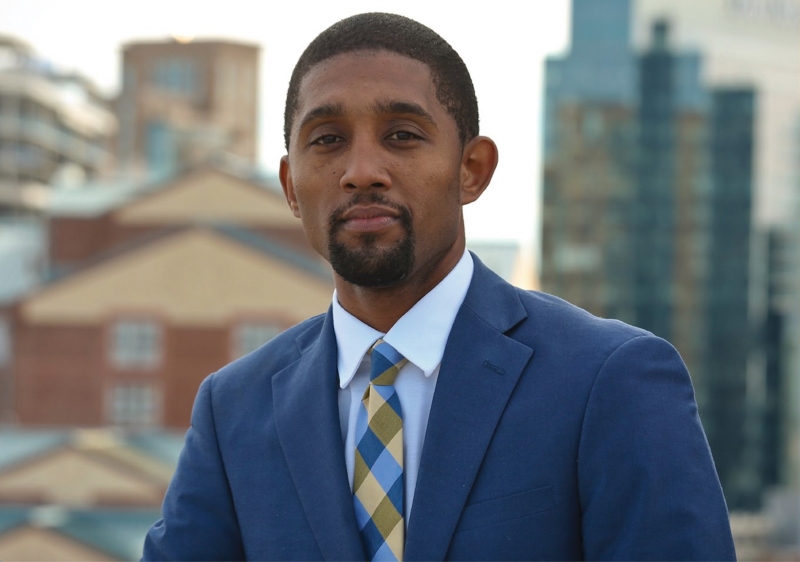 Brandon Scott for Mayor
Baltimore City Council President Brandon Scott passed former mayor Sheila Dixon by ever-so-slightly a margin Sunday night as mail-in votes continued to be counted over the weekend in the city's Democratic mayoral primary.
Scott, who had been trailing Dixon since polls closed last Tuesday, now leads by 388 votes, according to the latest results posted by the State's Board of Elections late Sunday. In a crowded field with 23 candidates garnering votes, Scott's tally has moved up to 28.7 percent of the votes with Dixon's slipping support now at 28.4 percent.
Stefanie Mavronis, director of communication in the city council president's office, told Baltimore Sunday evening that an estimated 15,000-20,000 votes still remain uncounted. She said the hope is that mail-in vote counting will be completed by end of day Tuesday.
The 36-year-old Scott, a Park Heights native, received the endorsement of the Baltimore Sun's editorial board. A presence at protests and marches throughout the city since the death of unarmed George Floyd during an arrest in Minneapolis, Scott continues to benefit from an upsurge in support among those casting later ballots.
Tonight, we are in the lead with 28.7% of the vote!! Your support has pushed us even closer to building a better Baltimore together. The Board of Elections has to count another 15-20K ballots before we know the outcome of this race. For now, thank you for your continued support! pic.twitter.com/BlC6SW86tR

— Brandon M. Scott (@CouncilPresBMS) June 8, 2020
Dixon, who pled guilty to embezzlement and was forced to resign from the mayor's office amid a cloud of corruption dating back to her term as city council president, led by a slim margin in several polls leading up to the election.
A significantly smaller number of in-person polling places were open last Tuesday as a precaution against COVID-19.
City mail ballots were required to be postmarked by June 2 or placed in local ballot drop boxes by 8 p.m. on that date. The state had already postponed its April 28 primary to June 2 as part of a series of actions to protect residents from the coronavirus pandemic. State Board of Elections staff have also been putting the paper mail-in ballots in "quarantine" for 24 hours as a precaution against the virus.
U.S. Treasury Department official Mary Miller, who has never held elected office, currently sits in third place, with 15.5 percent of the vote. Former state Deputy Attorney General Thiru Vignarajah is in fourth at 11.4 percent. Incumbent Mayor Bernard C. "Jack" Young has pulled just 6.4 percent of the tally, and former police spokesman T.J. Smith has 5.9 percent of the vote.
In the closely watched Democratic primary race for city comptroller, widely respected City Councilman Bill Henry continues to grow his lead over two-decade-plus incumbent Joan Pratt. He now leads 53.9 percent to 46.1 percent, and by nearly 10,000 votes. Pratt has been under fire for her longstanding personal, political, and business relationship with former Mayor Catherine Pugh.
The election of Scott and Henry over Dixon and Pratt would mark a generational change in the city's leadership, just as the overhaul of the city council did in 2016 after the first election since the death of Freddie Gray while in Baltimore police custody.
In another key race for city council president, Nick Mosby, a former city council member and current state delegate, is assured of winning. Mosby—whose wife, Marilyn Mosby, is the state's attorney for Baltimore City—has 40.7 percent of the vote so far. Current city council member Shannon Sneed has 28.6 percent of the vote. Former city council member Carl Stokes has 21.6 percent of the tally.
Meanwhile, with Young, Scott, and Henry leaving the city council in pursuit of higher office, as well as the retirements of Mary Pat Clarke and Ed Reisinger, the city council will again undergo another transformation.
Among the new members expected to take office pending the primary certification this week and November's general election are Danielle McCray, who initially filled Young's seat when he rose to mayor after Catherine Pugh's resignation, in the 2nd District; James Torrence in the 7th District; Phylicia Porter in the 10th District; Antonio Glover in the 13th District; and Odette Ramos in the 14th District.
Among current city council members leading by comfortable margins are Zeke Cohen in the 1st District; Ryan Dorsey in the 3rd District; Isaac Schleifer in the 5th District; Sharon Green Middleton in the 6th District; Kristerfer Burnett in the 8th District; John Bullock in the 9th District; Eric Costello in the 11th District; and Robert Stokes Jr. in the 12th District.