This Catonsville Entrepreneur Wants to Take the Uncertainty Out of Cannabis
Summit Wellness owner Kalpesh Shah knows that dispensaries can be intimidating, so his goal is to make his shop as informative and accessible as possible.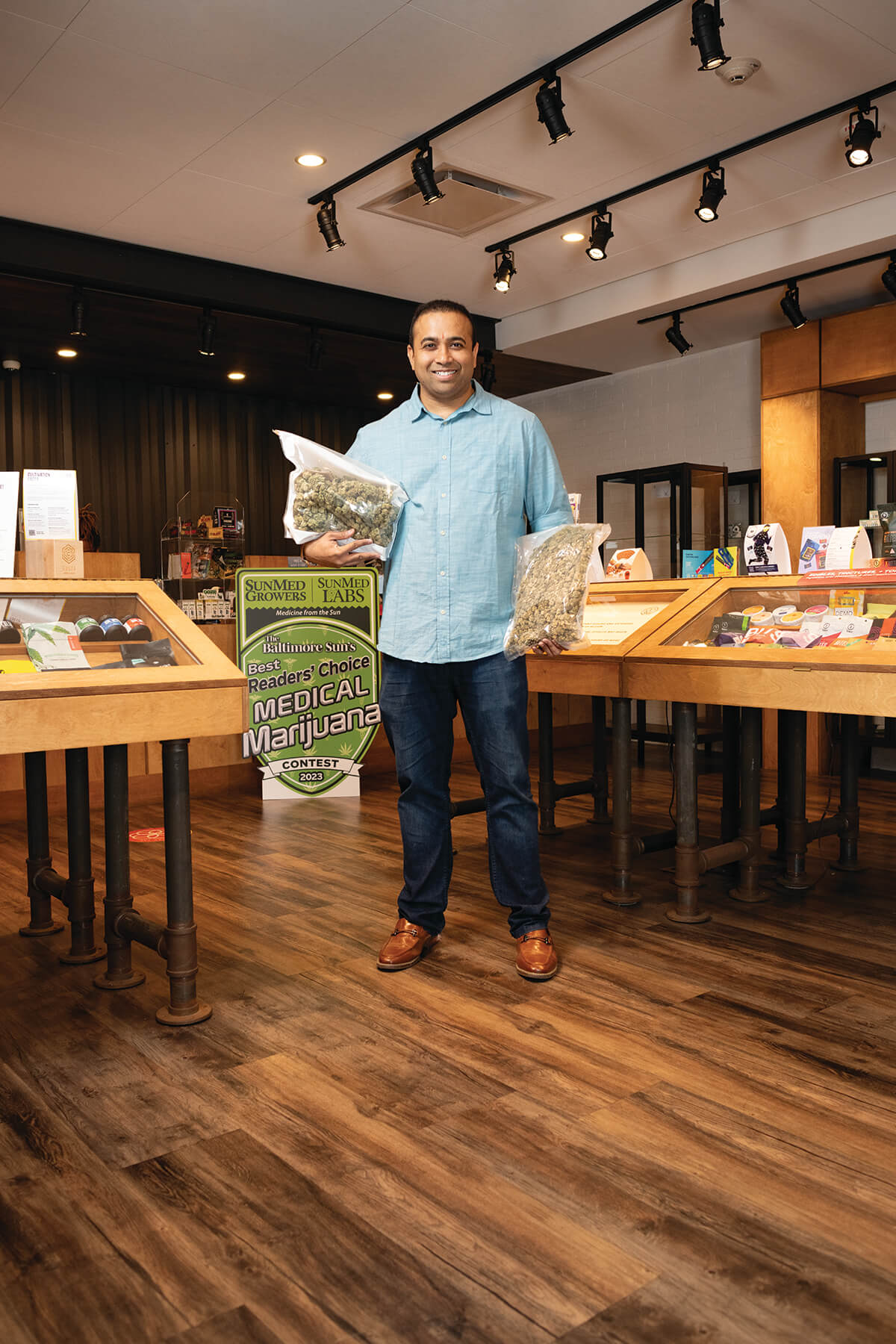 Two women lean over a wood-and-glass display case, pointing to the brightly colored packages arranged inside. Next to a sign that reads "edibles," they browse the cannabis-infused chocolate chip bites, blueberry-flavored gummies, and a bar of 70-percent dark chocolate also made with THC—aka tetrahydrocannabinol, the main psychoactive component of cannabis—while nearby walls are lined with copies of The Cannabis Dictionary and the physician-authored Cannabis Is Medicine.
All new Summit Wellness staffers receive these books as part of their onboarding process, says owner Kalpesh Shah, 42, who frequently chats with customers at the check-in desk of his Catonsville dispensary. He knows that these spaces can be intimidating, so his goal is to make the shop as informative and accessible as possible.
"I want it to have that mom-and-pop feel," he says. "You should be able to have a conversation and get the answers you need, versus feeling like you're just doing a transaction."
It's a Friday afternoon in late July, just weeks since the legalization of recreational cannabis in Maryland. Already, Summit's customer base is made up of roughly 60-percent recreational clients, compared to 40-percent medical patients, and excitement still lingers from the first day of sales, when the state's 100 dispensaries took in more than $3.5 million.
"I had people who had been incarcerated for cannabis possession come in, and the fact that they were able to legally purchase something that they had been locked up for was a revolutionary moment," says Shah. "All day, I kept hearing people say, 'I would have never thought in my life I would see this day come.'"
It's a pinch-me moment for him, too. After immigrating to the U.S. from India at age 10, he's become a serial entrepreneur, owning and operating everything from a Subway franchise to packaged-good and liquor stores in his adopted hometown of Catonsville.
When the medical cannabis industry got off the ground in 2017, Shah saw an opportunity, but what began as a business decision soon grew into something more.
"I became a patient in the first year of the program, and I started to read lots of books, meet growers, processors, and other operators, and really learn about the benefits of cannabis," says Shah, who uses cannabis to address back and leg pain, and notes it's also used for anxiety, sleeplessness, or to reduce dependency on prescription medicine. "When I saw how it affected customers so positively, the passion to continue to grow in this industry, to continue to educate and help patients, was something that I made my mission."
Taking what he'd learned from owning liquor stores, Shah studied the market and product, and bought several medical dispensaries. With the legalization of recreational cannabis imminent, he bought his current business from Ethos—a dispensary operator with locations in four states, including Maryland—and rebranded it as Summit Wellness. And a bonus? It's two minutes from the home he shares with his wife, kids, and parents.
"I'm a local guy, I grew up here," says Shah, a graduate of the nearby Milford Mill High School and University of Maryland, Baltimore County. As such, he strives to bring a sense of community into the customer experience at Summit.
This spring, a second Summit Wellness location will open in Woodbury Heights, New Jersey—another emerging market. At home, Shah is also offering a hand up to other people of color hoping to break into the industry. He mentors two aspiring dispensary owners through Project Dream, a Maryland Dispensary Association program aiming to bring more equity into the local cannabis economy.
"That's something I would like to see change," he says. "I'd like to see more brown and Black people involved in owning, managing, and operating these businesses."