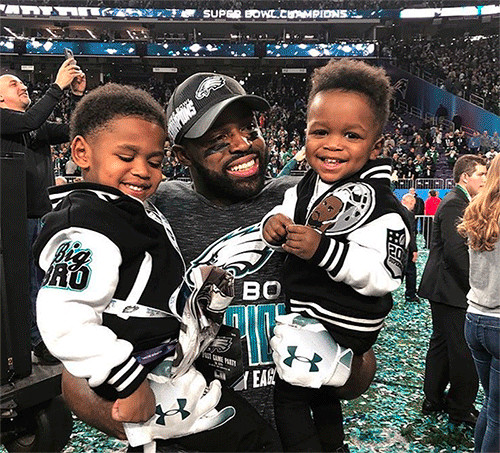 Torrey Smith
The Baltimore Ravens drafted Torrey Smith out of the University of Maryland in the second round in 2011, winning a Super Bowl title in 2012 with the help of eight touchdowns from the standout receiver during the regular season.
Smith added two more touchdowns in the thrilling overtime playoff win over the Denver Broncos that year, but the moment the city embraced Smith came earlier in his second year in Baltimore.
In the early morning hours before a Week 3, Sunday night match-up at M&T Bank Stadium with the New England Patriots, Smith learned his younger brother had died in a motorcycle accident. Obviously distraught, Smith visited with his family in Virginia and then decided to return to Baltimore and play to honor of his brother, catching two touchdowns in a game-winning effort and receiving the game ball for his performance. 
"They [my family] didn't know I was going to play until the last minute. I texted my Mom when I got to the stadium," an emotional Smith said afterward during the post-game press conference. "She was excited about it. She said, 'Of course he would want you to play.' He admired me so much, which is what makes it so tough."
Smith, of course, left the Ravens after the 2014 season, but never forgot the city where he got his professional start—even after winning a second Super Bowl with the Philadelphia Eagles this season. In 2016, he was named a nominee for the Walter Payton NFL Man of the Year award for his work centered in Baltimore while playing for the San Francisco Giants.
For the seventh straight year, Smith announced last wee that he will be hosting the Torrey Smith Family Fund Charity Basketball Game in Baltimore this offseason. The event, which will include current and former Ravens, is scheduled for March 17 at the Royal Farms Arena. 
The Torrey Smith Family Fund supports local after-school and teen mentoring programs as well as the Tevin Jones $5,000 college scholarship named after his younger brother. By the way, for some fun, check Smith's Twitter feed. His 3-year-old son T.J.'s recent interview on the NFL Network is the best post-game Super Bowl interview to date.
(One more thing, we'd be remiss if we didn't mention that Smith and his wife Chanel Williams got married in Baltimore, making the cover of our sister pub, Baltimore Bride.)