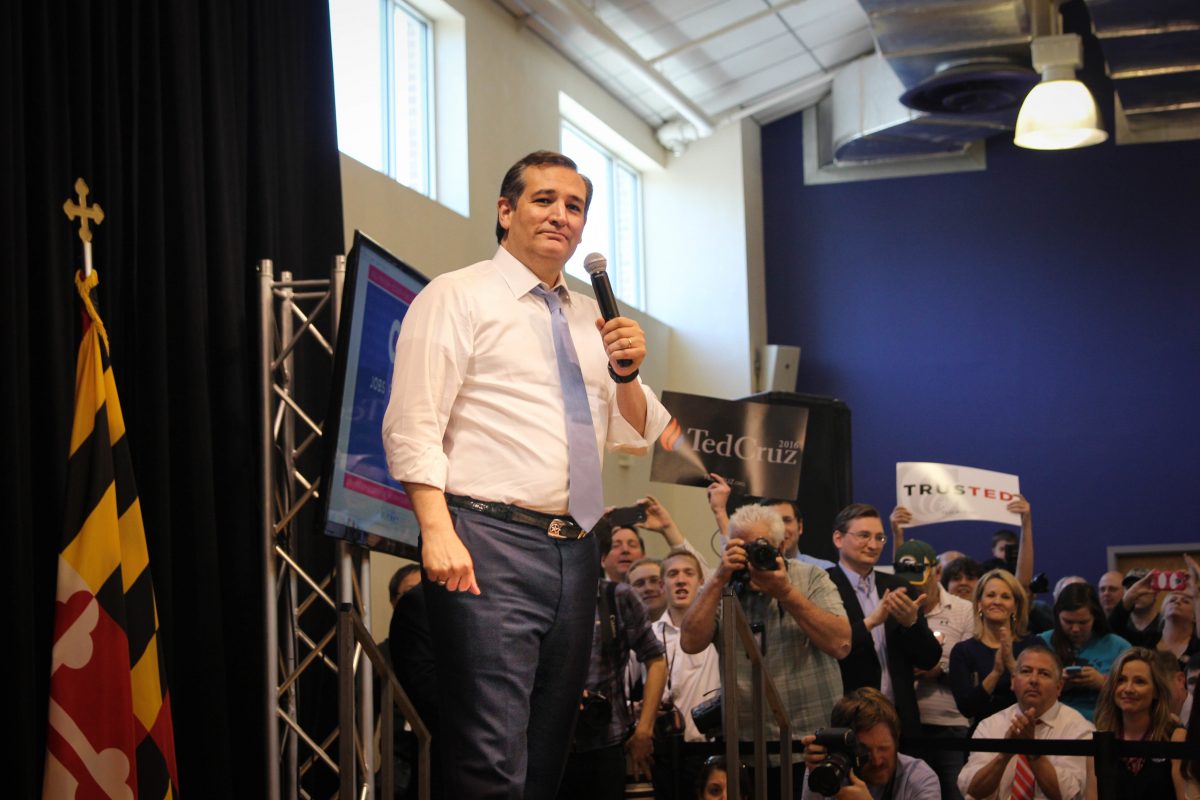 Meredith Herzing
Texas Sen. Ted Cruz greeted an enthusiastic crowd of about 500 at Towson's American Legion Hall Monday afternoon, delivering a conservative message before going after Republican frontrunner Donald Trump and leading Democratic contender Hillary Clinton.
"This election will be about three things," Cruz said. "No. 1—jobs, No. 2—freedom, and No. 3—security."
Among other policy positions, Cruz, who was introduced by former Republican candidate for governor Ellen Sauerbrey, and former Republican candidate for president Carly Fiorina, said he will push for a flat tax if elected and vowed to do away with both the Internal Revenue Service and Obamacare. He promised "to reign in the EPA" and federal government regulators, which he described as "descending like locusts" on small business owners and ranchers.
"We'll see morning in America," Cruz said to big applause.
At the outset, Cruz directed his words to the "single mothers working two jobs," "union workers," and "truck drivers" in the audience—although didn't appear to be many of those in the nearly all-white, mid-afternoon audience. Later, he addressed the significant number of young adults in the crowd, referring to skyrocketing tuition costs and debt burdens, both personal and national, he said they will endure if the country continues on its current path.
He also reiterated his support for gun rights and Israel.
"You know, it's easy to talk about making America great again," Cruz said, referencing Trump's campaign motto. "Or, even putting that on a baseball cap. But really, the question is [for candidates], 'Do you even understand the values that made America great?'"
Cruz's turnout was maybe a third or half of Clinton's two weekends ago in Baltimore, not surprising perhaps, in generally "blue" voting Maryland. But he did draw supporters from far and wide—most of whom in interviews drew contrasts between Cruz's conservative bona fides and Trump's seemingly more malleable positions.
"Cruz is the only guy who talks about small government and ethics," said Jason Norce of Harrisburg, PA. "He's an underdog. Trump is just a big show and he doesn't have one ounce of humbleness."
"He is a genuine conservative," said Matt Jacobs, a Towson University sophomore, holding up a Cruz sign on York Road. "He's not like Donald Trump, who flips flops depending on what position is going to get him the most political attention."
Others said afterward that Cruz's appearance solidified their support for his candidacy.
"Ted Cruz is the way to go," said Chris Mischo, 26, of Davidsonsville. "He has the ability to beat any Democrat that wins their nomination. I'm going to be voting red in November, but the rally today helped me firm up my decision."
Mischo's mother, Jill, however, said she remains undecided after Cruz walked past her without answering her query regarding the children of illegal immigrants. "I want to know what he'll do with the children of illegals, but he didn't answer my question," she said. "It makes me reconsider. I'm going to see Kasich tomorrow as well."
Ohio Gov. John Kasich, the third candidate still competing in Republican primaries, has scheduled a town hall in Annapolis for Tuesday evening.
There were also about a dozen Trump supporters on hand outside the venue, waving signs along York Road. The New York real estate developer is expected to campaign on the Eastern Shore this Wednesday, with an event planned for Stephen Decatur High School in Berlin.
Cruz, who is trailing Trump nationally in the Republican primary, and Trump and Kasich in the latest New York polling ahead of the primary voting there, said in Towson that he remains the only candidate that can unite Republican primary. He recently won Republican delegate contests in Wyoming and Colorado, but is expected to face a rocky road in coming battles in the Northeast.
The big question on the Republican side for several weeks has been whether Cruz has enough momentum to prevent Trump from earning a majority of the Republican delegates, thereby creating the possibility of a brokered convention and winning the nomination on the second or third delegate ballots.
"Maryland is going to have an outsized voice," Cruz said, making his case. "As the nation is looking to Maryland to decide do we nominate Donald Trump and hand the election to Hillary Clinton, or do we unite behind the Cruz campaign?"
Additional reporting by Meredith Herzing.