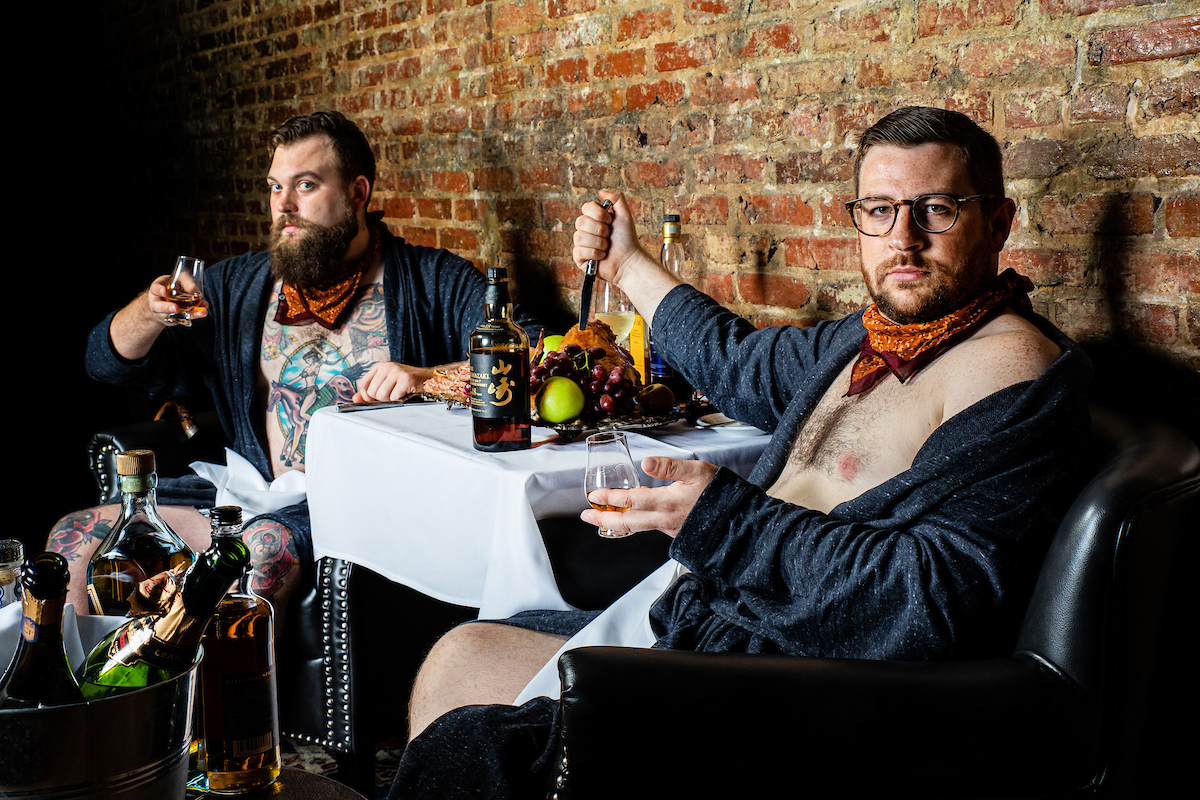 Photography by Justin Tsucalas
Sure, you may have seen these guys around Hampden—scooping ice cream at The Charmery, fixing cars at K&S Associates, or serving cocktails at Bluebird Cocktail Room—but you've (probably) never seen them like this before.
A little context: Four years ago, a group of Hampden's male entrepreneurs bared it all for two pin-up-style calendars—one mild and one wild—that were sold at businesses on The Avenue. Shot by local photographer (and Baltimore contributor) Justin Tsucalas, the 2016 calendars were a smash-hit success that raised about $8,000 for the Hampden Family Center, which provides neighborhood residents with educational and professional resources. The idea spurred the popular Ladies of Hampden calendar, featuring community leaders such as Deb Falkenhan of Falkenhan's Hardware and Nikki Verdecchia of NV Salon Collective. Now, the boys are back for round two.
With all-new outlandish photos—featuring a mix of 12 new and returning "models"—this graduation-themed calendar is currently on shelves for $20 at Atomic Books, Trohv, Falkenhan's Hardware, and K&S Associates. We got a sneak preview of some of the calendar boys, and here, Tsucalas shares some of his favorite behind-the-scenes moments from this year's photoshoots.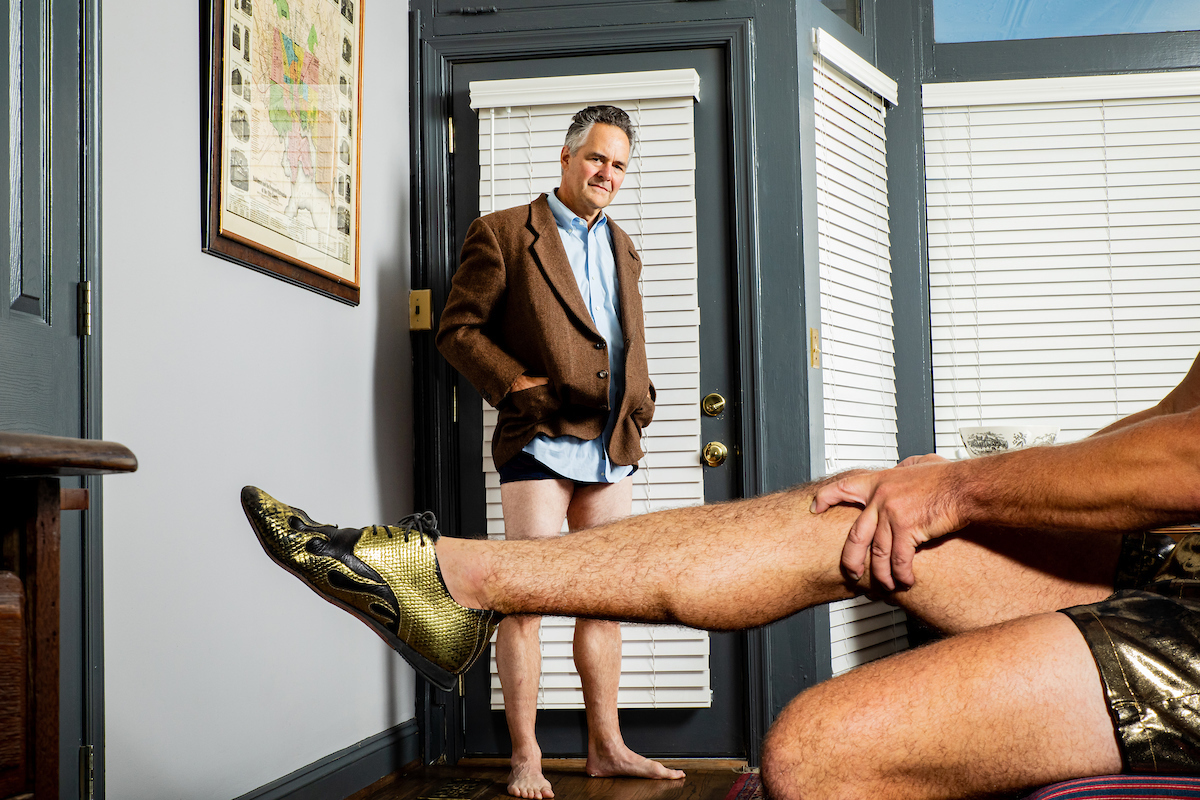 This was actually the first shot that we did this time around. That's Dan Harvey from Cotton Duck Title Co. on the Avenue. His concept was to recreate that iconic shot from The Graduate. That's in his insurance office, and that's Lou Catelli's leg. For the 2016 calendar, Harvey was lying completely naked on his desk with a duck covering his, um, private parts. This shot is similar-ish, but it was weird how close his office is to the actual picture from The Graduate. Everything about it—even the door frame looks like the one from the movie. That was one of my favorite shots this time around; it sets the tone for the calendar really well.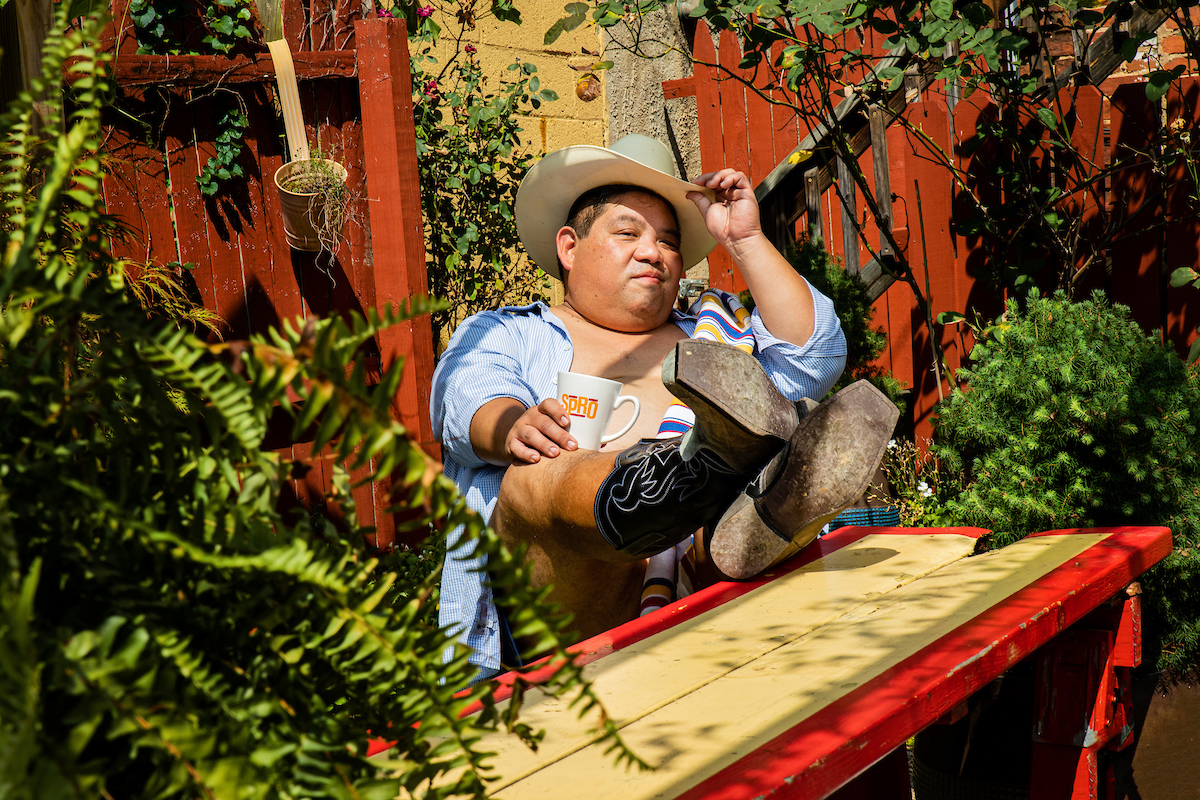 Jay Caragay owns Spro Coffee and he wanted to do a take on the [fictional] Juan Valdez coffee man. We took this photo in the little courtyard behind Spro on a very, very hot September day. He had the props and the idea set, and he was willing to, um, show as much as he could. But we walked around that courtyard for a while looking for the right angle and light, and then eventually settled on that shot, which I think was very successful. Most of the guys wanted to have some product or brand placement for their businesses [in their photo], and I was against making it too obvious, but the coffee mug was just enough.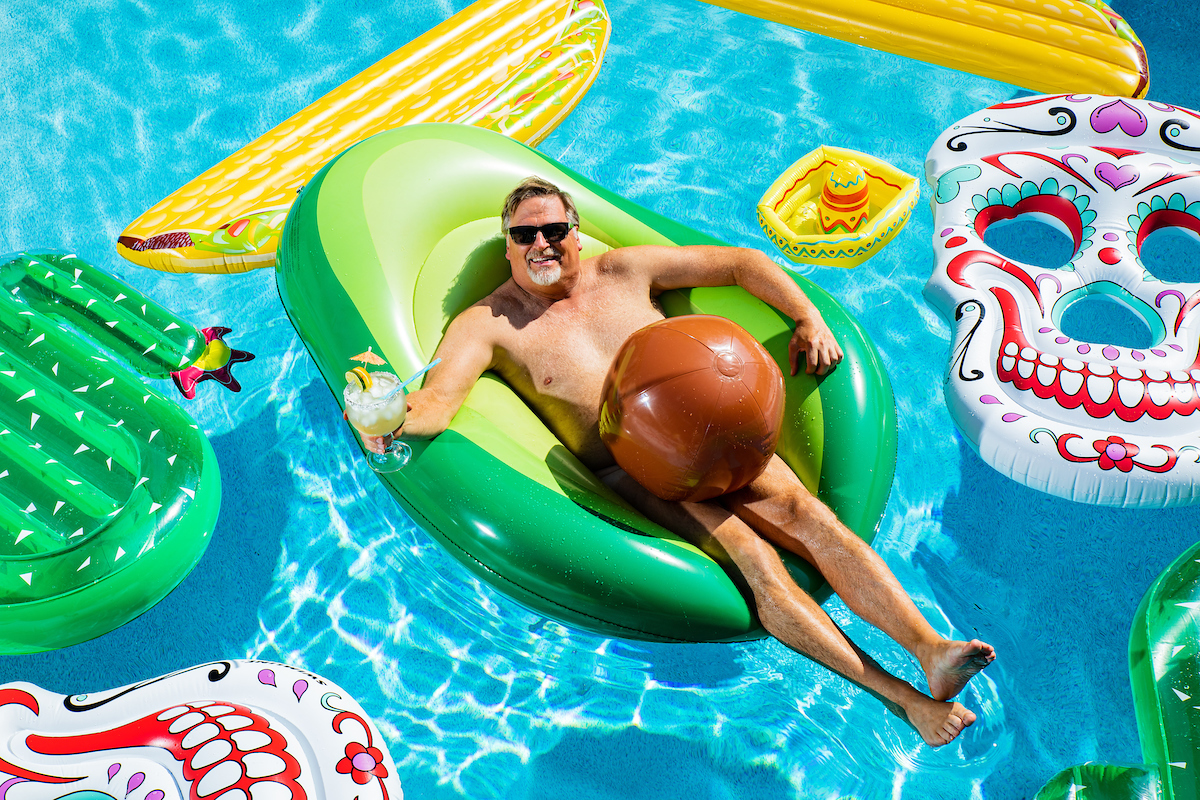 That's Charlie Gjerde, the owner of Wicked Sisters and Papi's Tacos. That was taken at his house, and he collected all of those taco-related pool floats himself. Since he's the face of one of the calendar's summer months, he wanted to get in the pool with some festive floats. That was one of the more adventurous set-ups, for sure. I mean, he's sitting in a pool in an avocado with an avocado pit on his lap.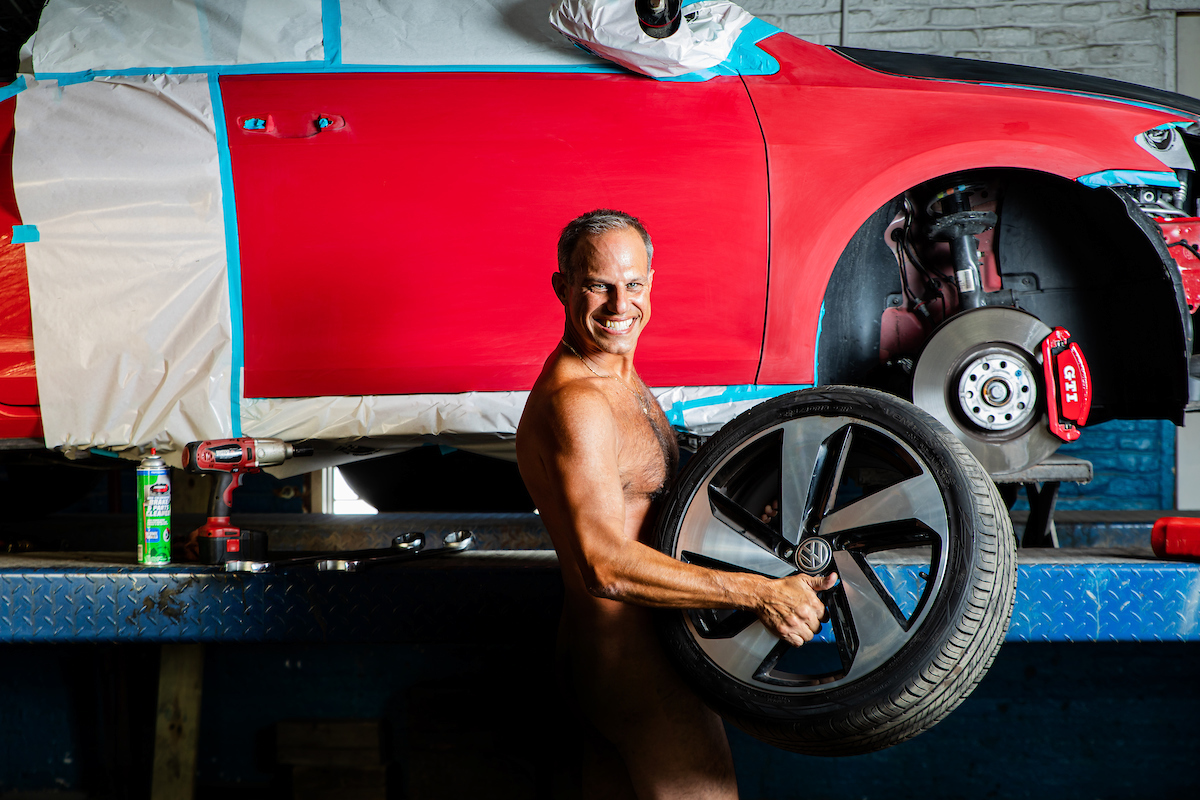 That's David Scherr from K&S Associates, and he was in charge of the whole thing. His nickname is "The Big Wheel," and in the first calendar he stood on top of his building naked and held a tire in front of himself. He wanted to do something that reflected back to that shot. He set up the red car in his mechanic shop, which was nice because the color contrast is great. That was probably the only photo that I had to burn and edit out his butt—a little more revealing than the Hampden Family Center probably would have liked—so we found a way to add a little more shadow and cover it up.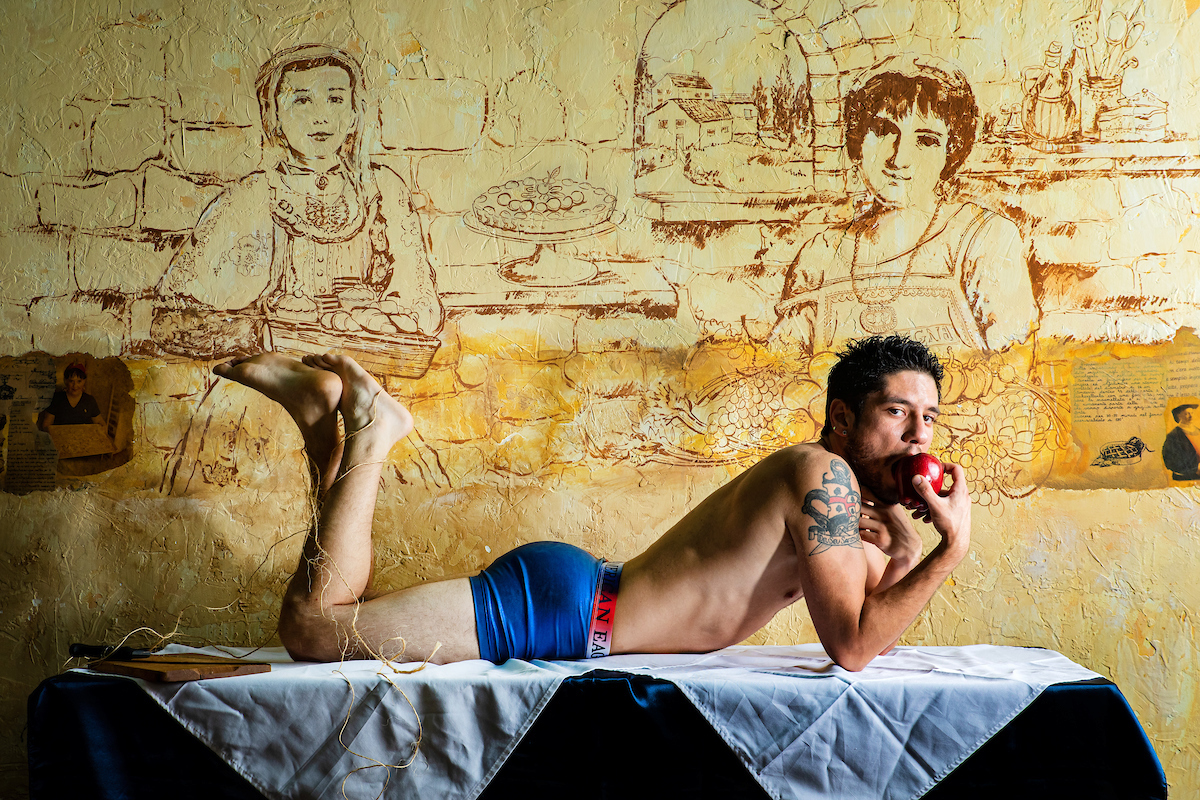 That's Stefano Tanda who works at Daniela Pasta & Pastries, and since it's a Sardinian restaurant, his idea was to pose like a suckling pig. That's one of their speciality dishes, so that's where the apple comes in. We didn't have much time for this shot because the shop was about to open up, so we quickly rearranged the tables, got him up there, and then, since apparently when you roast a suckling pig you bind its legs behind its back, I had to tie him up a bit at his feet. Then, we knocked out twenty frames in about three minutes.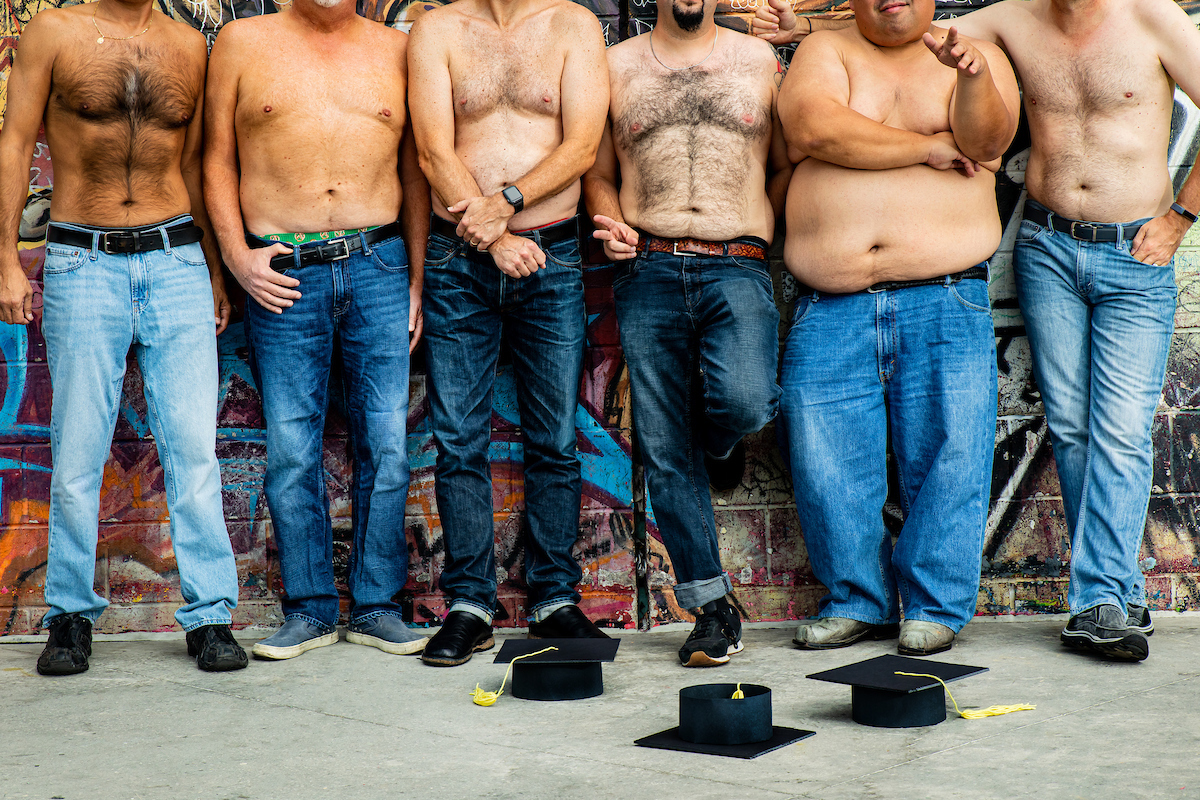 The shot of all of the shirtless dudes lined up is the cover of the calendar. That was taken at the Skatepark of Baltimore, and on the day of the shoot some of the guys put out a cattle call asking for people to come to the skate park within 20 minutes to be in the shot. A lot of people actually showed up and were down to take their shirts off.