The Chatter: December 2015
Overheard at the Black and Jewish Civil Rights bike tour, AVAM's Big Hope Show, and Middle River bowling alley.
Swimmingly
Swann Drive
October 11, 2015
Near Liberty Heights Avenue's Shaarei Tfiloh synagogue, built 94 years ago by Jewish immigrants, Eli Pousson leads off Baltimore Heritage's Black and Jewish Civil Rights bike tour of the city's once Jewish—now largely African-American—west-side neighborhoods. While American Jews overwhelmingly supported the Civil Rights movement, Pousson notes that, in Baltimore, it was a complicated relationship at times.
Pousson highlights the migration of the city's Jewish population from its East Baltimore tenement roots to the Druid Hill Park area and finally, to Park Heights, Mt. Washington, and Pikesville. Jews, Pousson points out, were also victims of Baltimore's notorious segregated housing laws—one reason they moved to the then-empty western city suburbs.
The ride passes the home of Abram Hutzler, who launched the family's iconic downtown department store—segregated like others—as well as that of Walter Sondheim, who oversaw the desegregation of the public schools in 1954, and the former residence of Clarence and Juanita Jackson Mitchell, the first couple of Baltimore's Civil Rights movement.
There's also a stop at "public pool No. 2," once designated for Druid Hill Park's "colored" patrons—the only outdoor pool then available to them. Young white and Jewish progressives protested the park's segregated tennis policies in 1948, organizing an interracial tennis match, but the park's two pools remained separate until 1956. Later, in disrepair for decades, the pool—lifeguard chairs intact—was filled with dirt and grass and turned into a memorial landscape by artist Joyce Scott.
"Black kids are still three times as likely to be drowning victims—a direct result of discrimination. There was no place for their great-grandparents to swim and that legacy has been passed down through generations," chimes in pediatrician/bicyclist Dr. Ralph Brown. "I harp on that with everyone—have you gotten them swimming lessons yet?"
---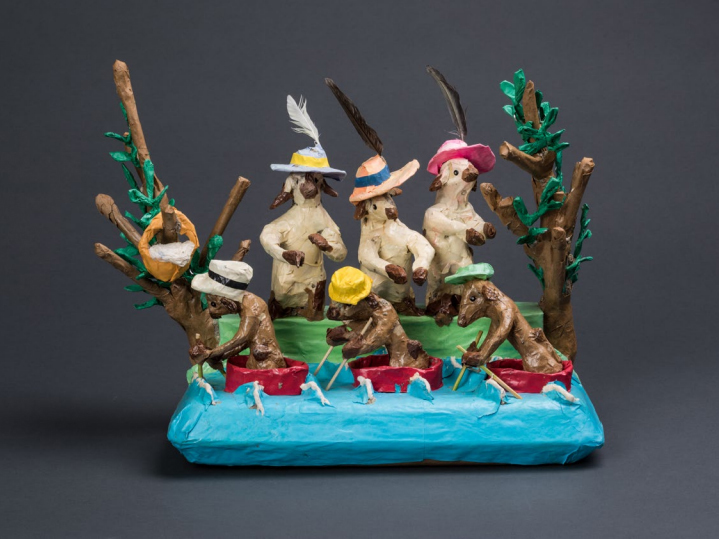 See A Little Light
Key Highway
September 30, 2015
Of the three Christian virtues—faith, hope, and charity—"hope is the most elusive quality," says Rebecca Hoffberger, founder of American Visionary Art Museum, as she addresses the preview audience for the museum's 20th anniversary installation, The Big Hope Show.
Many of the exhibition's 25-plus self-taught artists are survivors of deep wounds and terrible personal ordeals, including childhood sexual abuse, alcoholism, mental illness, and blindness. Their works include everything from a small totem pole to scrapbooks to an anti-war painting about a Hiroshima survivor.
During a tour, artist Dan Patrell talks about losing his wife to ovarian cancer and the stained-glass mosaic he created while grieving. Their teenage daughter chose the "healing" stones used in the panel's windows and Patrell embedded a Morse code message—"love is forever"—in the work's sunrays. He also mixed his wife's ashes into the mosaic's grout. "I broke down when I finished," he says, choking up. "But they were happy tears."
Nearby, Romaine Samworth sits in a wheelchair beneath her colorful papier mâché sculptures, which include a young couple dancing, farm animals at play, and a regatta on Philadelphia's Schuylkill River. Samworth, 94, lost her sight from a reaction to a smallpox vaccine at age 8, but the sculptures are remarkable in their detail, shape, and whimsy. "I loved my crayons and picture books as a child, and I cried when I lost my sight. I was devastated," says Samworth, who grew up on a Pennsylvania farm. "When I started to sculpt in the 1970s and 1980s, it was as if I were bringing those images to life. I could 'see' again in my mind."
---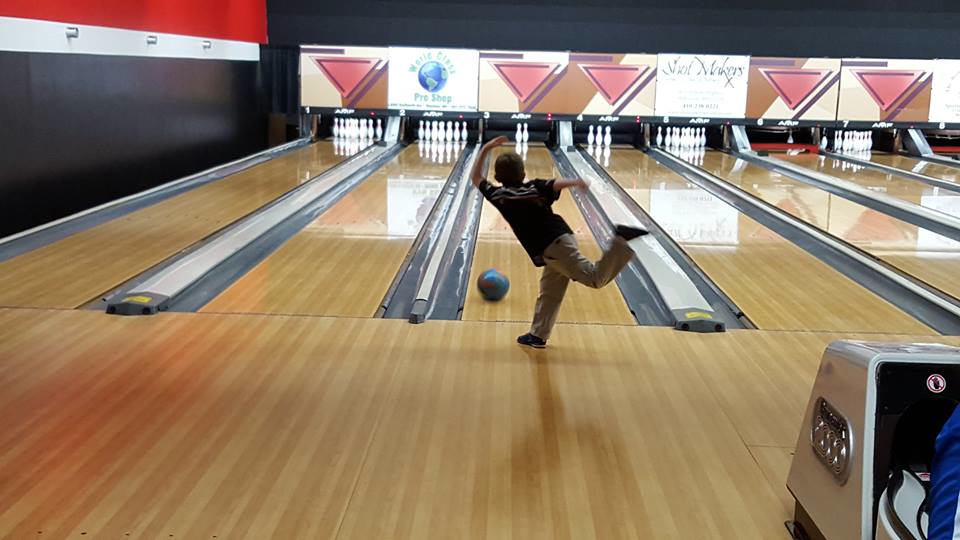 Bowl for Dollars

Pulaski Highway
October 11, 2015
"These kids crowbar it, don't they?" says Dundalk-native Danny Wiseman as a teenager from Great Barrington, MA, rips another big hook for a strike at Wiseman's fourth annual Youth Scholarship Tournament. A PBA Hall of Famer, Wiseman won his first title in 1990 at 22. (Incidentally, it was at Woodlawn's Fair Lanes Open, with ABC's Chris Schenkel making the call and Frank Robinson—yes, that Frank Robinson—in the house cheering.)
But today, he's hustling all over Middle River's AMF Country Club Lanes, trying to keep his tournament—which started at 8 a.m. and won't end for almost 12 hours—rolling. More than 150 bowlers are competing, including many top Mid-Atlantic youth, vying for $24,259 in scholarship money. The sport has changed since he was growing up, Wiseman acknowledges, but remains popular and competitive—especially among today's college-bound students.
In fact, one of Wiseman's protégés here, Perry Hall's Bryanna Leyen, has already been offered scholarships from Vanderbilt and Fairleigh Dickinson universities.
Wiseman, who began bowling duckpins with his sister and father when he was five—later walking to the old Dundalk Fair Lanes Bowling Center every day after school—never attended college. Before reaching the pro ranks, he hustled games in Northeast D.C. "When I was 18, 19, making maybe $1,000 a night on Fridays and Saturdays," he recalls with a laugh. "You'd bowl all night. I remember a few mornings driving home at 6 a.m. That's actually how one of my first [professional] sponsors learned about me."